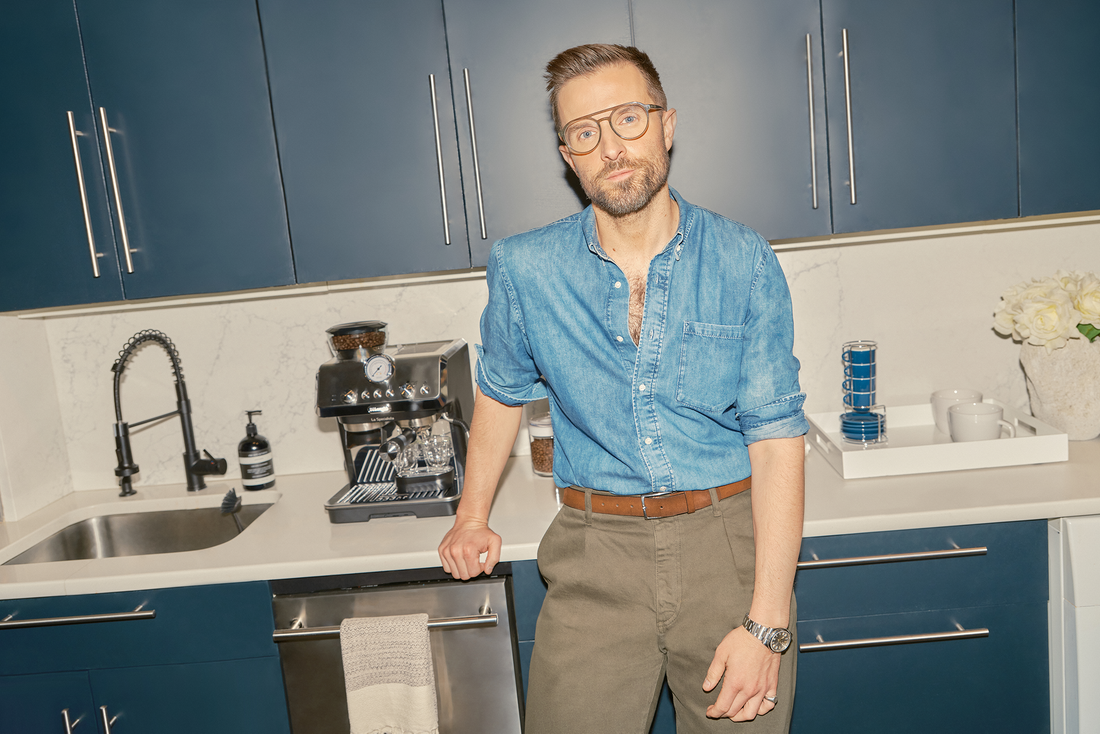 Living in New York City has its perks — but a big kitchen isn't one of them. Any renter or homeowner will tell you that anything over 90 square feet is a true luxury. But rather than viewing it as a sacrifice to be made, why not view it as the fun challenge it is? That's how NYC resident Preston Konrad sees it. As an entrepreneur, TV personality, and lifestyle expert, Konrad knows all about making every inch of his space work for him, narrow galley kitchen included.
"Your kitchen should be a functional space that also represents your style and personality," he says. No matter the size of your room, the fun is in finding creative ways to add thoughtful touches and elevate the space. Fortunately for fellow small space dwellers, Konrad isn't gatekeeping. With all the tips he's learned over his decades of living in the city — swapping out fixtures, finding appliances that combine form and function, being deliberate about what goes on the counter (and what doesn't) — even 90 square feet can feel like so much more.
On city living:
After renting in the city for close to 20 years, Konrad and his partner recently made their first home purchase on the Upper West Side. Just like any pre-war building, the space has its charms (crown molding, marble detailing, big windows) — and its challenges. "City living comes with adjustments," Konrad says. "While our kitchen is long and packed with function, it's narrow! Squeezing both of us in (and swerving around the pup) while cooking can be a bit of a dance, but it's part of what makes NYC special."
On designing a luxe kitchen:
"The kitchen is such a hub of the home and its aesthetic should reflect your personal style and work hard for you," Konrad shares. Here are some of his go-to tips for elevating a kitchen: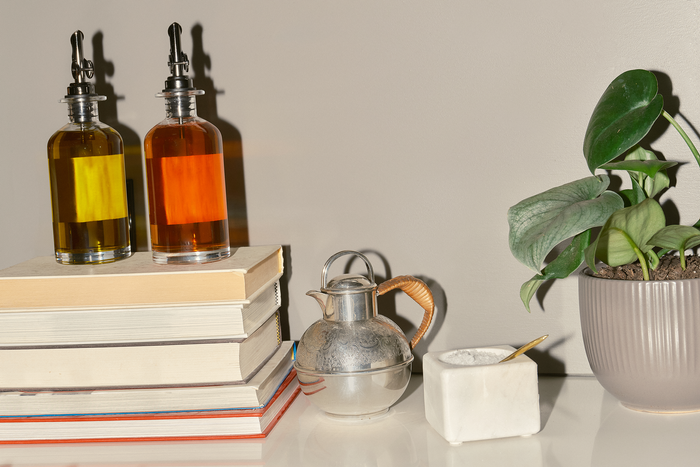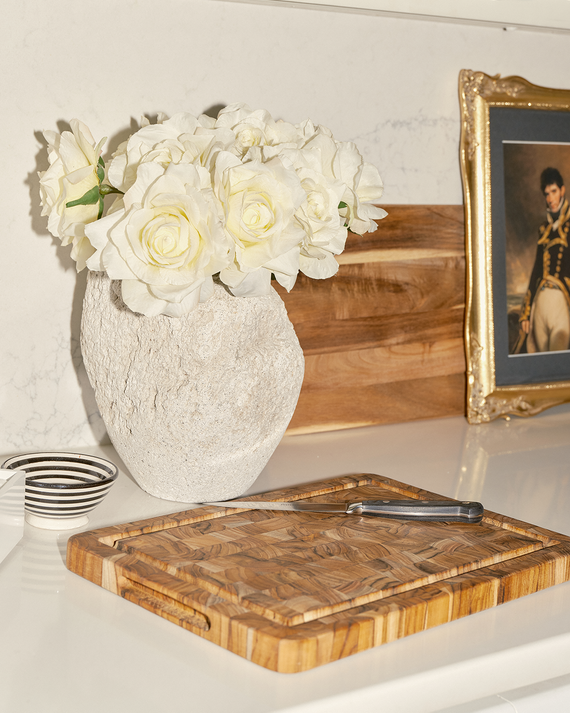 1. Layering in art, plants, and collected objects: "Smaller leaning art on the backsplash is a great way to add some character and even hide an outlet you don't need. I love a small arrangement of fresh flowers or greenery to make the space feel less cold."
2. Streamline countertops: "Try to keep the counter as clutter-free as possible. Hide what you don't use on the regular to make the space feel more open. Over the years, we've collected just about everything from egg makers to blenders, but we only keep our De'Longhi La Specialista Arte Espresso Machine, water carbonator, and smart home device out since those are the appliances we use daily."
3. Swap out your kitchen lighting: "Great lighting in a kitchen is key for function, but I always make sure lighting in the kitchen reflects my personal style. Swapping out a corded pendant light for something with a bit more substance (hints of brass, glass, etc) can instantly transform a smaller kitchen and make the space sing."
On his must-have products:
For Konrad, design-forward items go a long way in helping to create a kitchen that's just as beautiful as it is functional. "I love seeking products that meet at the perfect intersection of style and substance." While it's easy to apply this approach to smaller objects, Konrad makes sure the same goes for larger appliances as well. After all, if they're going to take up precious counter space, they might as well look good there. Case in point? His espresso machine. While he calls attention to its ease of use, specifically the foolproof tamping system and grind settings, it's the timeless, refined design he can't get enough of. "The aesthetic of the machine is heaven — the classic look not only blends in beautifully with the crisp marble backsplash, but it also really pops with the cabinetry and hardware."
A couple other items he loves: A hefty and sophisticated knife block ("Something traditional that you're proud to leave out and that blends seamlessly with your decor") and wooden cutting boards ("Lean them up against your backsplash with your art for easy access while adding texture").
On cultivating a space that reflects his lifestyle: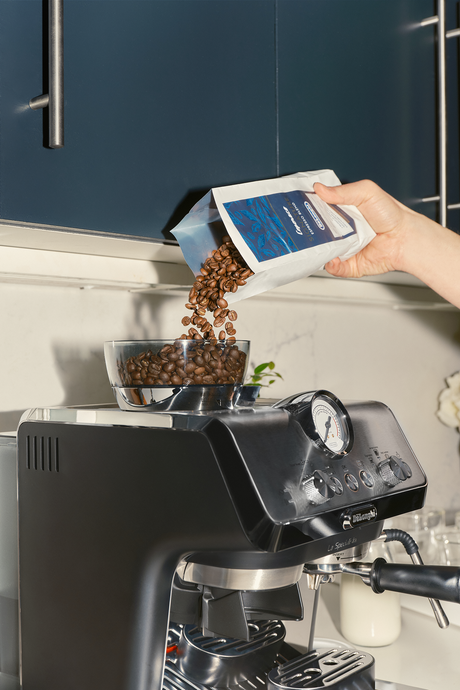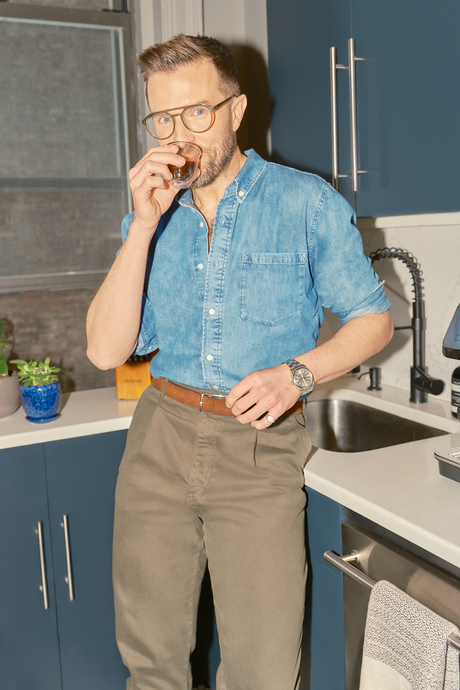 At the end of the day, Konrad believes a kitchen should be more than a space he cooks in; it should tell a story — his story — and accurately reflect how he lives his life. "After the pandemic, I think we all welcomed the slower moments in life. I used to be a 'grab coffee on the go' guy in the morning, and now really embrace and love making it at home. Plus, I've just returned from an amazing trip to Milan — my morning cup of coffee with my De'Longhi machine brings me right back to the café culture of Europe here in NYC. It gives me that special little boost to start the day."
This advertising content was produced in collaboration between Vox Creative and our sponsor, without involvement from Vox Media editorial staff.