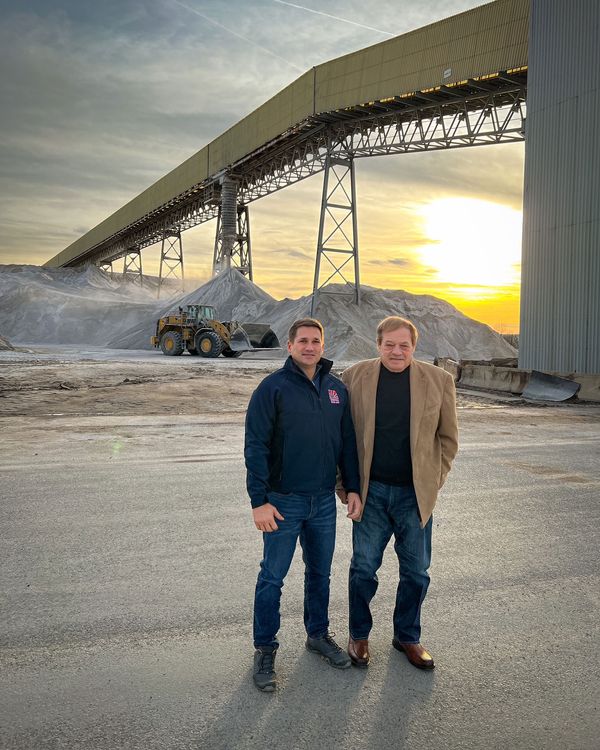 Joe Bucci, Jr. and Joseph G. Bucci, Sr.
Photo: Courtesy of American Rock Salt/B) David Mandeville
The Bucci family has been in the salt-mining business in New York's Livingston County for four generations, beginning in 1908, when salt was primarily used for preserving food. As refrigerators overtook salt preservation, America started using that same salt to de-ice its new highways, which is when the next Bucci, Joseph Edward, stepped into the tunnels, climbing the ranks to become head plant engineer before he was killed in a 1975 mining accident. 
They all mined the same 350-million-year-old bed of salt, which has been overseen by a handful of different companies over the years. Now Joseph Edward's son, Joseph G. Bucci Sr., is a co-owner and the CEO of the current manager, American Rock Salt. His son, Joe Bucci Jr., is the mine's environmental and safety manager. Together, the family is behind one of the biggest salt-mining operations in the country, supplying most of the Northeast — but not New York City, which gets its salt from Chile. 
This week, Governor Kathy Hochul signed the Buy American Salt Act, which will change purchasing laws to push local governments to buy domestic salt as long as the cost doesn't go up by an "unreasonable amount," potentially making the family one of its biggest beneficiaries.
We talked to Bucci Jr. and Sr. about how they would get their salt to New York, what it's like to work underground, and why people keep trying to set up New Agey spa retreats in their tunnels. 
So you've been in the business a long time.
Joseph G. Bucci Sr.: Right around the turn of the century, a large number of Italians came from central Italy, many from the same towns near Naples. And my grandfather actually came here and drove a mule in the same area that we work in today; the mules would stay underground, pulling carts of salt until they went blind and died. He worked his way up from mule driver to carpenter. My father started at the mine in 1939, right out of high school. My dad went from foreman, to a senior foreman, to supervisor, to head plant engineer. He was going to take over as plant manager in September of 1975. But on April 15, he was killed in a mine explosion.
What happened?
Joe Bucci Jr.: The New York State's Department of Environmental Conservation had required the mining company to go in and close up some of the old shafts. Some of the old timbers in the shaft had become damaged.
Joseph G. Bucci Sr.: So they came up with the idea of dropping a camera down to film where all the damage was. He went down with the camera and there was an explosion, caused — we later found out — by methane emissions mixed with the rotting timbers. It was a 2.5 on the Richter scale. I was working as a history teacher at the time and was in class when it happened. Everything shook. I walked across the hall and said to the other history teacher, "Watch my class. I'm leaving." After my dad passed away, I left teaching and opened up my own real-estate business. A few years later, the mineral rights for the mine where he'd worked — acres and acres — came up for sale. The operator at the time wanted out of the business. That's how I became a co-owner.
How big is your mine anyway?
Joe Bucci Jr.: It's the single largest producing salt mine in the United States. I guess maybe the best way to describe that is that we're approximately the height of the Empire State Building underground. In a good year, we'll mine 4.5 million tons of salt. We can load up to 1,100 trucks in one day and 90 railcars in a day.
Joseph G. Bucci Sr.: Over the years, I've continued gathering up mineral rights as they've become available; now we have 13,000 acres, enough to last us about 50 to 60 years. Our salt bed here is about 1,200 feet deep.
Joe Bucci Jr.: But there's also another salt deposit about 150 feet below where we mine currently. So if we were able to get the permit for that, we could also mine that as well.
Joseph G. Bucci Sr.: Then we'd get another 50 or 60 years on top of that.
It sounds like a massive operation.
Joe Bucci Jr.: We are the largest private employer in Livingston County. We have approximately 400 employees, and that's not including the trucking and railroad jobs that sort of depend on this operation.
Joseph G. Bucci Sr.: About 900 related jobs in trucking. Most of it is going to New York, Pennsylvania, parts of West Virginia, New England states, parts of Ohio, New Jersey, Connecticut. But not New York City; they get their salt from Chile.
So the new legislation would potentially change that.
Joe Bucci Jr.: Well, it would, in general, give U.S. companies and their workers the first shot at government contracts. Some of these countries where the salt comes from, they don't have the same labor standards that we have, right? They don't pay people what we pay people. There's not the environmental-health or -safety regulations that are in place.
Joseph G. Bucci Sr.: Or human rights.
Joe Bucci Jr.: We are bidding against salt coming from Egypt and, you know, let's say the bid is a few dollars apart or maybe even less. We've lost bids —
Joseph G. Bucci Sr.: For 25 cents less.
Joe Bucci Jr.: Less than five cents in some cases — a few cents per ton.
Joseph G. Bucci Sr.: To give you an example, Wyoming County, which is next to us — we lost that [bid] by a few cents. I don't know the exact number. So now they're getting salt from Canada. We're right next door.
Joe Bucci Jr.: We have a lot of employees that live in Wyoming County, and they weren't happy about it. But under the current procurement laws, you know, there's not that option. You have to go with the lowest bid. So what the legislation does is it allows or gives the flexibility to the local governments to have a second look.
Okay, lastly, what is it like in the mine?
Joe Bucci Jr.: Well, it's sort of like walking through time, right? You're walking through a part of the earth that has been untouched for 350 million years — on the bed of an ancient ocean, really. You're taking salt that used to be a 350-million-year-old ocean, grinding it up, processing it, getting it to the surface, and putting it in the back of a truck or railcar. The salt dust is in the air, so you taste it. Honestly, like, if you have a cold or you have allergies, it's probably the best place to be to clear them right up. We've had some really strange requests over the years, where people have asked if they could create an area in the mine for wellness and respiratory therapy and meditation and all that kind of stuff.
Do you think it keeps you healthy?
Joe Bucci Jr.: I think it kind of keeps me pickled.