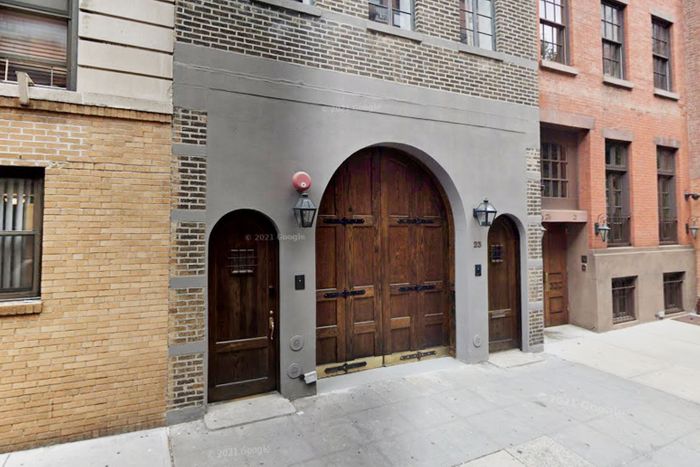 The former stable at 23 Cornelia Street was built in 1912 and landmarked in 2010, but did it really even exist until 2016, when it was briefly occupied by Taylor Swift (while her $50 million Tribeca loft underwent renovations)? Since being canonized on her 2019 album, Lover, the 5,500-square-foot West Village carriage house is now forever bonded with Ms. Midnights. And while it's poised to rent as a private residence starting in the New Year (for a reasonable $45,000 a month), the building had a big 2022 as the New York home base of a luxe Italian furniture brand and an event space for hire. It turns out the place where Swift allegedly cemented her relationship with actor Joe Alwyn (after reportedly meeting at the 2016 Met Gala) is also a great place to sell pasta and wine and celebrate Katie Holmes. What follows is a recap of all the brands,celebrity sponsors, and "experiences" that, at least for a night, got to "rent a place on Cornelia Street."
January
It was a quiet winter on Cornelia Street. The house, no longer Taylor's version, served as a base of operations for Italian furniture brand Zanotta, and most of the press about the address was related to fan pilgrimages (including a dachshund-centric ode in the early months of the year).
April
Clover bloomed in the fields, spring broke loose, and "Page Six" published an exclusive: "Katie Holmes dines at Taylor Swift's old Cornelia Street carriage house." The Italian wine brand Santa Margherita rented the space to launch a new rosé (distinctly not your roommate's cheap-ass screw-top), and Holmes was the guest of honor! According to "Page Six," she was "talking about how she loved that it was Taylor Swift's house." I love that, too. (If you are a savvy Gaylor truther looking for clues in this article, the best we could find was that the two attended the 2019 launch party of an Amazon x Refinery29 holiday pop-up.)
June
The summer welcomed another launch party to 23 Cornelia: QNY Creative promised a night of "signature classics from Pasta Garalfo" and vegan focaccia (sure!) from Bindi Desserts inside the "Greenwich Village 5-storey design-centered 'landmark' building, and former home of Taylor Swift, also featured in the song 'Cornelia Street,' on her Lover album." The evening's menu was described as "a journey to discover and taste." Hopefully, the journey was not hell and brought attendees heaven.
August
August slipped away like a moment in time without a PR event taking place at 23 Cornelia.
September
September saw a month of tears and no public PR events at 23 Cornelia Street.
October
Apartment Therapy reports the not-secret news that Zanotta had been occupying the space in a piece titled "Peek Inside Taylor Swift's Former NYC Home." The story includes a video tour of the home showcasing the firm's delicate lighting and modern-furniture styles. The tour, however, is disappointingly non-reminicisent of Easter-egg-filled Lover music-video house.
The house was also opened to tours this month as part of the New York Junior League's Fall House Tour, which apparently brought in $50,000 (only slightly less than what it now costs to rent the townhouse for a single month and around the same price as the cost of a resale floor seat to the Eras tour).
November
The Cornelia Street beat really picked up when Zanotta announced it would invite guests to the showroom to swim in the pool and even sleep in the same place where Taylor slept (also, allegedly, possibly Joe Alwyn). But not just anyone could waltz in, said Marta Zanotta, niece of designer Aurelio Zanotta and the company's marketing and communication manager. "You can't enter and buy anything, and you can't come in without an appointment," she told the New York Post. "This is a house with a soul." We know the soul of this home all too well, actually.
A week later, the home was put on the market by Corcoran for $45,000 per month ($6,000 more than Taylor paid in 2016). The TikTok tour of the five-story townhouse went viral as Swifties fantasized about paying college-tuition-level prices to live there.
(Back to) December
As of this month, the apartment is still available for rent according to listing agents at Corcoran. Wishing our best to the future tenants.