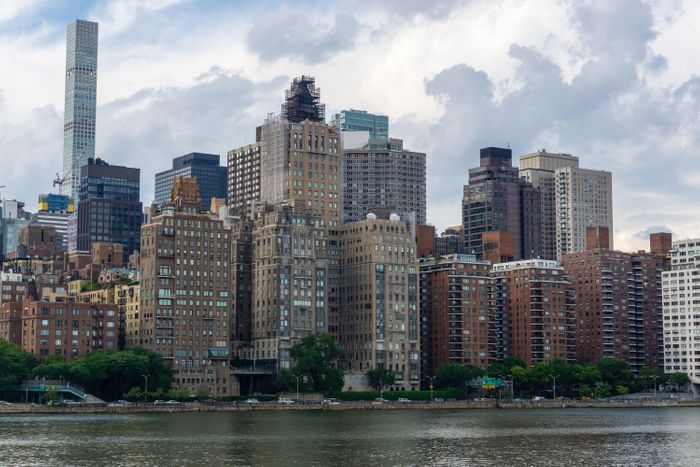 Heat, embodied.
Photo: Massimo Salesi/Alamy Stock Photo
The cycle that makes a so-called hot neighborhood used to be familiar. It was somewhere a bargain could be found, often a couple of express subway stops from an already expensive neighborhood, one that was gentrifying (at some human cost) or deindustrializing. That dynamic, however, is disappearing these days simply because there are no actually cheap neighborhoods to be had; there are only less expensive ones. So "hot neighborhood" increasingly means just "where a bunch of interesting people decide to hang out," somewhere that's a little uncool and thus a very slight bargain, and now it can be anywhere, even in the dense urban core. Interstitial areas, spots on the edge of well-established destination areas that have slipped between the cracks, are prime candidates. Exhibit A: Dimes Square.
And Exhibit B: Last week, Crain's, via StreetEasy, suggested that Turtle Bay will be 2023's hot neighborhood. Searches in the area are up 47 percent, prices 25 percent. Those prices (while absurd in the way all 2022 prices have been) are a little lower than the Manhattan median. These facts are surely related. Three-quarters of a million bucks to buy a one-bedroom or $4,495 a month to rent one is, in this environment, a mild bargain.
What is a little surprising is that it's Turtle Bay, a neighborhood that, though pretty, has not been fashionable for decades. Its center is Turtle Bay Gardens, the covetable blocks of townhouses on East 48th and 49th Streets that share a beautifully landscaped internal courtyard. E.B. and Katharine White lived there, and he wrote about the garden in the closing scene of his book Here Is New York. Other residents, in houses next door to one another, have included Katharine Hepburn and Stephen Sondheim. (Sondheim told a story about accidentally waking her up with his piano playing late one night, whereupon she marched out, barefoot, to confront him at his patio door.) The legendary editor Robert Gottlieb owns one of the houses, and another building is the Ukrainian consulate. They're all super-covetable, they come on the market relatively infrequently, and they are extremely expensive.
But it's the larger surrounding neighborhood we're talking about here, and while it's a nice and superconvenient place to live, it doesn't have many markers of hotness. The restaurants nearby to the west are expense-account-ish lunch places like the Grill, in the former Four Seasons space. Closer, up Third and Second Avenues, you can eat your fill of pub grub and takeout Thai, but there's not much in the way of glamour, buzz, or innovation. The preponderance of buildings are postwar slabs on the avenues with smaller prewar ones on the side streets. There's relatively little new construction going on here to raise the rents. There's a little glitz over by the U.N., where the glass-faced United Nations Plaza buildings and Trump World Tower have their share of celebrities, as do Sutton and Beekman Places. But you could barely call those Turtle Bay; they're their own enclave.
And that, indeed, may be why Turtle Bay is ostensibly ripe for hot-ification: It's a little boring and behind the curve, and thus, with roommates, a lease there might be vaguely attainable by young and/or interesting people. Right now, Turtle Bay feels like a slice of the 1970s Upper East Side, one that has not quite caught up with contemporary tastes. Which, to reiterate, is a point in its favor — whether you're one of those new StreetEasy searchers seeking a bargain or just a person with conventional tastes and needs who doesn't want to move to Brooklyn. If hotness actually does descend upon Turtle Bay, expect a few of those sports bars to give way to vegan cannabis restaurants before 2023 is out.