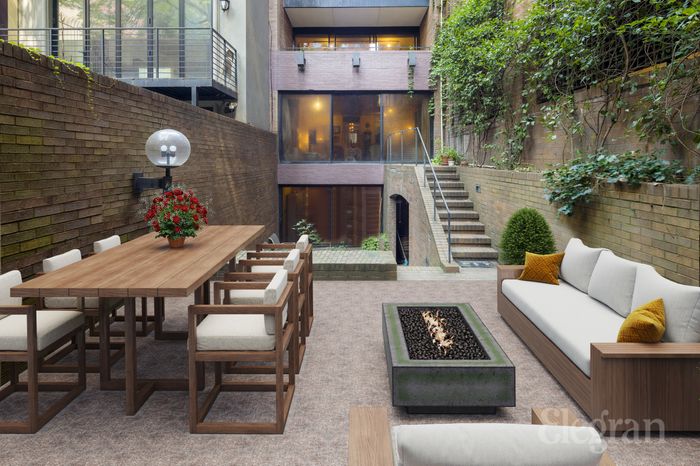 The wall-to-wall windows and oversize terraces at 246 East 48th Street look south over an enclosed brick courtyard. Even the garden-level unit, peering into an enclosed patio, gets a full dose of light.
Photo: Jon Ayala/Elegran Real Estate
When the painter Ahmed Morsi was looking for a place where he could both live and work, he sought a space with especially good light. So it may seem strange that he landed in a Turtle Bay townhouse parked in the shadow of a 49-story office tower. But 246 East 48th Street seems dark only from the street.
Designed by the architects John Stonehill and Oliver Lindquist (Lindquist also designed the logo for the United Nations and the Q-Tip box), each of the home's uppermost three stories is lined with wall-to-wall windows at the front and back. Those stories also have balconies as big as studio apartments unto themselves — 400 square feet — which overlook a backyard. Even the garden level gets flooded with light thanks to a sunken patio. And on the top floor, where stairs lead to a roof terrace, the light is even more extreme with a rear window that curves overhead "almost like a solarium," says Jules Garcia of Elegran Real Estate.
Sherine Morsi, Morsi's daughter and a custodian of his work, says her father set up his studio on the second floor to face the back terrace. "When you stand there — with his Verdi opera CD playing in the background, with these windows that run from floor to ceiling and whose blinds never come down — you are transported to a place that is beyond Manhattan," Morsi said. "The soft Mediterranean light … seemed to come for him from Alexandria."
The Morsis treated 246 like a single-family home, but Garcia is marketing the property as a potential four-unit apartment building because it was originally built to be divided. According to Paul Goldberger's review of the building in 1977, its first owner, oil executive Ame Vennema, kept the lower floors as a duplex while his son, character actor John C. Vennema, lived on the top floor. A tenant rented the third. Although the Morsi family kept their doors open, they didn't make any drastic renovations, and each floor still has a kitchen, bathroom, washer-dryer hookup, and enough built-ins for most home libraries. The wood shelving matches other wood touches throughout the otherwise sleek home, including textured, paneled ceilings that run flush from wall to wall and an enormous oak front door. To Garcia, "the whole place is a response to the question, 'How can I make this place as interesting as possible without noticing it from the street?'"