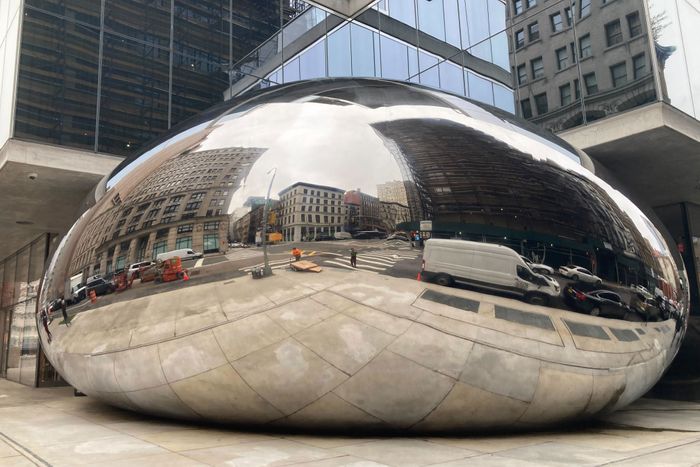 Photo: Curbed; Photo: Clio Chang
When Herzog & de Meuron's luxury Tribeca Jenga tower went up at 56 Leonard Street, it came with the promise of a bean. Anish Kapoor was to offer New York City its own version of Chicago's Cloud Gate sculpture, one that would appear to be squashed under a corner of the tower. When New York asked the developer Izak Senbahar why he'd spent $8 million on the bean, he laughed and said, "The bankers have asked me that. So have my partners." Senbahar insisted that the New York bean, which would end up 48 feet long and 19 feet tall and weigh 40 tons, was worth it. Yet when the skyscraper was completed in 2017 — and Kapoor himself bought a four-bedroom apartment there — it was noticeably beanless. Only now, five-plus years later, is the bean complete.
On Tuesday, the day of its great unveiling, the bean reflected its gray surroundings — the early-afternoon sky and the luxury tower squishing it. One passerby, a dog walker named Milena Derevyanko, expressed relief to see it completed. And not just because of the great new bean: "I've felt bad for the people living here, always above the construction."
What took so long? It is, it turns out, really hard to make a big outdoor bean. In 2018, the Tribeca Citizen obtained an email from the fabricator, Performance Structures Inc., to the developer, elaborating on its complexity: 38 stainless-steel plates plus a supporting framework, all welded together precisely "so that when all were assembled the results would create a perfect sculptural form." (Alexico Group, the building's developer, told me in an email that "the proprietary means and methods used to actualize the seamless finish had never previously been utilized.") Then came COVID, stalling the project yet again: Kapoor's British installation crew couldn't enter the country, and the parts themselves got caught in shipping delays. For a while, it was known as the "half-bean," its insides open for all to see. By September 2021, construction had picked up again, and Curbed bid farewell to the half-bean amid expectations it would be done in a matter of weeks.
But the bean's troubles were not yet over, at least according to one report claiming the stainless-steel shell ruptured last summer as the unshaded part of the sculpture expanded in the sun's heat faster than the portion in the building's shadow, causing it to split like an overcooked garbanzo. (Alexico did not respond to my questions about the alleged rupture.)
In June, a project manager told the New York Post it would likely be finished by the end of the summer: "We are working really hard to make that happen." And they did make it happen, just four years or so since construction started. Tribeca has finally achieved a bean. It is, however, still untitled — the naming ceremony isn't until spring.