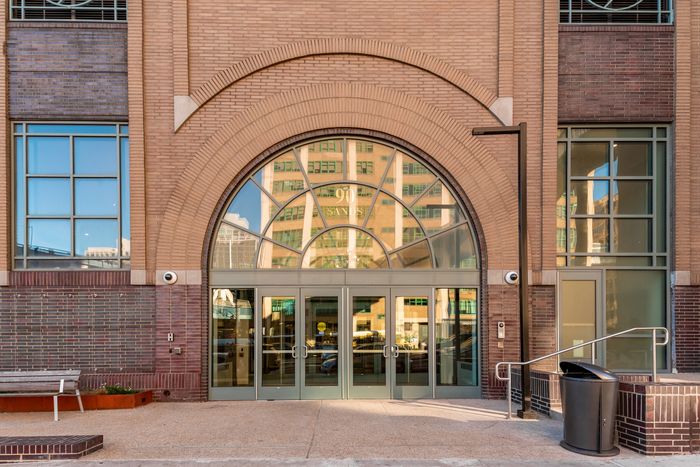 90 Sands Street.
Photo: Wes Tarca
Homelessness in New York may be an intractable problem. Ending the homelessness of any one person — or a dozen, or 100 —is straightforward: Give them a decent place and surround them with competent people who are eager to help. That form of human decency goes by the name supportive housing, and it dates to the early 1980s, which has given it ample time to prove that it works. Those who move out of shelters, prison, foster homes, or off the street and into buildings equipped with in-house counseling tend to stay in their homes, in treatment, and out of trouble. It's expensive, but it's cheaper than the alternatives.
Supportive housing serves a complicated set of constituencies: those who have been homeless, suffer from substance abuse and mental illness, live with HIV/AIDS, recently aged out of foster care, or are coping with decades of neglect. They have a dizzying variety of needs, and meeting them depends on the professionalism of those who do the caring — the army of case managers, clinicians, social workers, nurses, doctors, counselors, therapists, and fundraisers who spend their days keeping chaos at bay.
Architecture is the other half of supportive housing's strength. "The built environment is the hardware, and the social environment is the software," says Kimberly Rollings, a University of Michigan researcher who focuses on the interaction between architecture and health care. Pervasive but nonintrusive security, warm lighting, conscientious maintenance, uncluttered hallways — these essentials make measurable impacts on residents' abilities to steer clear of crisis. Communal spaces should be genuinely cheery, and not just in the grudging manner of a vinyl-floor rec room with a couple of primary-color cushions and a hyperactive TV set.
A pair of new projects, 90 Sands in Dumbo and El Borinquen in the Bronx, makes it clear how crucial it is, when you get your first latchkey in many years (or ever), that it open a door onto a space that's private, sunlit, safe, and serene. Those are qualities you can't take for granted in this city of $4,000 "cozy" studios with brick-wall views and entomological roommates. A high rent sometimes buys you a slightly nicer form of squalor; truly low-rent living can be hazardous to your health, as NYCHA buildings molder, gas lines blow, and façades shear off tenements that are practically held together with duct tape. Moving the least fortunate, most fragile New Yorkers from one grim setting to another just winds up compounding their problems and everyone else's.
At 90 Sands, the nonprofit developer Breaking Ground bought a 30-story dormitory from the Jehovah's Witnesses and renovated it into nearly 500 apartments, a combination of supportive housing and ordinary rent-regulated housing. Sandwiched between the Brooklyn Bridge and Manhattan Bridge ramps in one of the city's most expensive wedges of real estate, 90 Sands is a big, ungainly slab built in 1992 to house 1,000 Jehovah's Witnesses, whose meals issued forth from an enormous basement kitchen. The Watchtower Bible and Tract Society grasped the inspirational power of a good view, though, and the compact studios (plus an observation level) have generous windows that look over the vastness of lower Manhattan, the harbor, and the hinterlands of Brooklyn. Beyer Blinder Belle, a firm with a long history in both social housing and renovation, understood how to leave the best features alone and make the most of spacious common areas, large arched windows, and high ceilings. W Architecture and Planning fronted it with a landscaped plaza that acts as a communal stoop and an invitation to passersby: pause, sit, check your phone, or chat.
The bulky tower might be intimidating to new residents accustomed to measuring their personal space in square inches. Some research suggests that people fare better in more intimate settings, but Brenda Rosen, Breaking Ground's president and CEO, is a believer in bigness. "The economics work better. We can have 24/7 front-desk security and a staff-to-tenant ratio that allows for a lot of attention to detail."
Still, projects like this have a lot of convincing to do. New residents may be overwhelmed by both unaccustomed freedoms and the responsibilities that come with signing a lease. Staff can coax (but not require) them into taking advantage of the available services; the design needs to draw them into the unfamiliar experience of feeling at home. A new structure full of struggling tenants must also soothe neighbors who worry that their streets will be overrun by sidewalk mutterers and become a magnet for drug dealers. Organizers are ready with reassuring data, most notably that supportive housing doesn't depress real-estate values (not in the long term, anyway). But even rational fears have emotional components, and that's where design comes in — to express what research cannot. "These are beautiful buildings, and that's intentional," says Pascale Leon, the executive director of the umbrella organization Supportive Housing Network of New York. "To people who have experienced years of trauma and instability, they affirm their dignity and humanity." Architecture doesn't have to be radical or expensive to communicate joy and pride. Or, to put it another way: When you're rich, beautiful surroundings are an optional amenity; when you have next to nothing, they're an essential ingredient of that most precious resource, optimism.
Designing and erecting new supportive housing means trying to squeeze the most architecture out of every scant cent. That doesn't make it cheap. Breaking Ground spent $170 million to buy the hotel and another $78 million to renovate it. On-site counseling, which is provided by a different organization, the Center for Urban Community Services, costs $17,500 per person per year. All of that is still peanuts compared to the astronomical cost of a year's incarceration on Rikers Island. "We've always had to prove that supportive housing isn't just the right thing to do but also the cost-effective thing to do," says Cynthia Stuart, the Supportive Housing Network's chief operating officer. She cites studies that have been conducted across the nation in a range of settings, all pointing in the same direction. Nearly half the inmates in the America's jails and prisons deal with mental illness, and we spend fortunes to help nobody and fix nothing. For a subset of the most gravely affected, homelessness is "a soluble problem," says Leone. "We know the antidote": many more 90 Sandses.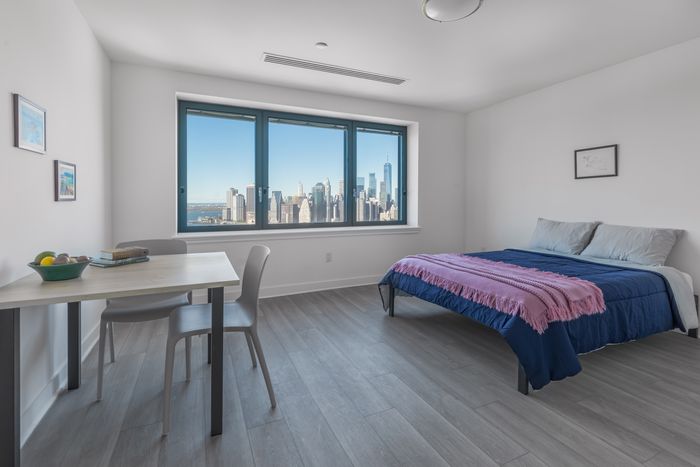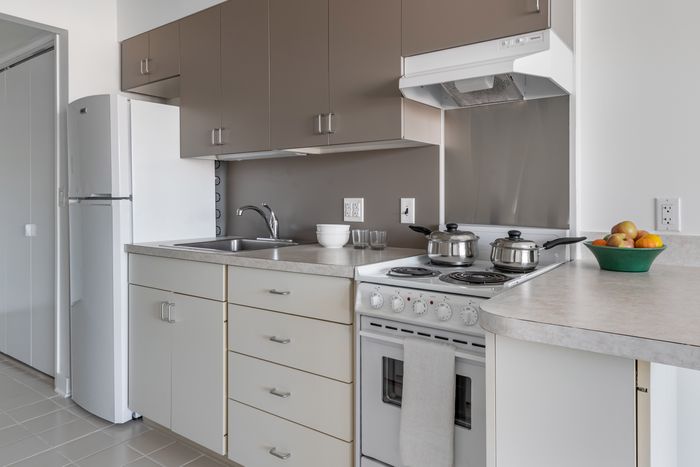 Supportive housing is a small but growing part of the battle against the overlapping crises in homelessness and mental illness. In 2015, the city committed to creating 15,000 more apartments in 15 years; the state kicked in a promise of another 20,000. Nearly halfway through that arc, both programs remain on track, and Governor Hochul has called for another 3,500 units. Those goals address a constantly shifting, never-met set of needs and definitions. (One area that's ripe for innovation is bureaucratic routine: At 90 Sands, Breaking Ground is piloting a new procedure allowing them to find and screen prospective tenants directly rather than routing every step of the process through a government agency. The result is that it now takes three to four weeks to get from application to signed lease, down from two and a half months.) A new protocol has emerged in the past couple of decades: Instead of requiring that applicants be in treatment and have their issues under control before they're eligible for an apartment, the "housing first" approach begins by giving them a place of their own on the theory that every other form of suffering is easier to tackle if you're dry, warm, and safe.
None of this is a panacea or an exact science. There are a lot of budgetary requirements and regulations but few guides for architects as to what works and what doesn't. At El Borinquen, a from-the-ground-up building at Third Avenue and East 166th Street in the Morrisania section of the Bronx, the architect Alexander Gorlin fit 148 apartments (90 of them supportive) into a concrete grid enlivened by multicolored pixels on the façade. The polychrome theme continues indoors in kaleidoscopic floor patterns, a wall tiled with the colors of every Latin American flag, and an immense mural by Aurelio del Muro and Marta Blair. The brightness is an experiment, says Rosa Gil, who heads the nonprofit developer Comunlife. "We wanted to incorporate a lot of art to see whether we could help individuals get better health outcomes." A glass-walled art gallery on the ground floor announces that ambition to anyone walking by. Equally important, the studios are almost luxurious, with floor-to-ceiling windows, ample and wheelchair-accessible bathrooms, and kitchens set off so as to insert a spatial border between food preparation and the rest of life. On a gray winter day, El Borinquen feels like a haven of liveliness and calm in a troubled part of the city, pearly light flowing in from all sides, igniting strokes of deliberate charm.
Satisfying as they are, these projects merely sharpen the desire for more. The headwinds are obvious: costs, the scarcity of sites, the feebleness of consensus, and the flickering availability of funds. But as governments try to fortify their responses to the intertwined epidemics of homelessness and mental illness, they might stop to savor one zone of small success. Ingrid Gould Ellen, the director of NYU's Furman Center for Real Estate and Urban Policy, points out that effective strategies in one part of the chain may alleviate the need for desperate tactics in another. "If we could get everyone into supportive housing, then we wouldn't have to get people involuntarily off the street. They wouldn't be there."