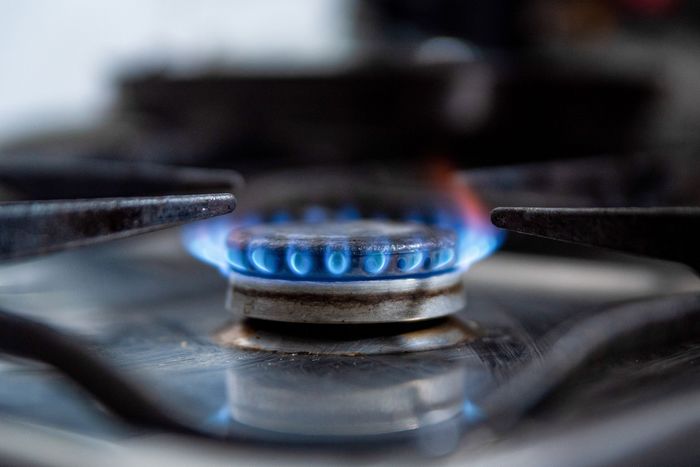 Photo: Davide Bonaldo/SOPA Images/LightRocket via Getty Images
The Consumer Product Safety Commission is weighing federal action on gas stoves, Bloomberg reports. Details of any potential proposal are light, but as Commissioner Richard Trumka Jr. told Bloomberg, "Any option is on the table. Products that can't be made safe can be banned." To begin the process, the agency intends to open a public-comment period on the hazards of natural-gas stoves in March. People may have a lot to say.
Gas stoves are an incredibly common household appliance, accounting for about 40 percent of the country's home stoves, but studies have shown that they can emit nitrogen dioxide, methane, and other irritants — even when turned off. One study out of Stanford University found that in small and poorly ventilated kitchens, burner emissions can exceed national standards within a few minutes. And these emissions, along with other toxic chemicals that gas appliances can introduce into homes, have been linked to childhood asthma, cancer, and other negative health outcomes. (The American Medical Association and other organizations have also raised alarms about links between gas stoves and pediatric asthma.)
We're a ways off from any kind of federal proposal — Trumka told Bloomberg that the end of 2023 may be a rushed estimate — but localities across the country have introduced regulations of their own. New York City's 2021 ban on gas hookups in new construction will take effect at the end of the year, initially targeting new buildings under seven stories and expanding to include larger buildings by 2027. But the ban affects only new construction, which, as Vox noted, would be about 2,000 buildings a year, compared with the million that already exist and would need significant renovation to meet the new standard.
The city's plumbers union is also taking aim at gas lines but for an entirely different reason: The union recently filed a suit accusing the Department of Buildings of violating a 2020 law on gas installs by signing off on jobs performed by unqualified workers. The law in question came after a 2014 explosion in Harlem killed eight people in part because of a bad connection between two gas pipes, according to an investigation by the National Transportation Safety Board. According to the union's suit, the New York Post reports, unlicensed welders are being brought on to fix or install lines, including at a school, two public-housing projects, and the Ritz-Carlton's NoMad hotel. (The DOB told the Post it is enforcing codes around gas hookups.) Noting the dangers of shoddy work, the suit accuses the DOB of a "dereliction of duty" that has "created a public-safety time bomb."