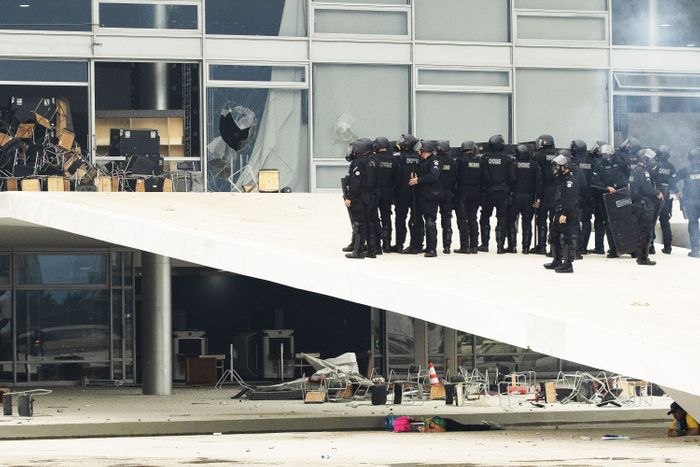 Photo: Joedson Alves/Anadolu Agency via Getty Images
On January 8, thousands of supporters of Jair Bolsonaro, Brazil's former right-wing president, rioted in Brasilia. In an eerie parallel to the January 6 insurrection at the U.S. Capitol, Bolsonaro, like Trump, had publicly and repeatedly undermined the country's voting system, and his supporters believed the October election of Luiz Inácio Lula da Silva, a leftist, was fraudulent. After Lula da Silva's inauguration last week, the rioters stormed into the national Congress, Supreme Court, and presidential palace and smashed windows, slashed paintings, and ransacked offices. As the military arrived, the rioters barricaded themselves in the buildings with furniture taken from the interiors.
Although the military eventually ended the siege, it's shocking to see Brasilia's monumental modernist buildings ransacked and damaged. But it's not entirely unexpected. Far-right regimes have long attacked cultural sites that symbolize ideologies that oppose theirs. Conservatives nostalgic for a past that never was have often villainized modernist architecture. King Charles III famously hates contemporary buildings, using words like "carbuncle" to describe them. Trump set out an anti-modernist architecture mandate (since revoked) to "make federal buildings beautiful again." Russia has destroyed over 150 cultural sites in Ukraine, including many of the country's unique Constructivist heritage sites in Kharkiv, since it began its war in early 2022.
With the desecration of Brasilia, the far right finally hit a modernist target. And it's a major one. The capital city, inaugurated in 1960, was designed from the ground up to symbolize progressive, democratic values. Its architect, Oscar Niemeyer, was a communist. He and planner Lucio Costa envisioned a monumental civic center with landscapes by Roberto Burle Marx, all surrounded by bucolic, integrated residential areas. Then-President Juscelino Kubitschek, who commissioned the city, called it a "utopia," though it's now known as a cautionary tale for top-down city planning because it was so focused on form rather than on what makes a city feel lively and comfortable. Still, its ambitious architecture is peerless. In 1987, the city was designated a UNESCO World Heritage Center, one of the first modernist sites to receive the distinction. While the January 6 insurrectionists caused $1.5 million worth of damage to the Capitol, the cost for repairs in Brasilia will probably amount to millions more.
That said, Bolsonaro's supporters, like the Capitol rioters, were aiming for the seat of government, whatever its architectural style, with mayhem and destruction as their goal. But even before January 8, Bolsonaro, who is currently in Florida on self-imposed exile, may have set a precedent for trashing the place. During his presidency, he frequently threatened violence and warned of a "rupture" if he lost his bid for reelection. And while he condemned the "depredations and invasions of public buildings" on Twitter, he left the presidential palace in shambles after his four years in office, according to Brazilian reporter Natuza Nery, who toured it last week with incoming First Lady Rosângela Lula da Silva. On her visit, Nery saw torn sofas, ripped carpet, sun-bleached artwork, broken windows, and cracked jacaranda floorboards. "The overall state of the building, which is Brasília's most iconic, is not good and will require many repairs," Nery said. Apparently, Bolsonaro, who in 2020 took a meeting with Bjarke Ingels to build a master planned city in the Amazon for tourism, only appreciates modern architecture if it advances his own agenda.