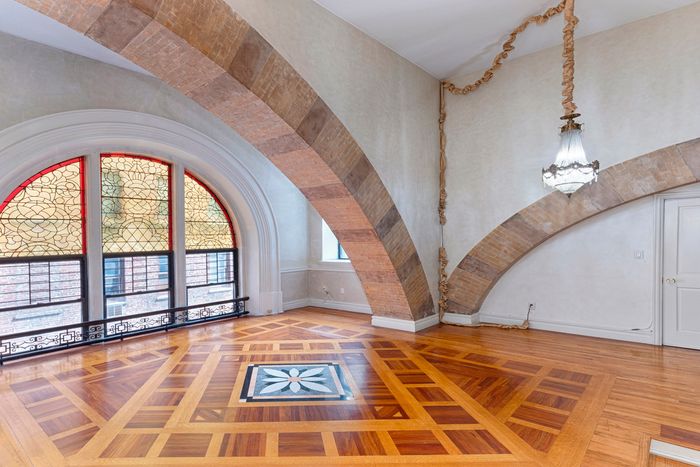 Photo: Brown Harris Stevens
Kathi Jacob, an agent at Brown Harris Stevens, has been selling and renting the condos at 205 East 16th Street since 2005. The building was originally the parish house of the Romanesque Revival church next door, where membership once included Edith Wharton and J. P. Morgan — who survived an assassination attempt in its pews. Jacob stepped in the first year the building was converted to residential, and over the years, she says she has learned to warn buyers that the units at the landmarked building aren't necessarily everyone's aesthetic. They don't offer clean lines or big views. Instead, the building leans into its former status as a religious space. There is faux stained glass in the elevator and marble arches in the lobby, and a converted gothic pulpit still lined in red velvet acts as a doorman stand.
According to Jacob, 3F was the very first to sell after the building was converted. The buyers were drawn to its high ceilings (16 feet in the vaulted living room and 12 feet in two bedrooms, which are raised off of the main living space by twisty sets of stairs) and the fact that all of the structural details — a stone-and-brick archway, stained-glass windows, crown moldings — are original. (A few details were added. During the conversion, developer Herb Hirsch put in a bathtub set off by two Roman columns atop a platform of dark-green marble.) "It's opulent," Jacob says. "It's got a wonderful vibe to it." That vibe has pulled at least one celebrity — John Mayer, who moved into the fifth-floor duplex in 2005. At the time, he was dating Jessica Simpson, who decided to rent a maisonette unit on the first floor with her sister.
The building was designed by Leopold Eidlitz, dubbed "America's first Jewish architect." Eidlitz was most famous for designing the interior chamber of the state capitol in Albany, but he also designed churches — including West Park Presbyterian (which my colleague Justin Davidson describes as "a work of flamboyantly unnecessary grandeur and brawn").
But this fact hasn't deterred some Jewish buyers from deciding that living in a former church is a little much. Jacob remembers giving a tour years ago to a woman who loved the space but ultimately decided not to go through with the sale: "She said, 'You know, I'm Jewish. I just can't live in a parish house.'"