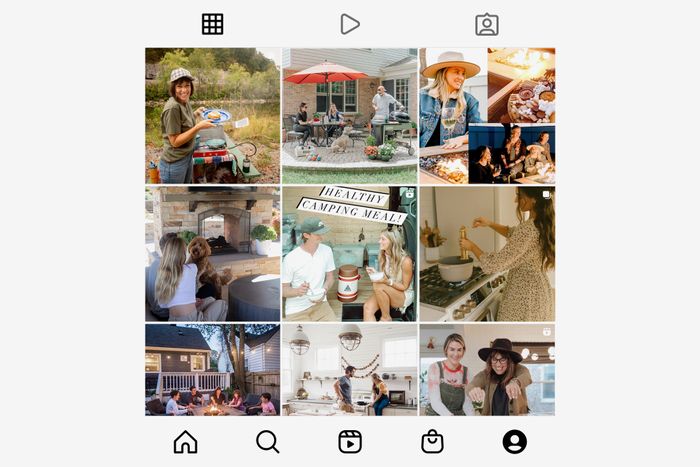 Some recent posts in partnership with the Propane Education & Research Council.
Photo-Illustration: Curbed; Photos: @livefreemiranda, @clarkandaldine, @elanaloo, @thelaurenkennedy, @taravanderdussen, @clairezinnecker, @troopnashville
Elana Jadallah's pepper grinder looks vintage (or possibly new and convincingly tarnished), the ceramic pot is unmistakably Our Place, a cream Smeg mixer rests on her countertop, and she's wearing a brand-ambiguous riff on the Nap Dress. But the only tag in the writer and sustainability influencer's tastefully composed Instagram carousel is the Propane Education & Research Council (PERC). "When we first purchased our fixer-upper in Maine, the heating system was run by burning oil and the hazardous old tank was barely standing on two (very rusted) legs!" reads the caption. "We took the opportunity to update our system by switching to a much more efficient energy source: propane." As the New York Times reported last week, the nonprofit fossil-fuel industry group (motto: "Energy for Everyone") has $13 million to spend, in part, to get HGTV personalities like Matt Blashaw to say things like "the electrical grid is really inefficient" on local morning shows, but that's just one piece of its efforts to fight a move toward non-fossil-fuel renewables. PERC also partners with micro-influencers like Jadallah (@elanaloo, 56.6K followers) to boost its measly 1,284 follower count and feed liquefied petroleum-gas spon to cottage-core types. Just like Jadallah and Blashaw, these small-time influencers have partnered with the @propane_council to learn more about, as PERC describes it, an "environmentally friendly energy solution that is also affordable, reliable, and versatile." Won't you join them on their journey?
Fossil-fuel propaganda is as old as the industry itself, and this isn't the first time industry groups have used social media to build influence (Mother Jones, in 2016, had a particularly striking example of a natural-gas company using Nextdoor to seed pro-gas-range outrage in California). While Shell has influencers pushing its product as road-trip fuel and the American Gas Association has them fawning over the open flames on their stoves, you'll notice a few different camps among the propanefluencers: Some posts, like one from Miranda Anderson (@livefreemiranda, 33K followers), a Richmond, Virginia–based influencer who seeks to "share practical ways we can apply the science of well-being to our everyday lives," are for the hiking and camping set more than design and wellness audiences. "There is something about waking up in the wilderness that makes me feel alive. #ad Just because I'm camping doesn't mean I skimp on breakfast," she writes in a post that is, per the Federal Trade Commission's Endorsement Guides for Influencers, labeled as a paid partnership with the Propane Council. Grinning almost uncomfortably, she describes the pictured breakfast sandwich as "one of the best you'll ever try." Why? Because she made it "on a propane-powered camp stove, next to a river, just after sunrise." Her #grillspo posts made in partnership with PERC have a common language, referring to propane, which holds 69 percent of the grill-fuel market, as a "go-to clean source for energy." Later in the same carousel, her family enjoys a propane-grilled picnic meal while a perfectly usable wood-burning grill sits defeated on the ground.
PERC also has #vanlife influencers like @troopnashville (40.5K followers) sharing recipes for "camping cauliflower rice" tacos, while New Mexico–based dairy farmer and influencer Tara Vander Dussen (@taravanderdussen, 47.5K followers) encourages followers to click the link in her bio, where she's "sharing some great ways to come together and spend time outdoors" and explaining "how propane is at the center of all these get-togethers." The commenters, many from other influencers, are similarly all in on propane. "That fire pit 🔥🙌 I'm thinking I need a #propane fire pit on my patio," one reads. Another skews more generic — "I'd take a night around a fire pit please & thank you! 🖤" — but it's still a wide-open opportunity for Vander Dussen to get them on message, replying, "head on over 😉 Ill fill up the propane tank and get the drinks and snacks ready!"
There's an interesting line being walked here: Most of these influence campaigns embrace the industry-scripted language of propane being clean-ish. The captions tend to repeat: They want a path to renewables, but are just living in the practical now. "Did we envision running entirely on solar?" Jadallah writes in a sponsored post. "For sure, but it's quite the upfront investment (we'll get there!)" But the dollars the industry is taking aren't being spent in the name of compromise en route to a future powered by renewables — PERC is fighting to win the energy wars. (As the Times notes, in 2022 alone, PERC put close to $1 million toward the fight against changes to the building and vehicle emissions goals laid out in New York's 2019 climate law.)
But back to the propane-powered epic charcuterie boards! A recent Reel from design and build firm Clark + Aldine showcases the making of said counter-width meat-and-cheese board, ending with a shot of a cozy scene next to a propane firepit. (Set to Aretha Franklin singing "You Send Me.") While the firm has previously disclosed its partnerships with PERC, the caption on the post doesn't reveal much about the connection to the fossil-fuel group, reading, "Feeling that slight change in temperature today makes us ready for fall 🍂 cozy outdoor fires and get togethers with friends and family." Unlike other posts, this one lacks the #TogetherwithPropane tag and partnership language clearly disclosing it as spon. Instead, it tags PERC alongside a range of other brands. If it didn't get paid by PERC for this one, it may want to invoice anyway. The group has money to burn.