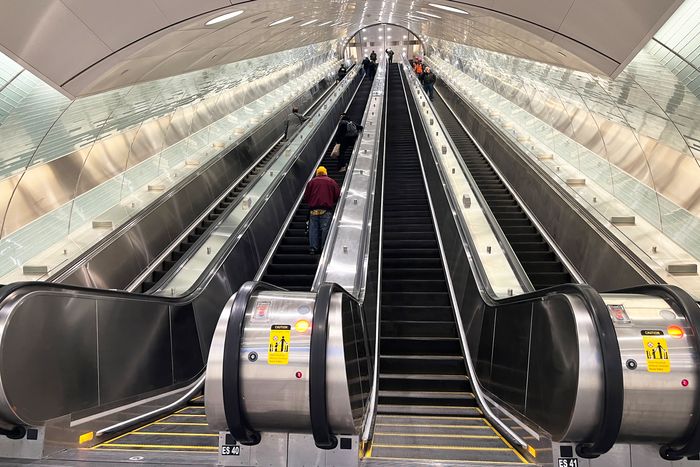 At 182 feet long and 90 feet tall, the new escalators at Grand Central Madison are the longest in the MTA system.
Photo: Adriane Quinlan
To reach the Long Island Rail Road trains at Grand Central Madison, the shiny new station buried ten stories under Grand Central Terminal, you take the MTA's longest escalators. Arrayed in four ranks that parallel 45th through 48th Streets, each of the 17 chugging sets of steps is about 182 feet long and drops 90 feet vertically to the mezzanines above the tracks. It takes one minute and 38 seconds to ride down — an interminable lifetime for a restless commuter, particularly if you're late. Or, to Governor Kathy Hochul, who rode one Wednesday morning after disembarking from the inaugural train, a reprieve. "I can use that time as meditation time. Let your mind wander, let your gratitude overflow with the beauty of the experience of coming up here."
Sure. But it's hard to meditate when your palms are sweating, when you look back down and imagine a descent into hell, when staring up at the small dot of the far-off ceiling gives the spins. "It was a little scary. Very long and very high," said Ebony Perez, a nurse from Valley Stream, who'd just come up from the platform. "I certainly felt it." To John Horan, arriving from Floral Park, the trip was "wild, like entering a ride at an amusement park. I knew there was gonna be a real vertical, but I didn't expect how high it was."
That wasn't the MTA's intent, said CEO Janno Lieber. "There was a lot of thought given to how to make sure they were comfortable for people, that the speed didn't induce vertigo." And yes, that adjustment means that the escalators could get cranked up and go faster. "We have the capacity to do so," said Paige Biancamano, a spokesperson for Jacobs, the engineering firm that oversaw the project. "But that could cause a little panic."
The escalator is a New York invention, dreamed up by a subway engineer, who presented his idea to crowds at Coney Island. But New Yorkers, unlike Londoners and Tokyoites, are not as used to this kind of precipitously steep ride in their transit system, and the MTA is bad at keeping even its everyday, one-level escalators running, let alone the longer ones. On Wednesday, as the terminal opened, a 24-second-long escalator that serves the 4-5-6-7 subway trains at Grand Central broke down. According to the MTA's own portal, almost one in ten of its escalators quit working at some point last month, probably just before you arrived with bags of groceries.
The MTA knew it couldn't let that happen in a station as deep as Grand Central Madison, which is why the agency outsourced the maintenance this time. The giant multinational Schindler Elevator Corporation, which handles lots of transit projects, won a contract to design, build, install, and maintain all 47 of the new escalators, including the 17 giants, which (according to The Wall Street Journal) were the longest ever built at its North Carolina plant. A Schindler representative declined our interview request, but on Wednesday, shortly after noon, the company apparently got its first test. A photo posted in the Reddit forum for New York City rail fans showed one of the escalators closed off behind a yellow maintenance screen. The caption: "It took one hour." As one commenter noted, "If anything, it's a christening. What's an NYC train station without the occasional malfunctioning escalator?"
Of course, a broken escalator just "becomes stairs," said Biancamano, the spokesperson, echoing the Mitch Hedberg joke. She referred anyone who couldn't make the climb to the elevators (there are 22, also operated by Schindler) and pointed out that the system was designed for this, with at least four escalators in each tunnel, allowing one or two to be out of service at any time.
Riding an escalator for a minute and 38 seconds brings to mind Nicholson Baker's The Mezzanine, a stream-of-consciousness novel framed around the thoughts of a guy going up a flight in his office-building lobby. (They range from a lot of meditations about shoelaces, which he's headed out to buy, to a multipage footnote about the etiquette of the men's room. ) As for the discovery that the new Grand Central Madison rides are nearly long enough to read the entire novel, CEO Janno Lieber predicted that very few future riders will stand still. "New Yorkers don't regard escalators as 'Oh, I'm just going to go on the escalator and stand there.' They move with it." And, if they're from Buffalo, they meditate as they do.
But on Wednesday, Dr. Akinyele Dairo did indeed stand on one step for the long ride up. If he seemed to be savoring the moment, it was because Dairo has been commuting on the LIRR since 1997 from his home in Queens to his job at the United Nations, and expects this station to shave 40 minutes off his trip — a gift on the eve of retirement. (He is 61.) Dairo works as a public-health physician and says he has traveled the world, riding mega-escalators in Japan, Spain, and the U.K. So this one was no big deal. For any New Yorkers with less experience, he advises simply looking ahead. "It's best to focus on where you are going."