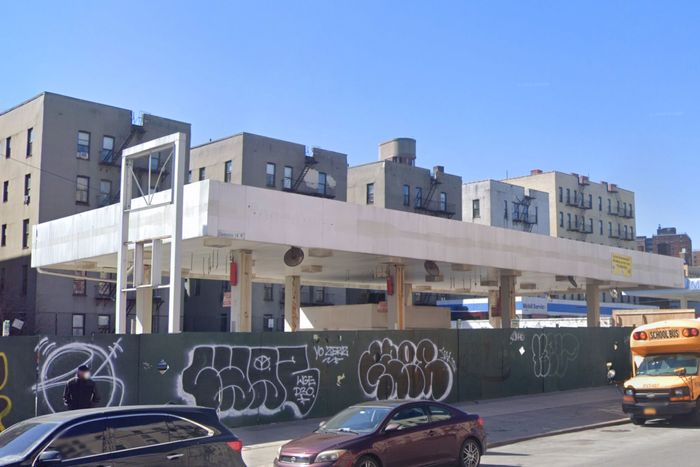 Last spring, a one-block stretch of 145th Street in Harlem was at the center of a battle about affordable housing: how much was enough and what affordability meant in a neighborhood where the median income is about $45,000 — and just $36,804 in the immediate vicinity of 145th, according to local City Council member Kristin Richardson Jordan. While the proposal for a massive two-tower complex and a civil-rights museum was withdrawn by the developer when it failed to get Richardson Jordan's approval last year, the fight around the five-lot parcel continues to drag on.
The latest turn in the now-three-year saga comes as developer Bruce Teitelbaum has instead chosen a very different use for the site, a kind of spite development that he tells Patch will open sometime this month: a truck stop built around a grimy former gas station that, unlike the towers, doesn't need a zoning change to get running.
At a rally on Tuesday, Richardson Jordan called on the state not to issue a business license to the depot. She says the area is environmentally protected, and in her post announcing the rally, she said that the truck stop will add to the "already dire" rates of asthma in the neighborhood. Some of the opposition to the original two-tower housing development was also about air quality: Residents raised concerns about the exhaust from the idling buses and cars visiting the new museum.
Teitelbaum, a former Giuliani aide, has reportedly called the development project his "white whale" and says that Richardson Jordan, a socialist, is the one forcing his hand, giving him no choice but to build what she herself is rallying against. "No matter how hard she tries to spin it now, she is to blame," he told Patch. However, the site could just as easily become a storage facility or a smaller-scale, market-rate housing project. Teitelbaum's initial proposal back in April 2021 also outlined what he planned to build without any city approval for his actual proposal: five squat, mixed-use buildings, with a total of 49 apartments. A truck depot is not the only possible use for the property.
Since at least 2015, investors who bought the land on this stretch of 145th Street have largely been content to host a string of gas stations or leave it vacant. In April 2021, Teitelbaum's plans for the five lots were a huge leap for the area and the site; he initially proposed the city's first "geothermal green-energy district," a "world class" civil-rights museum, and the headquarters of Al Sharpton's National Action Network. He also proposed between 866 and 939 apartment units with 30 percent restricted by income. The Manhattan borough president asked Teitelbaum to make half the units affordable, and Teitelbaum conceded. But Richardson Jordan asked for 100 percent, which he refused. This past May, Sharpton dropped out and Teitelbaum withdrew his request for a zoning change. Then, in September, he told Patch that he would proceed to build a truck depot there. What might have appeared like a threat at the time now seems to be more of a possibility.
Elsewhere in the city, major development proposals have fared a lot better. In the fall, just weeks after Teitelbaum announced the truck depot, the City Council approved plans in Queens for large-scale projects, and the local City Council members won housing concessions, though none quite as deep as One45's 50 percent affordability: Innovation QNS designated 45 percent of its units affordable, and it was 25 percent at Halletts North.
Of all the uses for the site, the truck-depot plan doesn't just appear to be the most unfriendly to the neighborhood — it's also the one that seems the most temporary and requires the least construction. It's possible Teitelbaum could keep chasing his white whale by installing a truck depot there now and submitting another rezoning proposal later for a similar project or a 100-percent market-rate project. In the meantime, it looks as though the bitter showdown between Teitelbaum and Richardson Jordan will only deepen.