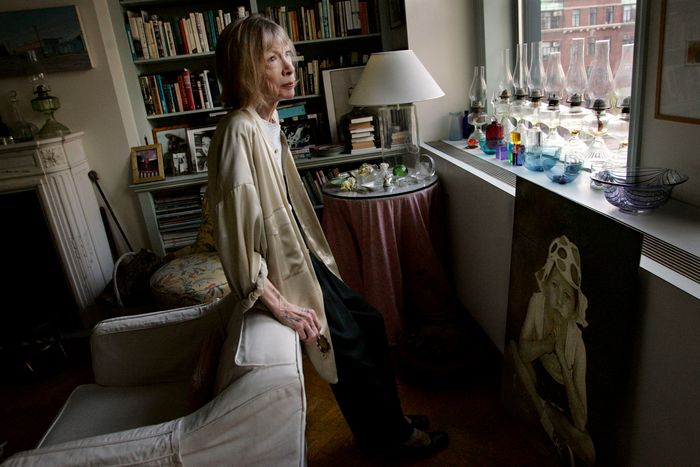 This living room could be yours for $7.5 million. (Oil lamps not included.)
Photo: Judy Griesedieck/Star Tribune via Getty Images
An astonishing number of people, given the opportunity, want a piece of Joan Didion. Her estate auction last year was a frenzy, as admirers of her writing, her worldview, even just her taste swept up the remnants of her life. Her dictionary sold for $11,000, her Céline sunglasses for $27,000. The whole pile brought in more than $2 million. High-bidders could, perhaps, very slightly and vicariously, imagine themselves living Didion's impeccable version of a cluttered yet elegant, exquisitely urbane existence. And now comes the biggest piece of the Didion mystique one could acquire: the apartment where she and her husband, John Gregory Dunne, lived and died. It's just reached the market, represented by Serena Boardman at Sotheby's International Realty and priced at $7.5 million.
It's 11 rooms at 33 East 70th Street, a building that also has an address on 71st. Four bedrooms, four and a half baths, a step-down library adjoining the living room. Good if slightly dated kitchen with brick-red hexagonal tile and a professional-grade stove. (She cooked a lot. You've seen the pictures.) There's a wet bar as well as miles of bookshelves that are still painted pale blue and green. The ceilings have been awkwardly dropped, presumably to get central air-conditioning in, but it's not a lethal modification. It looks pretty good for "estate condition," and the herringbone floors appear to have been freshly refinished. The maintenance charges are a bit over $8,000 per month.
One large piece of the Didion legend is "Goodbye to All That," the definitive "leaving New York" essay, written in 1967. (Everyone who reads it remembers the underfurnished apartment on East 75th, off Madison, and the yellow silk curtains blowing and tangling in the rain.) Yet the golden California life with which she is so deeply identified did not quite stick: She and Dunne moved back east and bought this apartment in 1988. Owing to the Wall Street crash the previous year, its price had been cut four times by the time they pounced. Didion served awhile on its co-op board, and though they spent time on the West Coast and elsewhere, this was their primary residence. They were here that terrible December day in 2003 that opens The Year of Magical Thinking, when she's making dinner and he's sipping a Scotch from that very wet bar and then he abruptly isn't. "The A-B elevator was our elevator, the elevator on which the paramedics came up at 9:20 p.m., the elevator on which they took John (and me) downstairs to the ambulance at 10:05 p.m., the elevator on which I returned alone to our apartment at a time not noted," she wrote. She wrote two more books and compiled an anthology here, saw herself embodied onstage by Vanessa Redgrave, starred in a documentary about herself, and gave countless interviews from the slipcovered couches about her family and her grief and writing about both, all the while remaining just remote enough.
You do have to wonder whether it will sell for a premium because of Didion's mystique. (A three-bedroom on a lower floor is listed for $4.5 million.) Buyers at the very high end of the market may romanticize an aura of writerly brilliance but are less likely to pay much for it. But if anyone does have that kind of pull, it's her. Buyers these days do like a narrative, after all. They tell themselves stories to choose where to live.