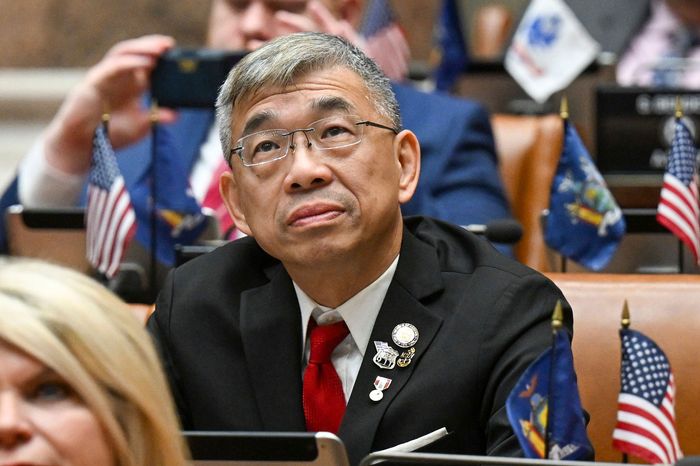 Photo: Hans Pennink/AP/Shutterstock
Republican Lester Chang won his New York State Assembly race to represent a district in Brooklyn and is now part of the state legislature reconvening in Albany this week. The only problem? He may actually live in Manhattan. While Chang claims he has maintained a residence at his mother's house in Midwood, in 2021 he voted at his Manhattan apartment and didn't change his registration until last year. (Candidates are required to have resided in the county they're running in for at least a year before the election.) A report ordered by Speaker Carl Heastie entitled "Matter of Lester Chang" concluded that Chang was merely a "visitor" at his mother's house. While Chang has been allowed to take his seat, Assembly members are currently debating his fate.
But Chang is not alone in his murky residential credentials — it's never seemed harder to tell where any politician actually lives. Living in the district you represent is not always technically necessary (members of the House of Representatives, for example, are only required to live in the state, not the district, that they're elected to represent, while the Senate specifies that officials only "inhabit" the state they represent once elected), but one imagines it's a core part of, well, representing a district. Take Republican George Santos, who was elected to a Long Island congressional seat and seems to have lied about everything on his résumé, including where he currently lives. (He suggested that he both already left and still lived in his Whitestone home and that he would move to Oyster Bay, but the New York Times reports that he "appears to have settled in a house in Huntington, a town just outside his district's boundaries.") Or Republican Herschel Walker, who was living in his Texas mansion but decided to run for Senate last year in a state called Georgia.
Meanwhile, during his failed Senate run, Dr. Oz kept posting from his New Jersey mansion despite the fact that he was running for Senate in Pennsylvania. (Both Walker and Oz lost.) And to prove that he wasn't living in New Jersey while running to be the mayor of New York City, Eric Adams infamously gave reporters an unconvincing tour of his apartment in Bed-Stuy. (It is fine to live in New Jersey, but it is not New York.) Voters picked him anyway, and since mayoral candidates need to be living in the city only by Election Day, now we get to have regular updates about his Brooklyn house's rat violations. What is home, after all, but four walls that are definitely inside the district in which you're running for office, whether or not you sleep there?