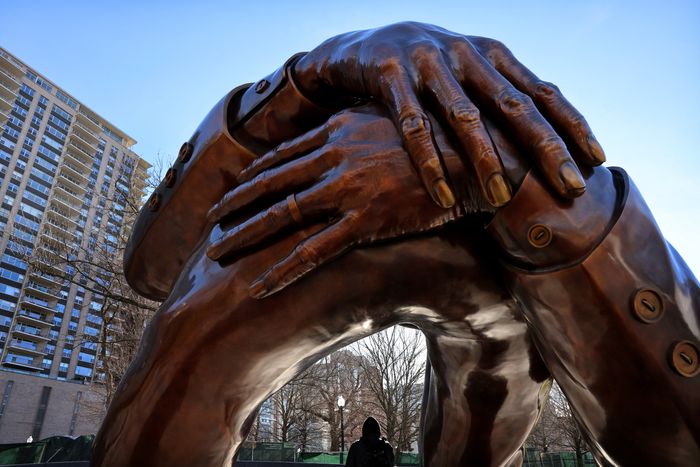 Photo: Craig F. Walker/The Boston Globe via Getty Images
A new statue commemorating Martin Luther King Jr. and Coretta Scott King was unveiled in Boston over the weekend. Titled The Embrace, it's a 20-foot-tall bronze sculpture of arms locked in a hug, the pose borrowed from a famous photograph of the couple that was taken when MLK won the Nobel Prize in 1964. At the dedication ceremony, Martin Luther King III said the statue "truly signifies the bonds of love shared by my parents." But depending on the angle from which it's viewed, the disembodied arms looked to many like … something else. "Now Boston has a big bronze penis that's supposed to represent Black love at its purest and most devotional," wrote Seneca Scott, a cousin of Scott King, who called the memorial "performative altruism." Countless memes compared it to an oral-sex position. "Has anyone in here ever been eaten out?!" comedian Leslie Jones remarked on The Daily Show. "Because they are celebrating you right now." In a more serious critique, Washington Post columnist Karen Attiah said the statue's form and lack of faces made it appear "deracialized," a "whitewashed symbol" that distorted what the civil-rights leader stood for.
Jokes aside, the conversation surrounding The Embrace reanimates the ongoing debate about how to memorialize Black history, which is largely missing from public space. Each new commission — for Harriet Tubman, Emmett Till, the victims of lynching, to name a few — has triggered a discussion about narrative and artistic choices. While there's a general consensus that it's time to remove Confederate monuments, there's no agreement on what comes next. Should we rely on the same visual language of classical European monuments with realistic representations of Black historical figures rendered in bronze and marble? Or should artists have the creative liberty to make something entirely new? Should we continue to lionize specific individuals, or can we shift the focus to collectives and social movements? In Downtown Brooklyn, there's disagreement about whether or not figurative statues or a garden ought to commemorate Abolitionist Place. San Francisco's memorial to Maya Angelou made headlines after the design — a book featuring a portrait of Angelou on the cover — was scrapped by the city supervisor who sponsored the initiative because she wanted it to be a literal statue of Angelou, then eventually reapproved. In general, those making the decisions about public art continue leaning toward old idioms.
It's telling that The Embrace began as a tech entrepreneur's idea. In September 2017, Paul English, who co-founded Kayak.com, decided that his city needed a "world-class" MLK memorial like the one in San Francisco's Yerba Buena Gardens, which he often visited. "Boston has a complicated history with race, and as somebody who grew up in Boston, race is always on my mind," English told the Boston Globe. "The time is right. Let's use it to celebrate [King's] life and to have some honest conversations about how we're doing today with race and civil rights." He started a nonprofit called MLK Boston, which has since been renamed to Embrace Boston; put up a website; and spent $1 million of his own money to launch the project. (It should be noted that Embrace Boston also has a research and lobbying arm to support social-justice causes.) MLK Boston held an open call for concepts, and a panel that included art historians and community members chose five finalists from 126 submissions. They included entries from David Adjaye and Adam Pendleton, landscape architect Walter Hood, and artist Yinka Shonibare. While most of the designs were abstract — in the form of gardens and fountains — Hank Willis Thomas and MASS Design Group's The Embrace was the only figurative one. It was also the most popular with the public. Three teams then moved into a feasibility stage to figure out which piece would actually work in a landmarked park. In 2021, the city finally approved The Embrace.
But the figurative nature of the sculpture seems to have worked against it. Most of the backlash against The Embrace is about its appearance. There's no question that most views of it look kind of strange. Only one angle really makes sense: it's where the interlocking arms form the shape of a heart. The outline of that heart also appears as a logo on the memorial's website and on the merch. Love — the bond between MLK Jr. and Scott King as well as the vision of a "Beloved Community" — is the intended message of the memorial as well, a palatable sliver of MLK's philosophy, which also included ending capitalism, militarism, and imperialism.
For those who have followed Thomas's work, both the form and subject will feel familiar. The disembodied aspect of The Embrace that's receiving criticism is a common feature of his sculptures — like Unity, a 22-foot-tall bronze arm pointing to the sky that was installed near the Brooklyn Bridge in 2019, or Strike, in which one arm grasps the wrist of another arm that's holding a police baton. Love is also one of his recurring themes. In his For Freedoms campaign, an artist-led project to boost voting and civic engagement, Thomas created a billboard that read, "Who taught you to love?" When he began to conceive of The Embrace, Thomas was drawn to the relationship between King and Scott King. "There are so many monuments to victims of war; there are very, very few monuments to love," he told CBS. With The Embrace, he said he wanted to acknowledge the collaboration and partnership between them and honor how Scott King continued King's work after he was assassinated in 1968, a legacy which is rarely commemorated.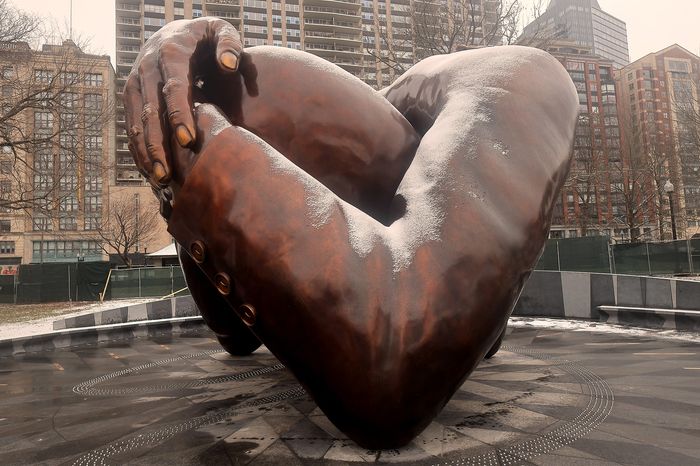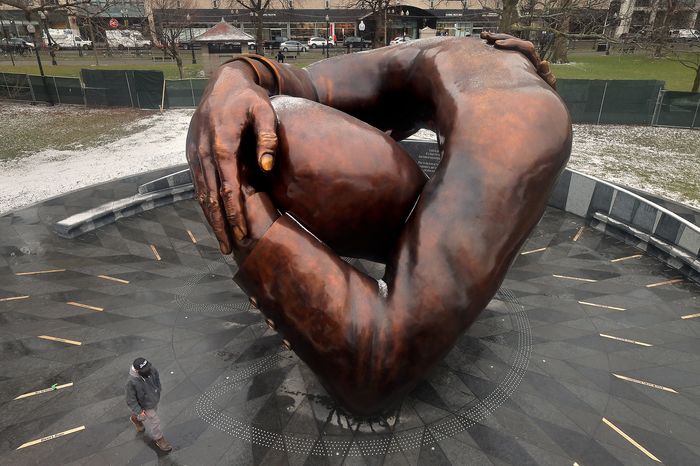 It's a moving sentiment, but not one that will be apparent to most people who visit the sculpture (or those who see memes of it). I suspect the piece — which is designed so visitors can walk around and through it — won't feel as graphic in person as it does in photographs. But public art today exists as much in online images as it does in the physical world, and it seems no one involved in the project noticed what thousands of people immediately saw in the photos. A five-foot-tall version of the sculpture, made in gold and exhibited at Jack Shainman Gallery in 2022, seems to be more legible — the form distinctly reads as arms rather than anything else. What changed when the piece was scaled up and cast in bronze?
But the issues with The Embrace are bigger than just one statue. Cities around the world are all too eager to build monuments to King (there are more than 25, including one in Bosnia), but it seems very few are satisfied with them — they either look nothing like him, or there's something wrong with the proportions, or the messaging isn't right. When his monument in Washington, D.C., opened in 2011, critics also disparaged its missing body parts. "We don't even see his feet. He's embedded in rock like something not fully born," a New York Times reporter wrote, adding that he wished it looked more classical.
Beyond aesthetics, however, The Embrace has reopened a much larger controversy. For many, the MLK sculpture only reminds them of all that Boston has not done to redress its racist past. Here, and in many other instances, the figure and words of MLK Jr. are used to claim support for racial equality when there is no real commitment to policies that would make a measurable difference, like ending overpolicing in Black neighborhoods, closing the racial income gap, and reparations. Just a few years ago, Georgia explored building a monument to King on top of Stone Mountain, above the infamous carvings of Confederate leaders. After NAACP leaders objected, the idea was shelved. "You can't make hate more inclusive," said Richard Rose, president of the Atlanta chapter. Can a $10 million MLK statue cooked up by a tech guy redress hundreds of years of harm in one of the most racist cities in the country? Obviously not. But when a monument distracts us from the message of the person it's trying to represent, it just becomes a bitter reminder of a culture that wants to wear rose-colored glasses. Perhaps the MLK memorial will be the catalyst for that broader conversation rather than an ending at which leaders can point and say to themselves, Job well done.