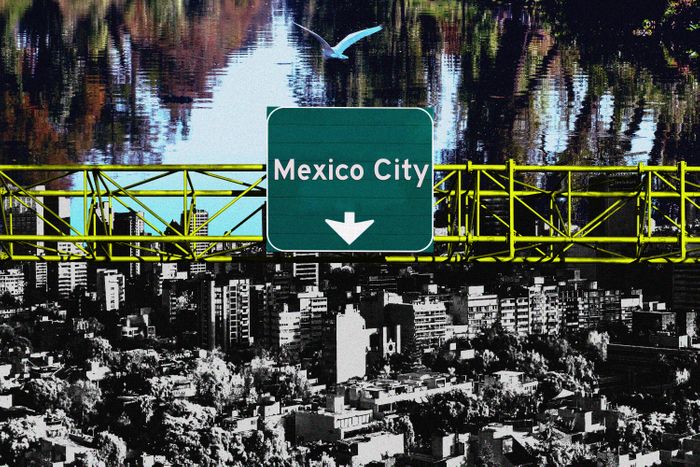 Photo-Illustration: Curbed; Photos: Getty Images, Alamy Stock Photo
In "Realtor Diaries," we hear from the people at the center of a wilder-than-ever market. Today, an hour-by-hour glimpse into the working world of a top Mexico City broker, Luis Diaz.
7 a.m.  I'm married with three kids, so I have to wake up around this time every day. My wife is a kindergarten teacher. The mornings are busy getting everyone out of the house.
8:30 a.m. I make myself a triple espresso with milk, a plate of fruit, and some kind of eggs. Today it's huevos ala cazuela. We have a live-in maid who often prepares breakfast, but I like to cook too. That's a big cultural difference here, and something my foreign customers love about living in Mexico: You can have a full-time housekeeper and it's very affordable — $450 to $700 a month. Most "normal," meaning "not rich," families have one. You need to be very wealthy in the U.S. to have a live-in housekeeper or a cook or a nanny. Here, we all have that. My U.S. clients who move here are like, "This lifestyle is incredible! You don't cook, you don't do the laundry, you don't do the dishes, you live in your own home like it's a five-star hotel!" Americans find themselves living very, very comfortably in Mexico.
10 a.m. My office opens at 10 a.m. It's a seven-minute drive, so I'm not in a rush today or any day. But I head to my car. I live in Los Lomas de Chapultepec. It's 90 percent big residential houses, and I guess you can call it the Beverly Hills of Mexico City, or the Upper East Side. It's like a very beautiful suburb in the middle of the city. Houses range from approximately $2 million to $18 million. Some of the houses have a high-end "Mexican" feel, like villa style, with fountains, pergolas, and gardens. Some are very modern, made of glass and stonework, designed by famous architects like Javier Sordo Madaleno, with long private and gated driveways. I don't live in one, but there are lots of mansions. Ambassadors live here. The French embassy here is in an amazing mansion near me.
10:15 a.m. I work at Sotheby's and our clients are very wealthy people, which means no one wants or needs to be bothered this early. But I have paperwork to do. Our office is in Polanco. This neighborhood is a huge combination of buildings, restaurants, hotels, restaurants, and houses. It's chic and happening, but it's always been chic and happening. The most desirable place to live around here is in an Über-luxurious penthouse apartment overlooking our best park, Bosque de Chapultepec. Many of my New York and L.A. clients want to live in one of those. They start around $6 million, but these apartments have nothing in them — not even a floor or a toilet. The idea is that these are people who will want to customize everything their way, so let them build it out perfectly for themselves.
11 a.m. On the first Monday of the month, we have an office meeting. There are 30 brokers. We discuss sales, the market, etc. We all agree that 2022 was an amazing year for us, our best year yet. The pandemic was difficult. Real estate here felt frozen. But then things turned. We had more sales in April of 2022 than in all of 2021. So, yes, at the moment it's booming. Forty percent of our clients are foreigners — right now I have active clients coming from Brooklyn, Switzerland. Most people who come here are high-net-worth singles, or young couples without kids, or empty nesters. They like that Mexico City is sort of on the same frequency as New York, L.A., or Boston and yet it feels like a whole new land in many ways. They like that it's easy to buy in Mexico City. You can make an offer on a house and have the keys in your hands in a month or less. Most of my customers are cash buyers, because the mortgage rates aren't good here. They like that houses are still relatively cheap compared to wherever they're coming from. Although they're increasing, of course. A four-bedroom in Condesa, which is like Mexico's West Village, would have been $400,000 in 2016 — now $1.8 million.
12 p.m. Heading to some showings with a young couple in their late 20s from the Pacific Northwest; they're in tech and they want to relocate here or somewhere totally different just because they can. They learned, like so many of my clients in the pandemic, that you can work from anywhere, so why not take advantage? They want to find a house that's "authentic" and "charming," but nothing that's falling apart.
12:30 p.m. I pick them up at their Airbnb and show them around. This is my first time meeting them, so I want to make them feel as attracted to the city as possible. We drive to some nice places in the La Condesa neighborhood — rich bohemian, very hip, somewhat posh. Their budget is around $2 million. Again, they want something that's charming and European but not a ton of work. I showed them a very antique villa, but I think it's too old.
3 p.m. They didn't find what they were looking for this time. It's okay! I go back to the office to prepare for two guys from New York who are coming here next week for investment properties. I'm seeing a lot of people who want to invest here in Mexico. They either want to find places in Condesa, Roma, and Polanco to buy, renovate, and quickly resell or places that are done, and ready to move into, so that they can Airbnb them. Airbnb rules and regulations are still loose here, but I'm not sure how much longer that will last. These guys from New York seem really nice.
5 p.m. I take a draining call from one of my toughest clients yet, a seller. Before I tell you about her, let me say, in my experience, most of my clients are great. A few weeks ago I had a customer who flew in from Vegas on his private plane. He wanted to see the most "eccentric yet modern" homes or apartments in the city. He had around $7 million to $10 million to spend. So he flies in with his wife. We had one great showing. It was one of those totally undone apartments — I'm talking no floors — on the 23rd floor of a striking building with views of the park. They loved it. Then I took them to a very fancy restaurant, Pujol, one of the top restaurants in the world. By the end of the week, the deal was finalized. Three weeks later, he owned it. He hired an American interior designer from L.A. and a contractor here in Mexico. It was so easy! Recently he told me, "Give me a year, and we'll find a beach property next."
On the other hand is this seller I mentioned. We have a signed contract on her house, and she's fighting over everything. She now wants extra money for the marble tabletops, for the sound system, for the wallpaper! I'm like, "They paid a couple million dollars, and that includes everything! You can't take the lighting or the speakers with you." Like, you can't bill them for the wallpaper? I'm very close to losing this deal because of all this back and forth. She's such a sophisticated woman and so smart. Her closet is amazing. I'm just not sure what to do with her.
7 p.m. I'm ready to head home. I'm a bit tired today because my wife and I went out with friends last night, just to their house for dinner, and we stayed there until 4:30 a.m. Mexicans are very social! We love to see our friends and talk about family, trips, adventures. No one really talks about work. We try to avoid politics, too.
8 p.m. For dinner, I try to be more American and eat a healthy caprese salad.
10 p.m. Nightcap with my wife over some red wine. Then I turn my phone off. There is no point in leaving it on. If someone calls me in the middle of the night about work, my wife will kick me so hard. And then I will kick myself because I'll never be able to fall back asleep.