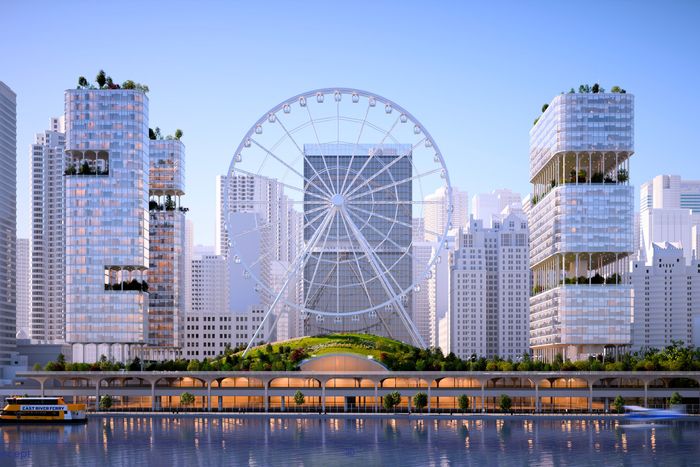 Graphic: Rendering courtesy of the Soloviev Group
Sheldon Solow was, by virtually every account, a stubborn and deliberate man. When the late developer put up his swoopy 9 West 57th Street tower in 1974, he included a ground-floor restaurant space but did not rent it to a tenant for well over two decades, until he was good and ready and had a plan grand enough to satisfy himself. (The restaurant was Brasserie 8 1/2, opened in 2000 and recently relaunched as Cucina 8 1/2.) Also in 2000, he and a partner bought a nine-acre stretch of land along the East River from 35th to 41st Streets, the site of Con Edison's old steam plant. It was, as widely noted at the time, the last unbroken swath of undeveloped mid-Manhattan land to be had. They tore down the plant, cleaned up the soil, and then … it sat. Eventually, they sold off a plot for a new public school and a larger chip of the site for the twin American Copper Buildings. Solow and his partners, Fisher Brothers, split acrimoniously, and he bought them out. His son Stefan Soloviev — who untruncated the family name — eased into the business, though he and his dad frequently did not get along. (A shrink would note that in restoring the surname, he also rejected his father's.) Together, they got one tower up, a Richard Meier project on the west side of First Avenue. The statewide 421-a tax abatement expired, so their plans switched from rentals to condos. In November 2020, Sheldon Solow died, leaving, after 20 years' planning, five acres of weeds.
Stefan, judging by press accounts, is an impulsive man, and now he has seemingly been freed from whatever family dynamic he had to pursue his own vision. In November, his company revealed the vision for those empty blocks on the East River. It's showy. Three big towers (plus the one already built) with open-to-the-air amenity spaces partway up, all facing a broad green hill crowned with an enormous Ferris wheel. There will be a 1,000-room hotel and a performance space as well as a museum devoted to the history of democracy, which is a cute enough way to marry hard-core capitalism with social relevance. (The whole project will be called Freedom Plaza.) Most of all, he's gunning for the one precious downstate casino license to be doled out by New York State. The application period opened on Friday, and Soloviev is competing against potential operators at Citi Field, Hudson Yards, Coney Island, and a couple of other sites. If he doesn't get the license, the hotel-casino will become an office building instead.
The performance space Soloviev has announced puts one in mind of similar venues at Hudson Yards, Manhattan West, and (soon) the new World Trade Center, and indeed this project shares some characteristics with those developments. They're all big built-from-scratch neighborhoods mixing office and residential space and aiming to be, to a great extent, micro-cities of their own. In theory, the affluent may live on one of these mini-campuses without leaving very often, certainly without engaging with the messiness of actual city life. Nothing about this is, or is intended to be, contextual. Like Hudson Yards (or, for that matter, the United Nations campus), it will be a spaceship parked on the waterfront.
Soloviev has noted that a lot of discussions happened with community residents before the plan was put forward, and that greensward at the center of the development was a decent gesture. Murray Hill has next to no park space — it's scarce enough that there was recently a fight over a tiny patch of it — and it was canny of Soloviev to offer a big hunk of grass as a neighborhood amenity. You would have to be a real churl to fight against a big park on the water, even if it's not an actual park: It's going to be one of those quasi-public private spaces, like Little Island, and will certainly have private security and minders to keep it tidy and sanitized.
The casino, though, will almost surely upend any neighborhood goodwill established by the big lawn. I can't imagine a Manhattan residential area that would actively want one, even if eastern Murray Hill is less likely to get up and roar about it than, say, Tribeca would. I suspect the opposition will cite traffic (a legitimate concern; consider the wagon train of buses from New Jersey and Long Island that will be arriving), looks (a solvable problem if the developers avoid gimcrack Atlantic City aesthetics), and socioeconomics (an intractable fight; people who regard casinos as predatory and addictive won't be won over no matter what). It is practically certain to be a cash machine unless Soloviev proves to be the unusual sort of developer who can lose money literally against the odds.
What we're likely to end up seeing here, therefore, will be a curious mix of city functions. In the residences, you'll have a wealthy population that goes to and from the office but otherwise cocoons itself, served by Uber and lots of deliveries. And then there'll be a secondary, transient crowd, probably less affluent, hugely activating the site with foot and road traffic on its way to the ride and the slots.
The greenery floors and a casino and a giant Ferris wheel constitute a splashy vision, yet they also feel a little familiar. This is another Everything Development, a Hudson Yards without the mall. (Possibly there's not a lot of retail because there's no subway line here, or possibly they're betting the retail meltdown will continue.) The new New York, as I am hardly the first to observe, is pitched as a grown-up play space, and work-at-home culture fosters that because many of us are spending more time in and around our homes and have regained some hours from the non-commute. The project also intends to bring tourists, principally for the casino but also for the rides. The Ferris wheel is a little like the Summit at One Vanderbilt, a place to visit on your tour of the city where you can take a selfie you've already seen hundreds of times on Instagram, now with yourself in it. Although I still find that impulse weird, millions of other people do not. Any Saturday in Dumbo will prove it. As for the big wheel—well, it's a question mark. We all know how the Staten Island proposal went.
Everything Developments are hardly a new way of thinking about city building, even if they're still a little novel in New York. (Time Warner Center, from 2000, was perhaps the breakthrough here, an all-in-one residential tower, shopping center, giant grocery store, hotel, and, yes, performance space.) One might guess Soloviev is looking at Hudson Yards as a model, presumably with the idea that he can draw lessons from its failures and borrow what works. He's right about the greenery, certainly — Hudson Yards is a joyless experience in large part because it's so hardened. A Ferris wheel presumably won't be the suicide magnet the Vessel was. It would be nice to walk to something comparable to Little Island from Grand Central. It would be a lot less nice if it's full of, and bankrolled by, a lot of slot machines.
If you want to talk about civic priorities, though, it is a little dispiriting to look at the older projects flanking this one. To the north is the United Nations, built in the 1940s on a giant swath of riverbank reclaimed, like the Solow parcel, from dirty industry (slaughterhouses). To the south is Waterside Plaza, the complex of chunky brick 1970s towers that went up under the Mitchell-Lama program creating middle-income housing for thousands of New Yorkers. Each took a big bite out of our finite river real estate and used it, however imperfectly, toward an ideal: global peacekeeping, housing for teachers and firefighters. The new projects, by contrast, are entirely free-market driven, and all depend on the whims of their billionaire owners. (Admittedly, so did the U.N., given that the Rockefellers bought the land. But the big difference is that they gave it away.) If we get something great or something gross here, it's not because we as a society have much choice in the matter; it's because we got what the Solovievs offered, entirely on their terms. We are collectively accepting a casino's own bet, and the house usually wins.