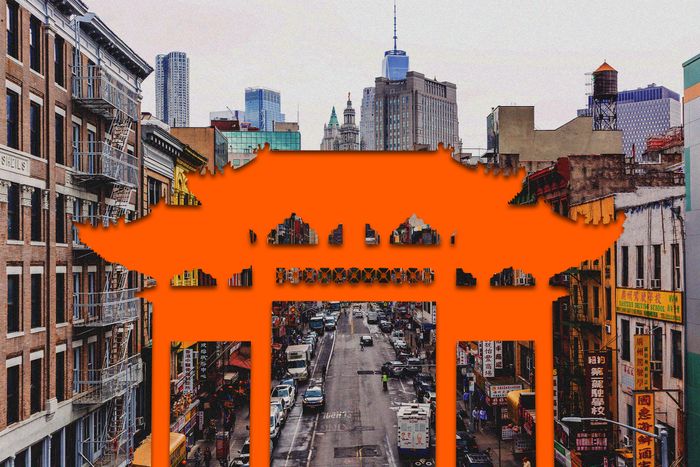 Photo-Illustration: Curbed; Photos: Getty
In the diaspora, they're called Chinatown gates; in China, they're paifang or pailou. They have appeared in most major American Chinatowns: an ornate gate that spans over a road, inscribed with Chinese calligraphy and topped with a flared roof of golden tiles, a design that's said to date back approximately 2,000 years.
But you won't find one in New York. Manhattan's Chinatown has never had one in its century and a half of existence. Neither has Brooklyn's Sunset Park or Flushing, Queens, both of which are also Chinatowns in their own right. Not that New Yorkers haven't tried. In the early aughts, the Chinese Consolidated Benevolent Association, one of Chinatown's oldest community organizations, tried to get one in Manhattan, and in the 2010s, a group of residents tried to build a "friendship" gateway across Brooklyn's Eighth Avenue with backing from Beijing, even paying for then–Borough President Eric Adams to visit China. But neither project took off, owing to a mix of local red tape and long-held divisions within the immigrant community over how close it should be to the Chinese government, according to people familiar with the history.
Now a new effort is underway, this time with $2.5 million in funding from Governor Kathy Hochul's office. It's part of an approximately $20 million state grant for Manhattan's Chinatown, out of a larger $700 million Albany has awarded to downtowns across the state since 2017 in a program aimed at economic development and urban walkability. Longtime community leader Wellington Chen, who has been part of efforts to build a Chinatown arch since 2006, calls the paifang a sort of Chinese "totem pole" and says getting one would be a vital gesture of support from New York State. But not everyone in the neighborhood agrees — and this time the divide appears to be less geopolitical than generational.
It's undeniable that Manhattan's Chinatown is in real need of a boost: The once-thriving neighborhood has seen a steady exodus of Asian residents since 9/11 shut down the area for months, and the subsequent impacts of Hurricane Sandy, the pandemic, hate incidents, and rising rents have only accelerated the immigrant neighborhood's decline. A recent study showed visits to the area fell by half between 2019 and 2021. That lent a sense of urgency to a committee of neighborhood leaders last year as they sifted through over 100 proposals for the grant — from repairing the crumbling East Broadway Mall to opening an "influencer's smart kitchen" that would brew bubble tea using AI.
In the end, the local planning committee submitted 20 projects to the state's Downtown Revitalization Initiative, and Hochul's office whittled that down to 11 winners. Of the $20 million, the state awarded roughly 80 percent of the money to the arch and other beautification-related projects — like a proposal to add foliage and other "capital improvements" at Park Row's pedestrian corridor, while just 13 percent of the funding went to expanding community services, like a health-and-wellness center, a child-care center, and a building-upgrades fund. Among the proposals the state rejected: a small-business training center, a performing-arts center, and a soup kitchen. A New York Department of State spokesperson said its criteria included "alignment with state and local goals, project readiness, catalytic effect and that which may result in future investments, co-benefits, and cost effectiveness."
But younger Chinatown community members familiar with the grant process who spoke on condition of anonymity say the gate is a waste of money. "The arches were created as a strategy to make Chinatowns less intimidating to the western visitor," said a mid-30s Chinatown resident. "Manhattan's Chinatown has established a deep-rooted legacy and cultural influence without an arch. Instead of funding this project, shouldn't we make investments that would really help sustain and grow Chinatown?" A neighborhood artist in their 30s agreed. "What Chinese culture means exactly is very datable, and instead of preserving a 2,000-year-old memory in Chinatown, I'd rather preserve something more tangible." They mentioned their favorite bakery on Eldridge Street. "I just want to keep that instead of having a new arch."
Chen, who co-chaired the local planning committee and has a few decades on the critics, dismissed the pushback as a kind of premature "cancel culture." "Before we even get started, they say, 'Who needs it? We don't need this, it's Orientalism. It's decorative.' Hello? You don't even understand your own culture." He thinks a gateway would draw much-needed tourists and help make the neighborhood feel more welcoming after the closure of Park Row, a roadway that was converted into a police checkpoint after 9/11. "Bin Laden is laughing in his grave," he said. "He wanted to isolate us so that we live in fear, and the one place he succeeded is Chinatown."
Joanne Kwong, the president of Pearl River Mart and a member of the planning committee, also thinks the arch will attract more people to the area. "As a business owner, and as somebody who grew up hanging out in the neighborhood, nothing was scarier than when nobody came," she said. "Some people might say an arch is a little gimmicky, or unnecessary, or expensive. But there's no denying that it's an easy tourist attraction. So if an arch will help bring people to the restaurants and stores, I'm all for it."
While previous attempts to install a Chinatown paifang have broken down over political divisions in the community, Chen says it has unprecedented support from them this time. The allegiances that divide Chinatown run deep and loosely mirror opposing sides in the Chinese Civil War: the 140-year-old Chinese Consolidated Benevolent Association (CCBA) has historically been aligned with the defeated Kuomintang, which fled to form a new government in Taiwan, and it does not often work together with the Fukien Benevolent Association of America, an 80-year-old group that supports mainland China's ruling Chinese Communist Party. But since the funding for the gate comes from New York State, they have avoided disputes over whether to ask a foreign government for support.
For many, it's about time. At the final planning meeting last July, a group of local residents showed up to support the arch, holding signs in Chinese and English that read: "If not now, when?" Nolan Cheng, a lawyer on the board of Chinatown's business improvement district, held a stack of paper that he said contained hundreds of signatures in support of the gateway. "The reason we want an arch is we've been asking for decades," he said.
Erica Allen-Kim, an architectural historian at the University of Toronto who has studied Chinatown arch projects across North America, said that the divide over the arch is a common one in urban development, where beautification proposals are often pitted against less photogenic social projects. But since the power in business improvement districts "really is in the hands of the property owners," who invariably prefer the former, she said, "I'm not surprised that the younger people did not win out."
In the Chinatowns she's studied, she also found that older generations don't see the arches as frivolous. "Through my conversations with them, they don't think of it as stereotypical or Orientalizing," she said. "They genuinely feel that this kind of architecture is an important part of their heritage."
What's left now might be even harder: what the arch looks like and where it gets built. Kim cautioned that there's no single arch design that's a "guaranteed win." Some minimalist, modern arches, like those in Chicago and Los Angeles, have proven to be less popular with tourists, she noted. But that doesn't mean an ornate one is better. "There are other arches, like the Washington, D.C., one, which is incredibly decorative, ornamental, traditional — but people make fun of that one, because there's nothing left in D.C.'s Chinatown, so it just seems like a bridge to nowhere." The location of the arch is usually contentious as well. "In New York, I think that's where there's going to be a lot of argumentation," she said. "It's probably going to lead to an interesting question about the boundaries and the official entry point to Chinatown. And what is around it, because when you photograph it, it's always about what it frames."
New York's arch doesn't have a proposed design yet — the state's announcement included a "rendering" which appears to be a photo grabbed from Wikipedia of Philadelphia's traditionally styled Chinatown gate. There's no confirmed location either, though city councilman Chris Marte, whose district includes Chinatown, told me that the most likely locations would be at the intersection of East Broadway and Pike Street or an intersection on Canal Street. The latter would require a massive span, increasing its cost and complicating the likelihood of approval by city agencies. At any location, an arch would need to be tall enough to let trucks or double-decker buses through.
Marte acknowledged that he'd heard mixed feedback about the arch. "There's always a question of what else that money could've gone to, especially since Chinatown is suffering, and residents and small businesses need a lot more help," he said. "But the people who want to have it are loud and have been organizing and advocating for a long time. So I think the hope with this is now that it's been awarded, that the arch can actually just happen. And hopefully we won't need additional resources to settle that."
For now, it looks like the gate's detractors will accept that it's happening, whether they like it or not. "We're not going to go into the streets to protest the arch," said a resident in their 30s. "We just roll our eyes and know it's a misallocation of much-needed funding."