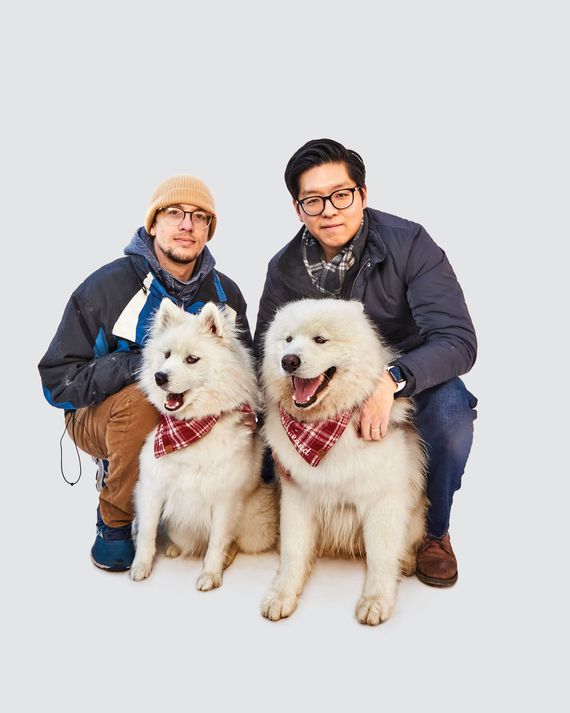 Sean Bedford and Niuniu (pictured above, left)
Psychotherapist, Downtown Brooklyn
How do you know Jin and Newland?
We live in the same building. My wife and I invite him and his wife over and we'll cook dinner, or they invite us over and they'll cook dinner, and Newland and NiuNiu just do their own thing. There's one other Sammy in the building and she's really sweet, but the connection with the owners is just not quite the same.
Jin Niu and Newland (pictured above, left)
Lawyer, Downtown Brooklyn
Newland!
I named him after Newland Archer from The Age of Innocence. The character represents somebody with a lot of intellectual conflict, and our Newland is like that. If you offer him beef or chicken, you can just see him being torn up about it.
How did you decide on a Samoyed?
When I was growing up in Texas, a lot of my neighbors had golden retrievers and I'd watch Air Bud. But I read a book when I was a kid that said the kindest dog is the Samoyed, and I remember thinking, If I ever get a dog, I want a really kind dog. So when I became an adult, it was kind of obvious I'd go with a Sammy. But there aren't many Sammy breeders. We reached out to three in April 2021 and didn't get Newland until the first day of 2022.
Does his hair get dirty?
I was afraid of that, but it's totally a myth.