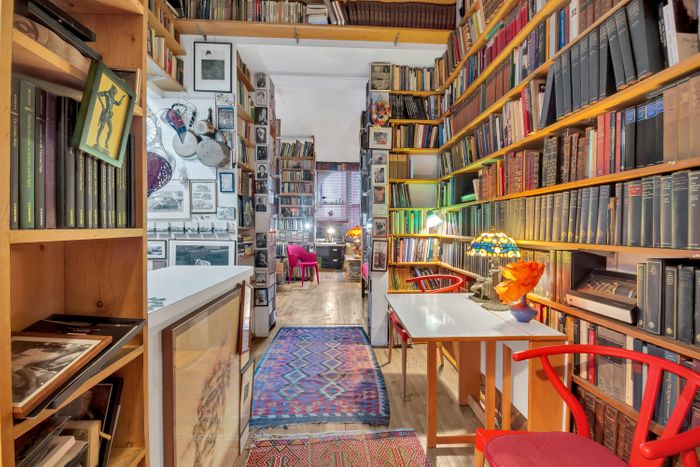 Books cover almost every square inch of the studio occupied by the poet, professor, and translator Richard Howard.
Photo: Courtesy of Compass
The poet, professor, and translator Richard Howard, who passed away last March, spent many evenings at W.H. Auden's apartment in the East Village drinking and talking literature. But one night, he was distracted by Auden's library: The shelves had started overspilling, forming teetering piles. "Richard was already starting in that direction, and he decided he couldn't live that way," says Howard's husband, artist David Alexander, who helped enforce a new rule: "One book in, one book out." Over the years, the books that covered almost every square inch of Howard's apartment shifted almost imperceptibly. Almost nothing else did.
Now, the railroad studio that Howard moved into in 1974 and bought when it went co-op in the 1980s is for sale for $525,000, a price his agent, Ippei Iwashiro, set low (the apartment directly above sold for $799,000) because he expects most buyers will want a major renovation. That future buyer may be drawn to nothing more than the building, an 1891 hat factory with an arched entryway that, like a French Quarter mansion, opens into a brick courtyard — private outdoor space just blocks from Washington Square Park. "It's got that Greenwich village charm," explains Iwashiro, who says renovations at other units revealed exposed bricks, beams, and columns.
When Howard moved in, he had already won a Pulitzer Prize and a Guggenheim Fellowship. He came from a wealthy family that raised him in a Cleveland mansion, and friends sometimes wondered why he would choose to limit himself to 500 square feet. The little space that was available Howard gave over to his "companions," as he described his books in a 2007 documentary. Simple wooden shelves, installed as a prerequisite before he moved in, stretched to the ceiling, hung over the entryway, and curled into the recessed kitchen. "His bed was set into a nook of books where he kept the books for quote 'reading at night,'" says Craig Morgan Teicher, a poet and friend. When Teicher was house-sitting, he discovered that Howard's books contained secrets: his correspondence with their writers. "The books were his friends — either friends he did know or friends from literature who he never knew. For him, life happened in books in a way that is much deeper than it is for most people."
Even the bathroom is devoted to literature, with black-and-white photographs of writers covering the ceiling and available wall space. When Howard ran out of room to honor them, some portraits got hung in a living area, around his couch and the desk overlooking Greene Street, where he translated from French or met with generations of poetry students from Columbia and elsewhere. Then there were the living writers who stopped by. Teicher once met the poet W.S. Merwin on the couch. "If you were a young writer coming into New York City, coming into that apartment was like, Oh! You can live this way? You can be a writer all the time and live this way?" Writers interested in living this way may be interested to learn that the shelving will come with the apartment, and the rugs — from Turkey and Iran — are available, as are the desk at which Howard worked and the couch on which Merwin sat. As for all of his "companions," Alexander is now reaching out to book dealers to go through the collection; taking personal requests from scholars, friends, and former students; and, eventually, looking for a bookstore to take what's left.
Over the decades, the apartment's most major renovation was the kitchen floor, its tiles imprinted with Alexander's photograph of a box of candies they bought on vacation in Kyoto. "Richard really liked it, and it was his idea to do the kitchen floor that way," Alexander says. A buyer can offer a price for those tiles, which Alexander described as a "work of art," not as flooring. Alexander himself lived in the studio only briefly, when they were first dating, but his artwork is everywhere: on the surface of a coffee table and in the large portrait of Howard that still hangs over the couch. And Howard's apartment is imprinted on Alexander's artwork: His 2009 photography show, "Available Light," is a series of images of the studio in soft, moody close-up, work that seems to honor Howard's space as if it were a shrine.
Howard died at the age of 92. He had been suffering from dementia, and near the end of Howard's life, Alexander read his own poems back to him. Many, including the poems for Untitled Subjects, which won him the Pulitzer, channel other voices — sometimes those of authors or historical figures whose portraits would have stared at him while he showered and whose cadence he could have heard by pulling a book down from a shelf.
"The thing for him was the life of the mind," Teicher says. The apartment was an outgrowth of that life — a physical manifestation of the wanderings of his brain. "It was him as a place."
In addition to the books, toy pigs — Howard's "totem animal," according to Alexander — seem to walk up the bathroom walls and totter above frames. Then there was his collection of rings, thumbtacked to a wall, and Mildred, Howard's stuffed gorilla. "During the day, she lived on the bed and, at night, moved to the couch," says Alexander. "Toward the end, I thought there was too much stuff. But I never pushed the issue. It made Richard happy."