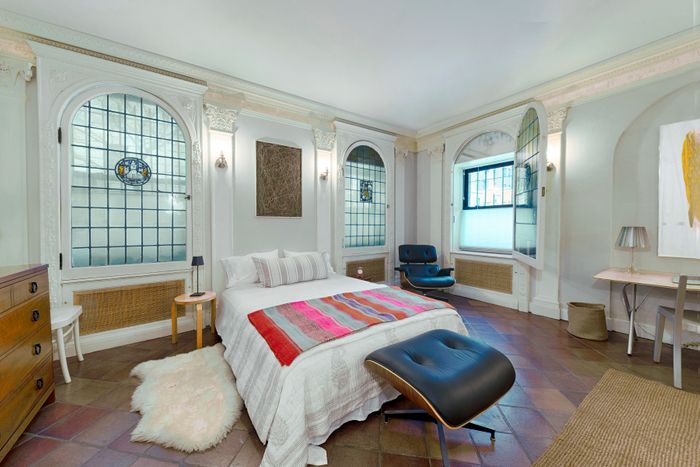 Photo: Brown Harris Stevens
The visitors who called on the widow of Ulysses S. Grant at her fortress of a mansion on West End Avenue at 73rd street would have been ushered into a room off the foyer, where they could wait for a chance to speak with the former First Lady or, rejected, drop off a calling card. In 1948, about 57 years after Grant moved out, the 1887 home was chopped into ten apartments. The reception room became one of the strangest studios on the Upper West Side — a relic of the Gilded Age scaled down to fit a student. "It's not only gorgeous," says agent Dean Feldman of Brown Harris Stevens. "It's extremely affordable."
The main living area is about 350 grand square feet; the walls are striped with embedded columns and topped with crown moldings, not to mention the functional marble fountain as large as an armchair. But the showstoppers are the windows: high, arched, and set with leaded glass that includes rondels of colorful scenes (a white castle under attack by griffins, a golden lion wearing a tiny golden crown).
The current owner, Howard Zar, is the executive director of Lyndhurst, an estate run by the National Trust for Historic Preservation, but he came to the building when his passion for history was merely a hobby. As a Wall Street banker looking for a first apartment, Zar says he fell in love with how the mansion's eccentricities were "worked into the apartments, rather than ripped out." He bought a one-bedroom upstairs in 1987 and then a few years later bought the studio downstairs for the relatives he was always hosting. Meanwhile, he spent time outside his job digging into the building's ghosts and found that, in addition to the Grant family, the mansion had been home to Samuel Shaw, a hotelier with a passion for collecting art, who Zar believes did a major renovation around WWI that might have included the fountain.
Over the years, Zar says, his neighbors have included the author Alexandra Styron and the actress Ruthie Henshall, who Zar says lived there after her breakup with Prince Edward. Once, he stepped around the mail of Gael Greene, the former New York Magazine food writer, who was pulled into the orbit of 280 West End Avenue by Donald H. Forst, her ex-husband. Greene writes in her memoir, Insatiable, about living in the studio before the couple snagged a larger apartment upstairs, where they lived as the "Bonnie and Clyde of West End Avenue." "I think you can generally say the building has attracted a very tony level of individuals who want a unique experience," Zar says. (Before he moved in, Ethel Merman supposedly told a former resident she used to come to the building to practice with the Gershwins, who kept a studio there. "That's apocryphal, and we cannot confirm it," Zar says.)
To the agent Debra Weiner, who is co-listing the property with Feldman, the studio is unique because it doesn't share a wall with another unit. And then there are the outer walls, thick enough to turn a bathroom window into a deep shelf and to mute the sounds of the street — transforming what was once the mansion's loudest, busiest room into a kind of library. "It's so private and so quiet," Weiner says.