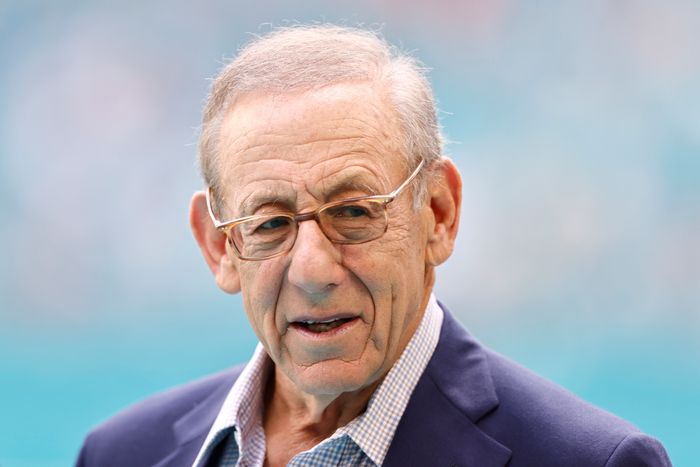 Photo: Michael Reaves/Getty Images
Right now, no one knows what anything costs. A sandwich is $18, a 30-minute Uber costs a day of labor, and a grocery cart full of basics is … $400? But what about luxury real estate? It's consistently been a reliable source of eye-watering prices that continue to rise, for the most part, when everything else is falling or stagnant. So it's hard to believe that Stephen Ross, the developer behind Hudson Yards, was so completely off when he put his own penthouse on the market in 2019.
Ross's 8,000-square-foot monstrosity of glass and "exotic" Bubinga and Padauk wood at 25 Columbus Circle has finally sold, after three years, for $40 million, according to Crain's New York, That's 47 percent less than the $75 million Ross asked for in 2019. It's also $9 million less than what Ross was asking in October, when the apartment went into closing, according to The Real Deal. (If that seems like a rounding error, remember that $9 million gets you a "magnificent" townhouse in Brooklyn Heights.) Crain's reports that the buyer who got the deal is US No. 9, a shell company represented by the lawyer Robert S. Frankel.
Those discounts say something about how much guesswork is currently going into luxury-housing listings. The sales of homes in New York priced over $10 million saw price cuts hovering around 12 percent in the second half of 2022, according to The Wall Street Journal. And a report by the firm Douglas Elliman found luxury sales dropped 31 percent in the last quarter of the year, when Ross's penthouse went into closing. Adding to the difficulty of putting a price tag on the penthouse is the fact Ross never competed with another buyer to get it. Crain's reports that Ross got the five-bedroom "as a sort of development fee" for creating the complex it hovered above, formerly known as the Time Warner Center, now the less glamorous Deutsche Bank Center.
Ross, whose Related Companies claim to own $60 billion in real estate, may have already moved on. He told Forbes in 2019 that he planned to move into a penthouse on the 92nd floor of 35 Hudson Yards, a building that's already earning a reputation for slashing prices: according to The Real Deal, one of two penthouses a floor below him sold at a paltry $35 million last fall after listing at $59 million in 2019 — a 41 percent discount.