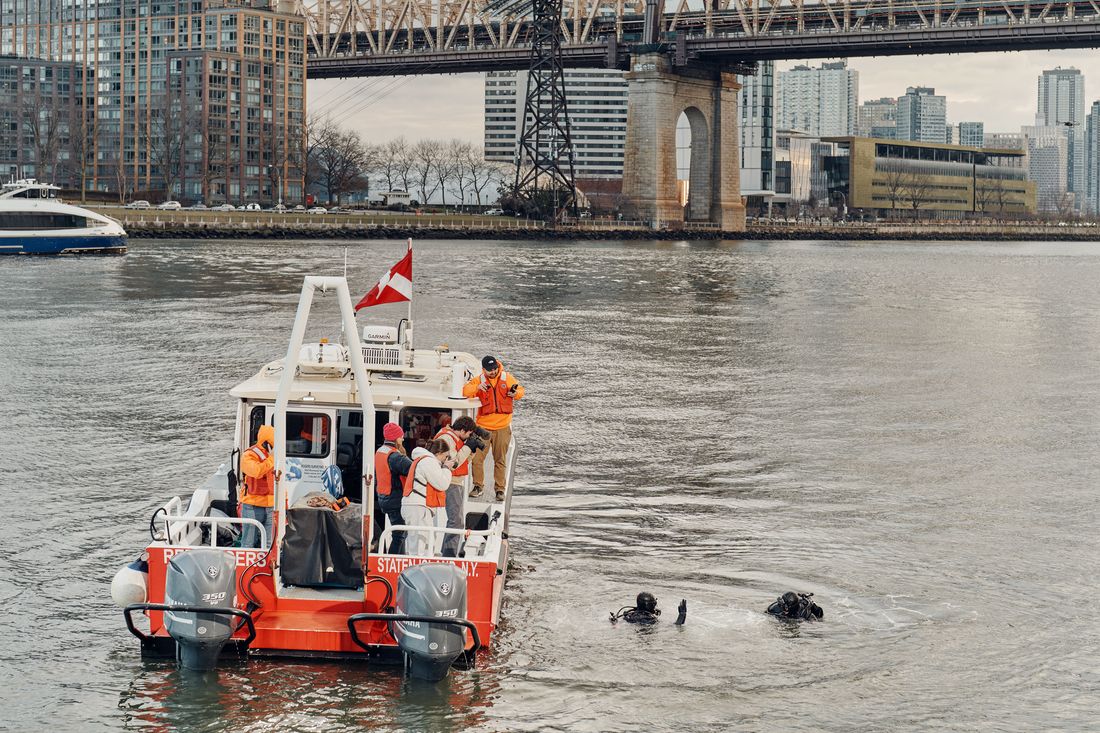 From left:
Michael Berteletti, Brittany Cochrane, Kyndall Johnson, Joseph Talerico, Connor Rogers, Rick Cochrane, and Jake Koehler (not pictured: Danny Rogers).
Photo: Thomas Prior
A lesson in how podcasts for guys work: When a fossil hunter goes on The Joe Rogan Experience to chat about a 50-ton cache of woolly-mammoth remains that the American Museum of Natural History allegedly dumped in the East River, mainly in the 1940s, believe him when he says there's going to be a "bone rush."
"I was ecstatic," says Rogan listener Connor Rogers. "This is what we do." Rogers works with his father at a family surveying company in southern Staten Island, mapping the floors of New York's harbors and rivers. After convincing his dad to hear out the fossil collector's just-believable-enough story, he checked the riverbed of the alleged site off East 65th Street in a boat named for his grandfather Red. There were no obvious signs of tusks on the side-scan sonar. "I have my doubts," says Connor's father, Danny. So does the museum, which says it has "no record of any such disposal."
Still, there has been competition at the dive site. Among the hopefuls were "the Wonton Don," a Barstool Sports anchor who charted an expedition with "Dirty Water Don," a sewer diver on the Discovery Channel; a couple of inspection divers doing it "for the culture"; and a trio of childhood best friends who drove up from Atlanta to brave the river in a hunting skiff and drop a GoPro on a rope into the water.
Of all the groups, though, the explorers on the Red Rogers could be considered the best equipped, having teamed up for a second trip with two seasoned divers who hoped to strike bone. On a chilly Saturday in January, science teacher Rick Cochrane and full-time YouTuber Jake Koehler plopped into the river from the starboard side of the Rogerses' boat.
"We were looking for the big boys and the small stuff, too," says Koehler. "Any kind of bones." They found more recent remains: a skateboard, a few Citi Bikes, and the chassis of two cars. There were also some porous-looking samples that could be bone. Only a vinegar bath and a YouTube reveal will tell.