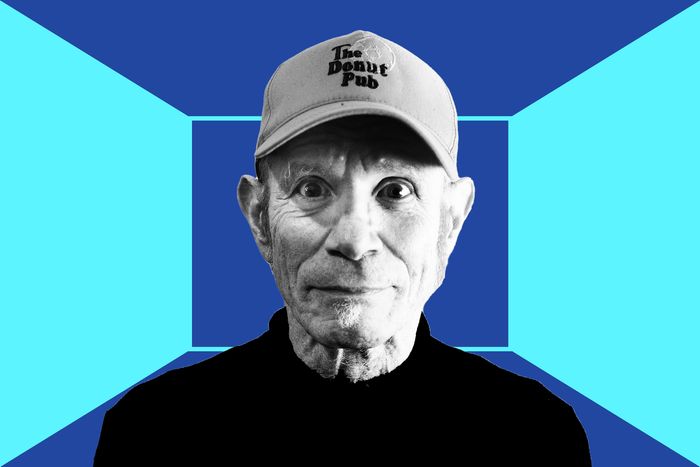 Photo-Illustration: Curbed; Photo: Lazar Bozic
New York's "21 Questions" is back with an eye on creative New Yorkers. Charles Atlas's pioneering experiments in film, video, performance, and installation have defied conventions for decades. His multimedia projects at institutions like the MoMA, the Pompidou, and the Met often feature close collaborations with other artists and performers (he was Merce Cunningham's videographer for decades), and are increasingly large-scale and immersive. In January, he opened the U.S. debut of "A Prune Twin" at Luhring Augustine; the exhibition surrounds the viewer with footage of another of Atlas's longtime co-conspirators, the Scottish choreographer and dancer Michael Clark. The Chelsea show comes close off the heels of another massive undertaking at Brooklyn's Pioneer Works, the 100-foot installation The Mathematics of Consciousness.
Name: Charles Atlas
Age: 73
Neighborhood: 14th Street between the West Village and Chelsea
Occupation: Artist
What's hanging above your couch?
Two framed prints by Nicole Eisenman. They're individual heads — one blue and one black. They were a gift from Nicole.
What's the first job you had in New York?
I was a sales clerk in the "books and rare autographs" department of the B. Altman department store, which was on 34th Street and Fifth Avenue.
What color are you always drawn to? 
Orange is my favorite color and has been for a long time. My sideburns are orange, my cap is orange, my shoes. I took up orange in the early '80s. I used to like red, but once I changed to orange I never went back.
What work of art or artifact are you most surprised you own?
A "Tutu Head," which belonged to my friend Leigh Bowery, who passed in 1994. It's a spherical headpiece covering his entire head, and it's made of tulle. He used to wear it out as part of one of his "looks" when he went to nightclubs.
Which New Yorker would you want to hang out with?
Agosto Machado, performance artist and downtown New York icon who I have watched for over 40 years in various venues. He's at the top of my bucket list of people to make a video portrait of.
What's the last thing you made with your hands?
I'm not very handy, but if pressed I would say a chopped liver sandwich.
Is there one thing you own multiple versions of?
The Macintosh operating system dating back to the Lion version. In my studio I have six computers — and 17 monitors — with different operating systems installed so I can open and read legacy video projects.
What New York City museum do you always go back to?
MoMA — they have the best shows.
What do you always have next to your computer?
A windup, jumping plastic human eyeball.
Where is the best view of the city?
Times Square at night.
What building or object do you want to redesign every time you see it?
The AIDS Memorial Park on Greenwich Avenue and 12th Street. It's so disappointing. It's just ugly. It doesn't put me in the mood of remembering my friends who suffered from AIDS.
What's one thing you would change about your field? 
I would get rid of "art speak" in conversations and reviews.
If you could live anywhere in New York City, where would it be?
I'm very happy where I am on West 14th Street. I have lived here since 1980. If I could turn back time I would prefer it to be before the Meat Market renovation and the High Line.
What would you hoard if it stopped being produced?
Coffee beans, paper towels, and black boxer briefs are indispensable to me.
What do you do to get out of a creative rut? 
Lie down in my bed, turn on the television, and pick up the remote control.
Where was your first NYC apartment and how much was the rent? 
I rented a room in a fifth-floor walk-up on 4th Street between C and D. The rent was payable by the week and it might have been $60, I don't remember exactly. It was the cheapest I could find.
Where in the city do you go to be alone?
Other than my studio, if I was out in the city I would look for an empty park bench in Central Park, near Fifth Avenue.
Worst piece of career advice you've ever gotten? 
Have I ever gotten any career advice?
What have you given away to someone that you wish you could get back? 
Advice on friends' relationship problems.
What's your favorite NYC restaurant and regular order? 
Westville Chelsea. I usually order a grilled chicken breast plate.
What descriptive phrase do you want on your obit headline?
"Charles Atlas, the Artist not the Bodybuilder."