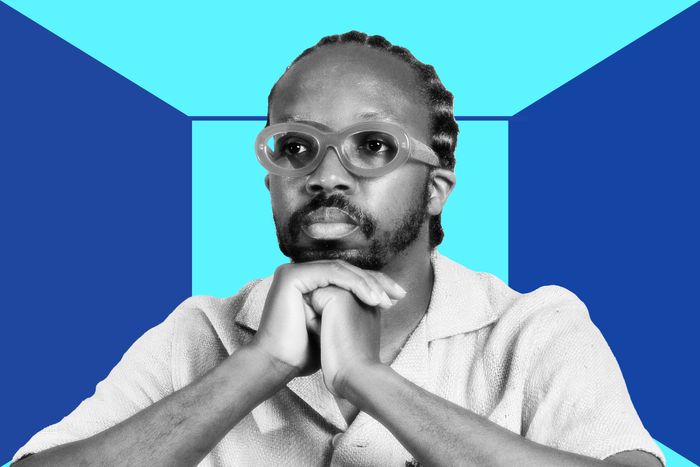 Photo-Illustration: Curbed; Photo: Benji Geisler
Ekene Ijeoma is a media artist known for interactive installations that explore social issues, systemic injustice, and human connection. His recent projects include Breathing Pavilion, an installation of nine-foot-tall inflatable columns in Downtown Brooklyn that dimmed and brightened at a meditative pace; Wage Islands, a topographic visualization of housing affordability in New York, which appeared at the Museum of the City of New York; and A Counting, a "linguistic portrait" of U.S. dialects and languages featuring crowdsourced recordings of people counting to 100. Ijeoma also directs the Poetic Justice Group at the MIT Media Lab.
Name: Ekene Ijeoma
Age: 38
Neighborhood: Clinton Hill
Occupation: Artist
What's hanging above your couch?
A series of clocks: One has the hours, one has the minutes, and one has the seconds. I bought it a while ago and can't remember who produced it.
What's the first job you had in New York? 
I was working as an interaction designer and full-stack developer for Local Projects, primarily on "City of Memory." It was an interactive map online where you could click on icons that would open videos or sound clips of oral histories of different neighborhoods.
What color are you always drawn to? 
Other than black? The fall colors — oranges and reds — are so vibrant and radiant.
What work of art or artifact are you most surprised you own?
I have this bubble-maker I bought at a pop-up. It's all color-blocked primary colors and has a handle that you crank. It's not the most efficient thing, and it's really loud when all the plastic gears start moving, but it's just a nice, interesting object. I like making bubbles, too, but it's not something I do every year.
Which New Yorker would you want to hang out with?
That I don't already hang out with? Rammellzee — he seems like a wavy character.
What's the last thing you made with your hands?
I planted trees in Southwest Detroit and Melvindale for a project that hasn't been announced called "Black Forest." It's a participatory public artwork for which we're collecting names and stories of Black lives lost to COVID-19 and planting trees for them in their neighborhoods. We're planning to organize this in ten more cities this year.
Is there one thing you own multiple versions of?
I bought the same dining table and bench for my apartment in Brooklyn and in Boston. It's by the Bouroullec Brothers for Hay. It's difficult to find a good dining set and I like that it's sleek and light. When I first bought it around 2015 or 2016, Hay wasn't distributing furniture in the United States, so I had to go through Canada.
What New York City museum do you always go back to? 
I mostly go to museums when I travel, but in New York it's MoMA for the R&D Salons that Paola Antonelli hosts. I like the topics, the curation, and the specific audience it brings.
What do you always have next to your computer? 
Other than a mouse? Water or coffee. I like my table cleared, for the most part.
Where is the best view of the city?
There are some amazing views from Green-Wood Cemetery. I'm just now finding out about them.
Which building or object do you want to redesign every time you see it?
I do so much research before buying anything that I've managed to remove all bad design from my life — except for streets. There are so many intersections that need to be redesigned, but the two most obvious ones are Bowery and Kenmare and Flatbush and Atlantic.
What's one thing you would change about your field? 
In many fields and disciplines, the creatives are not really in dialogue with the technologists. I'd like them to be less siloed and more connected.
If you could live anywhere in New York City, where would it be?
Any street that's closed to cars, like my street has been since the start of the pandemic. It feels great to walk out the door and just walk on the street. It's tree lined, and I wake up to birds chirping in the morning because there's less vehicle traffic.
What would you hoard if it stopped being produced?
The Contax T3, which has already stopped being produced. I've had two: One I lost at a club in Chicago, and the other I just broke and am trying to repair it. I might need one more for backup.
What do you do to get out of a creative rut? 
I walk, ride a bike, or run, often to a park, pier or promenade. I joke that those are my PPP.
Where was your first NYC apartment, and how much was the rent? 
I lived on Bedford Avenue in Williamsburg in 2006. My rent was like $500, and I think all I had in my room was a futon. The apartment wasn't great — there were no windows in the living room, and the neighbors upstairs were loud — but it was nice living there at that time. I met all my roommates just going to house-music parties and dancing. My building isn't there anymore. A lot of smaller buildings were knocked down to build a larger one. People say if you've lived in New York for ten years, then you're a New Yorker. I think it should be you're a New Yorker if your address doesn't exist anymore.
Where in the city do you go to be alone?
There's a park in Gowanus where you can go all the way to the end of the pier and you're surrounded by water and have an amazing view of the Statue of Liberty.
Worst piece of career advice you've ever gotten? 
I needed more financial support and was told to look at the work someone else was doing and make work like that. They told me to use technology as a topic, not a medium, and to think more about machine learning, artificial intelligence, and privacy. A lot of artists will use technology to critique technology itself; I'm interested in using technology to speak to social and political issues, which sometimes overlap with privacy and security. I was like, Nah, I'm okay.
What have you given away to someone that you wish you could get back? 
Time is a big one.
What's your favorite NYC restaurant and regular order? 
The peri peri chicken and fries at Cervo's is so good.
What descriptive phrase do you want on your obit headline?
I want to say "poetic justice" since it's the name of my lab. But to describe my death? I don't know if that's poetic justice.