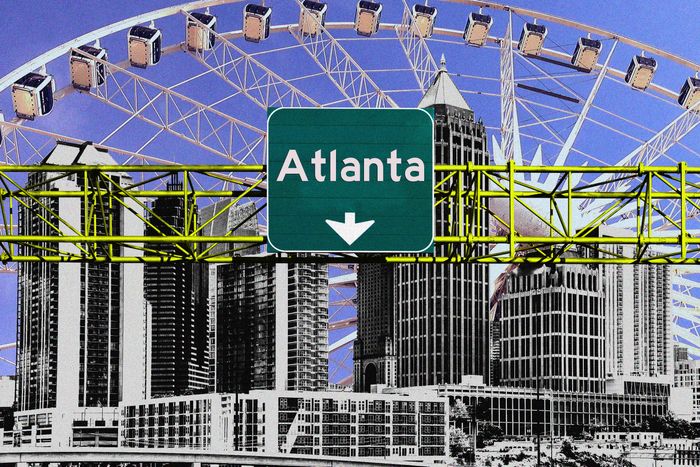 Photo-Illustration: Curbed; Photos: Dan Reynolds Photography/GettyImages, 4kclips/Shutterstock
In "Realtor Diaries," we hear from the people at the center of a wilder-than-ever market. Today, an hour-by-hour glimpse into the working world of a top Atlanta broker, Cindy "Rodeo" Steedle.
5 a.m. I wake up because my cat, Harley Davidson, is chasing my other cat.
5:20 a.m. My husband says, "Cindy, where's my coffee?" He always asks me the same question. But I do get his coffee. Or sometimes he brings mine. We always do that for each other. We work together in real estate and we support each other in every way, not just professionally.
6:30 a.m. I meditate and pray. Then I go to the gym. Then I have my nutrition smoothie with collagen. This gets me energized and my body fueled for the busy day.
8 a.m. I go through my motivational research. A good quote really heightens my day. I share it on social media. Today's quote that I posted is "Live in the moment and make it beautiful." I'm a cancer survivor, and I recently also survived a very bad accident, and I know I'm lucky to be here.
I've had quite the journey. My cowgirl hat (which I wear every day) helps people remember me and find me intriguing. It's a very long story, but it was actually Arnold Schwarzenegger who gave me the advice: "You need a brand." That's what my hat and my nickname, "Rodeo," have become. My brand. I even had someone bless the hat. I never let anyone else wear it. And I'll never lose it.
10:30 a.m. This is when I start calling around to connect to all my clients and spheres of influence. I check in, say hello, see how their days are going. Staying in touch pays off enormously.
A few years ago, I was working hard with a person for eight months. He fell off the face of the earth. Totally ghosted me. But I'd send a text weekly — for years! I'd hear back nothing. Last night, I got a text from him! "Hey Rodeo, sorry I haven't checked in … but I'm back." Now we're back in business and he has a $5 million equestrian property that I'll be listing as coming soon. It's located in Milton, known as the equestrian capital of Georgia. It's a Stephen Fuller–designed replica of an 1800s farmhouse with secret rooms.
I said to the seller, "What is that rectangle on the floor in the kitchen?" He said that's an old root cellar. We got to thinking, and now he wants to put in a wine cellar and storm room down there before he lists it. A lot of horse people request wine cellars. Wine and horses just go together.
It's a fun one. It's on 9.27 acres with a five-stall barn, a hayloft, and two fenced pastures. It has original pine floors throughout and brick flooring and four fireplaces. I could go on.
But that's what I love to do. I just love grabbing properties. There was an expired listing in Marietta, two years ago, that no one could sell. Four or five brokers had it and no movement. Someone dared me to get the listing. They didn't think I could get it, and they definitely didn't think I could sell it. But I did. I drove right up to the gate and said to the security camera that I was there and I wanted to talk. The owners were away and they wouldn't have let me in even if they weren't. Next, I brought a bottle of Champagne to the owner's office and sat there waiting for him until he'd meet with me. Finally, he came out of his office and said, "What do you want?" Long story short, he gave me the listing.
1:30 p.m. I'm eating at home right now, which is atypical for me. But I'm taking it easy today for health reasons. Normally around this time, I try to get lunch with a client. If there are no clients, I have lunch by myself at places where there are potential clients. I listen for the right conversations and the right people, and then what I do is I have my cards out and accidentally drop them. Nine out of ten times, someone is going to bend down and get the card. They're going to see I'm in real estate, and then we get to talking! It always works.
2 p.m. I make a video to post on YouTube to accompany one of my listings. It's a modern farmhouse listing, which will go fast. Most of my affluent customers want the "modern farmhouse."
They want all the bells and whistles. All the amenity trends from the pandemic market, like pools and sports courts. Sleek, minimalist ultramodern design is on its way out. The classics stick for a reason. More families are moving to the Atlanta suburbs like Alpharetta, Milton, and Johns Creek. The median home price in Alpharetta, where our office is located, is $770,000 but goes up to $3.8 million. In Milton, prices reach up to $7.25 million. Once you hit $1 million to $3 million-plus, the houses are mostly in gated communities, with his-and-hers walk-in closets, Wolf, Viking, and Miele appliances, that sort of thing. The Milton vibe is very upscale and very equestrian. It has the best equestrian park in the United States. I'm talking big, big, big money. Johns Creek is both the most culturally diverse city in the Atlanta metro area and among the nation's safest cities to live, so the prices there are increasing 20 percent year over year. They are building this major outdoor mall right now.
6 p.m. Show some luxury high-rise rentals to a young professional couple. The average lease on a luxury high-rise in the right area is between $3,000–$5,000 a month, with larger units like penthouses asking $15,000-plus. These clients want the intown/urban areas like Midtown, Buckhead, and Inman Park.
6:45 p.m. Showing in Buckhead goes great. They're going to take it. It's about $5,000 a month.
7 p.m. Head home to Jasper. Jasper is a proper, tranquil mountain town, about an hour and a half north of Atlanta. About 56 minutes north of Alpharetta.
Let me tell you something: You have a stressful day and head to Jasper, suddenly everything goes away.
7:40 p.m. There's some traffic. And by traffic, I mean turkey, deer, and bears.
8:30 p.m. I arrive home. My house looks out at the mountains; quite often, I see baby cubs. Last year, we bought this house and it was full of mold, full of mildew, stuck in the 1970s. Thankfully, I am great with design. I gutted it. I now have pine ceilings, an open floor plan. I knocked down all the walls, added a claw-foot tub. I have a Jacuzzi downstairs, inside my house, where I have a glass to enjoy what God gave us. This spring, we're taking the Jacuzzi outside. We bought the house in the low $300s. Right now, it would go for $890 or the $900s. You pay for that view.