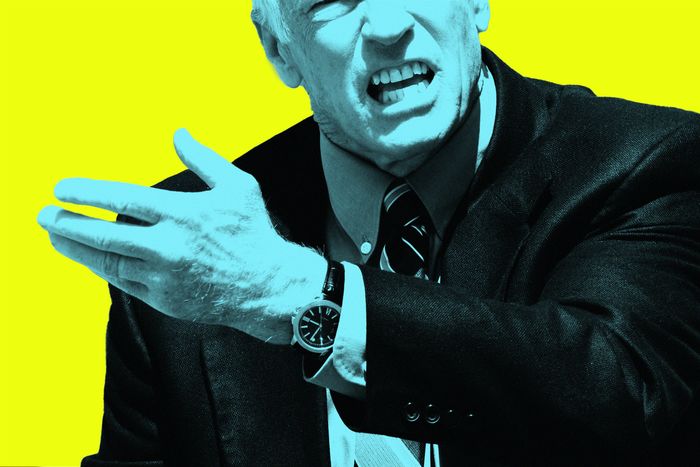 Photo-Illustration: by Curbed; Photo Getty Images
Last spring at a townhouse showing in Bedford-Stuyvesant, the agent David Harris watched his client, a married millennial with a kid, bounce from room to room before taking a seat on a staged sofa — a gesture Harris had come to regard as a cue that a client feels at home and is about to make an offer.
He was right. His client liked the place. Harris suggested they go $50,000 over asking, or $1.7 million; he anticipated a bidding war. His client agreed. But first, the client had to make one phone call. Harris watched as he went outside and started pacing. "And then he takes the cigarette out," Harris said. "It was his father."
That father advised his son that they shouldn't offer above asking, not because he had toured the home and uncovered a flaw but because he had fixated on a detail he saw online: The house was 18 feet wide. The father believed it was priced as if it were 20. They insisted on putting in an offer at $1.6M, or $50,000 below the asking price of $1.65M. The house ultimately sold for $150,000 over asking — to someone else. "It would have been very nice if they'd listened," Harris said, not only because his client regrets losing that townhouse but because, more than a year later, Harris, an agent with Coldwell Banker Warburg, is still taking the same client to showings. "I can't get that time back."
Real-estate agents aren't paid by the hour, and they're increasingly finding their valuable time being sucked away by boomer dads. Sure, New York real estate has always been propped up by family money — and family opinions. But millennial and Gen-Z buyers are leaning harder than ever on their parents for cash at a time when borrowing is expensive and a lack of housing makes cash a valuable way to cut through the competition. According to about a dozen agents I spoke with, dads have an annoying tendency to present themselves as experts on all aspects of home buying based on their own, actually inexpert logic. Sure, kids can waste time (one broker I spoke with described the hours she spends deflating expectations of Million Dollar Listing finishes), and so can moms (a Brown Harris Stevens agent had a mom retract an offer over "bad feng shui"). But the faux expertise of a generation of men who have had the world tilt their way and came to believe they'd had something to do with it puts actual experts like Harris in a tricky spot: Counter Dad's beliefs about the value of the 18-foot-wide townhouse and you could lose his trust, which means losing his cash and losing the client. "I try to always be careful in those moments," Harris said.
This past fall, Deborah Rieders, a broker at Corcoran, was representing the owner of a Brooklyn Heights townhouse that was stuffed with historic details and old-world charm. Her client had accepted an offer from a young couple who were paying their own way and were excited to renovate — after all, a family had been living there for 30 years. They had already done a home inspection, which hadn't turned up anything substantial. Then they stopped by to show off their new purchase to one set of their parents. The father, Rieders said, was a Mr. Fix It, a hobbyist who "fancied himself to be a professional contractor, but he really wasn't." He looked over the house as if he had expertise and discouraged the couple from doing any updates or projects. Two days later, they retracted their offer. Rieders said she was "pretty confident" the father was to blame.
Matthew Hughes, a broker at Brown Harris Stevens, spent about a year helping a couple in their late 20s who at first wanted to buy a two-bedroom downtown. But Dad was paying, and Dad had opinions. "The father wanted them to be on the Upper East Side because of safety, and he thought it was a better investment." This father, Hughes said, believed he had expertise in the market because he had bought a pied-à-terre in Manhattan 15 years ago, and Hughes found himself being forced to spend extra time educating the dad about how prices had moved since then. This month, the couple signed on a $1.5 million co-op in the dad's preferred neighborhood — a lovely apartment, sure, but not where they had wanted to end up. "They completely conceded," Hughes said.
Some real-estate agents said they've dealt with this situation so often they've developed strategies to sneakily bring dads onboard. Confidence Stimpson, a broker at Coldwell Banker Warburg, uses humor. When a dad questioned the price of a one-bedroom his son wanted, comparing it to what he could get back home in Cleveland for the same price, Stimpson responded, "Yes, but it's a hell of a commute from Madison Avenue." Then she showed the father enough one-bedrooms to see that the one his son had chosen was well priced and shouldn't be traded for a starter castle in Cleveland.
Amelia Gewirtz of Brown Harris Stevens prepares for dads by arming herself with data. "I almost prepare to do a mini-appraisal when I'm out with the dad," she said. To that end, she carries a one-sheet that includes information on the price per square foot of recent sales in the building and comps in the area. "I don't want to generalize, especially in 2023," she said, "but I don't think I've had a dad who hasn't asked for it."
Harris, the agent who lost the Bed-Stuy townhouse over two feet and $200,000, said the experience hammered in a lesson he has known since he got into real estate more than a decade ago: to ask his client right away if anyone else is making this decision, to involve that person at every step, and to take action to make sure they feel as if they have power in the relationship and are being heard. "I'll intentionally say things wrong so they can correct me sometimes," he said. Then, later in the conversation, Harris repeats those corrected phrases back to his clients as a way of showing them he has really been listening. "It gives them the feeling they're in control," he said.