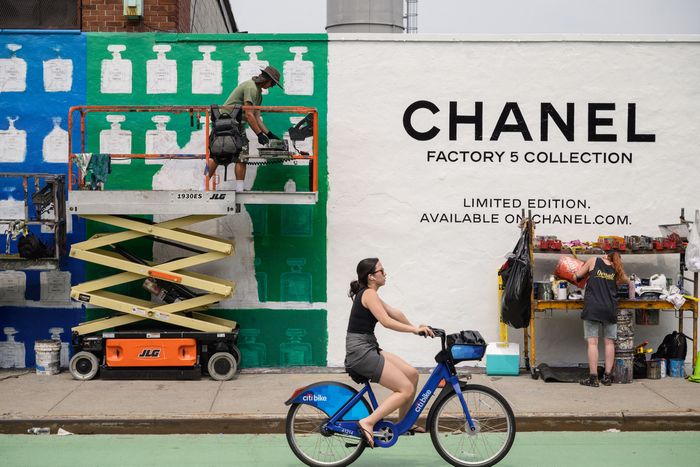 First comes the hand-painted ad, then comes the real thing.
Photo: Ed Jones/AFP via Getty Images
The Soho-ish wave of Williamsburg gentrification that hit Williamsburg over the past few years, when DTCs such as Parachute, Glossier, Everlane, and Warby Parker moved in, may begin to feel downright quaint when a Chanel Beauty store arrives on North 6th Street in June. The shopping corridor is turning over once again; this time, it seems to be shaping up into a kind of New Fifth Avenue (or, more accurately, a New New Fifth Avenue — this already happened to actual Soho).
Chanel reps didn't respond to emails requesting comment on the new location, on North 6th Street near Berry, but the permit — posted on Instagram last week and reported on by Business of Fashion — shows the store plans to open in June after a renovation by Siren Design.
The space is about 4,000 square feet, according to marketing materials, and was last occupied by Google, which took over from a pop-up collaboration between the North Face and Gucci. Down the block, Hermès is opening yet another pop-up while it sets up a permanent location — an experiment it's carrying out in the wake of Bottega Veneta's 2021 pop-up a ten-minute walk away. Then there's the Paul Smith store on North 3rd and, farther down North 6th, the French line Sandro — which also has a spot in Soho and used to have a shop on Madison Avenue.
Rents along North 6th Street, where Chanel is landing, are as high as $300 to $400 per square foot these days, says Brandon Singer, who runs the brokerage Retail by MONA. That's a jump from $225 per square foot along North 6th Street last year, according to the Real Deal, which at the time reported those were the highest prices in Brooklyn.
"When Manhattan was dead, luxury started signing leases in the corridor, and now we're seeing that," said Singer. "It's not what you'd necessarily think of in Williamsburg, but it's where Soho used to be, where Meatpacking used to be. That's how New York evolves."
Still, Brooklyn retail isn't yet commanding the rents of the actual Fifth Avenue, where boutiques last year were paying $2,000 a square foot, and Singer says that's a long, long way off — Brooklyn just doesn't have the same density. But more luxury stores are likely to follow. Chloé, for one, seemed to be testing the waters during the pandemic with ads blanketing the neighborhood.
"It's not rocket science," Singer said. "You just have to follow the money."