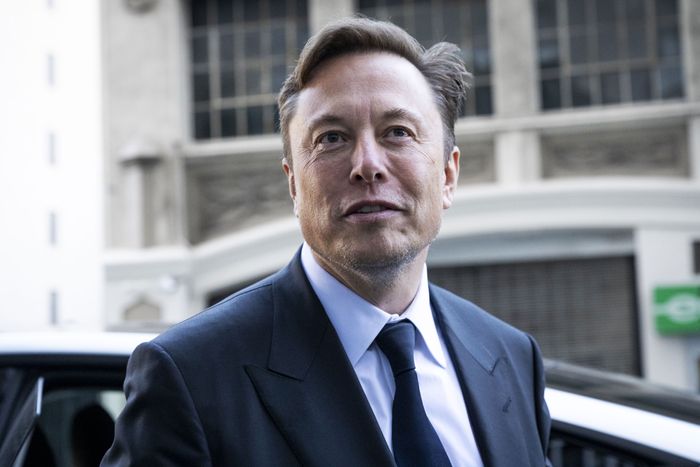 Photo: Marlena Sloss/Bloomberg via Getty Images
In hindsight, it was inevitable. Elon Musk has built cars, rockets, batteries, solar panels (and kind of unbuilt Twitter), and now he's building a neighborhood. As The Real Deal reports, Musk has partnered with developer Lennar to construct a 110-home subdivision on former farmland in the Austin exurban county of Bastrop — less than a mile away from where he moved some Boring Company operations in 2021, and, across the street, is currently building a new SpaceX facility. (Musk's Tesla Gigafactory is also not too far away.) The proposal is called Project Amazing, because — like all of Musk's endeavors — it begins with a stupid joke.
Future residents — likely employees of the Boring Company, SpaceX, or Tesla — can live on Boring Boulevard, Cutterhead Crossing, Waterjet Way, and Porpoise Place (more stupid jokes, these are named for tunnel-boring tech). The future homes will possibly be 3D-printed like Lennar's nearby Wolf Ranch community. What people will pay for these homes is anyone's guess, because even though it's being touted as workforce housing — "The Boring Company is working with Lennar to build this housing subdivision to support the workers there," Bastrop County commissioner Mel Hamner said at a recent meeting — there aren't any details about what might make it affordable to his employees. But maybe if you lived here, you'd get a house that comes with Solar City panels and a Tesla home battery plus an EV charger? And a Twitter Blue subscription?
Bastrop County is still dominated by agricultural uses, although it's quickly suburbanizing — thanks to an influx of tech workers like Musk's and developments like Lennar's. Interestingly enough, Musk has built quite a bit of housing on the actual Boring Company campus, where rows of manufactured housing installed on the property as well as common areas including a playground are easily observable from the road. An application for a liquor license was recently posted on Boring Company property, which may be the best evidence that Musk wants to build a real community here. (And which sounds terrible.)
Project Amazing will be one of dozens of communities developed by Lennar around Austin, where the metropolitan area includes some of the fastest-growing cities in the country. Lennar is helping Musk's companies grow too: It's an investor in the Boring Company, one of four real-estate companies that gave him millions of dollars to build tunnels he claims will solve traffic congestion. Although maybe he's on to something here, and only here, because what actually does solve traffic congestion is workers living within walking distance of their jobs.