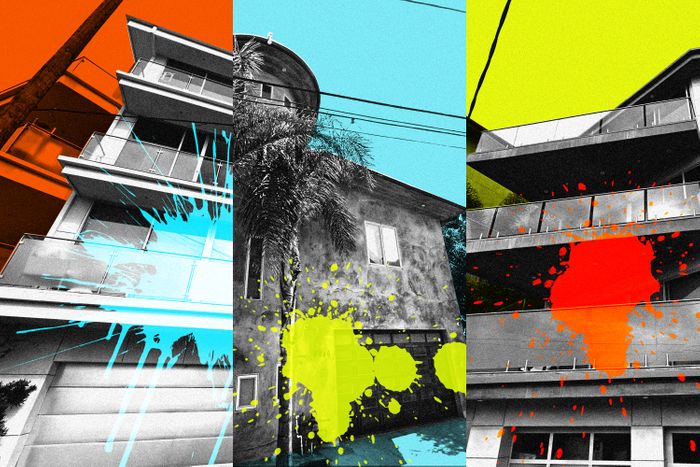 Photo-Illustration: Curbed; Photos: Getty, Google
Lil Nas X had a rager of a birthday last year: Zedd DJ-ed, and the man of the hour, wearing a pink sequined football uniform, partied with a thousand of his closest friends under the light of what looked like a thousand disco balls. Alvin and the Chipmunks made an appearance, as did Sonic the Hedgehog. But Lil Nas and Zedd, along with the production company behind the party, are now facing a lawsuit for their apparent revelry. As TMZ first reported, the suit, filed by landlord Danny Fitzgerald, alleges the event "trashed" his rental — a 14,000-square-foot mansion overlooking the Hollywood reservoir that leases for $39,500 a month. The total damages, according to Fitzgerald, amounted to $25,000, to say nothing of the rent he claims he lost while making repairs.
After decades of taking an "if you build it, they will come" attitude toward the young money of a certain kind of reality television, music industry, and TikTok star — and vehemently defending his tenants' right to party — it appears Fitzgerald has had a change of heart, suing the likes of Lil Nas X and Zedd for property damage he says was incurred during their irreverent stays. This suit is one of several he's filed or threatened to file against famous tenants since 2015, a period in which he's accused renters of damaging hot tubs, blowing up stoves, setting off fireworks indoors, and generally leaving his homes looking like, as he told TMZ, "the worst frat house you've ever seen." Fitzgerald's problem these days, broadly summarized, seems to be that he would very much like it if celebrities would stop partying in his celebrity party houses.
The Los Angeles Party-House King
According to a Hollywood Reporter profile published in 2015, Fitzgerald, now in his mid-60s, had a humble enough origin story as the son of a beer salesman and waitress in the San Fernando Valley. But he had bigger designs: "I didn't want to ever have a shitty house, a shitty car," he said. It's a proper American story: After high school, Fitzgerald got his contractors' license, started flipping tract homes, and in a span of decades found himself in the hillside-mansion racket.
"The media is obsessed with our jaw-dropping properties," Fitzgerald writes on his website, which if you're talking about a certain of kind of media is absolutely true: His convex-glass mansions have been rented by Nelly, Jason Derulo, and Saudi royalty; they've hosted Playboy reality shows about swingers, Zendaya's sweet 16, and, naturally, a host of influencers chasing Fitzgerald's claim that you can "get famous just from living" in one of his rentals. In a sizzle reel posted to Instagram last week, Rihanna and postproduction smoke effects accompany stills of Fitzgerald mugging with various celebrities cut with shots of his lavish properties. (The landlord regularly posts — and reposts — photos of himself with famous people: the Weeknd, Hulk Hogan, Charlie Sheen, and yes, Lil Nas X — at what appears to be the party he's suing over.)
The Neighborhood Menace
If there's one thing to say about Fitzgerald's business approach, it's that he knows what a roughly 20-year-old celebrity with an influx of spon riches seems to want, which is generally not what the people living next to them want. Over the years, neighbors have called in complaints — alleging balcony sex, the presence of wild animals — to local authorities over parties held at Fitzgerald's properties, and a city attorney briefly got involved. Fitzgerald, at the time, did not share their concern. "They don't want anyone building, they don't want anyone having fun, they don't want anyone filming," he said in 2015; the same year, he called the local neighborhood association a "group of vigilantes" leading a movement to "call the police as much as you can." He went on to summarize his general approach to his clients as: "You gotta let people that are renting a big, beautiful mansion and paying a lot do what they want."
The Lawsuit Years
Even as he continued to post about mansion soirées with 3,000 people that went until 3 a.m., Fitzgerald's public allegiance to partying eventually wavered. In 2016, he filed a complaint against a Saudi prince for allegedly hosting strippers and doing drugs inside one of his mansions: "It was horrible," he told the Los Angeles Times. "The guy took full abuse of my home." In 2016, he filed a complaint against former NFL quarterback Johnny Manziel over past due rent and broken doors — "It's like Charles Manson is living there," Fitzgerald told TMZ. This year, he similarly filed suit against the TikTok collective Hype House for what he says is $300,000 in damages to his Jacuzzi and tile and not honoring the terms of the lease. "They're young," he said. "They think, Oh, you don't have to pay."
In mid-2016, the lawsuit against the Saudi prince was dismissed, as was the suit against the NFL player in 2018 at Fitzgerald's request. The lawsuit over Hype House's alleged trashing of their landlord's property, which was filed in January, remains pending.
So what changed for Fitzgerald? Your guess is as good as any. The developer has talked about a desire to retire to a life of surfing and leisure. Officials around Los Angeles have also, in recent years, become more interested in influencer houses and the endless parties that come with them; in the summer of 2020, Mayor Eric Garcetti disconnected utilities to a TikTok house called Sway House, pledging to more aggressively monitor the mansions that, according to a city attorney, have "hijacked the quality of life for neighbors." And Fitzgerald has legal troubles of his own beyond his life as a landlord: In 2021, the developer was sued by ten women who accused him of taking part in a trafficking ring, deceiving them into living with him and forcing them into nonconsensual sex. Last year, an associate of Fitzgerald provided evidence suggesting the celebrity landlord had launched an aggressive smear campaign against his accusers that included a Youtube channel titled "The Not Me Movement." (Fitzgerald denies both allegations.)
The Seemingly Conflicted Public Relationship to Lil Nas X
In a post from last April, the developer noted that Lil Nas X was "the biggest artist in the world and he had his 23rd birthday party at my house." He called him "such a cool guy." Fitzgerald's suit naming Lil Nas X was filed in February, and hasn't got much further than being assigned to a judge. Lil Nas X hasn't publicly commented on the suit, but he has been spotted by the tabloids at New York Fashion Week and modeling various space-age outfits for Vitamin Water, so he seems to be doing fine.