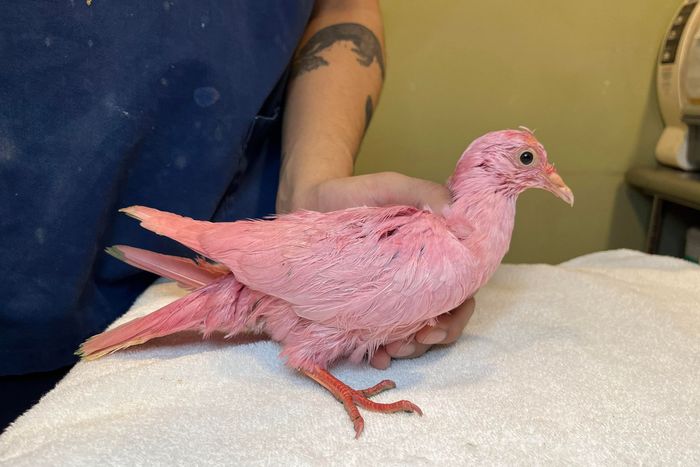 Photo: Phyllis Tseng/Wild Bird Fund
Update, 2/7/23: The Wild Bird Fund posted on Tuesday that Flamingo died in the night. The organization believes his death was likely "caused by inhaling the toxins" from the pink dye.
A pink pigeon was found in Madison Square Park on Monday, and no one knows where it came from. We do know, however, that it is not supposed to be pink: The pigeon with the dye job is now being cared for by the Wild Bird Fund, which says the domestic king-pigeon fledgling, who they're calling Flamingo, remains "weak" and is having a hard time keeping food down. "We're concerned — we don't know at this point whether he's going to be okay," said Catherine Quayle, the Wild Bird Fund's social-media director. The story traveled quickly, as these things tend to, but the attention has yielded little in the way of an answer to the most obvious question: Who does this kind of thing to a bird?
The leading theory is that the bird was dyed and released for a gender-reveal party, a horrifying but plausible bit of speculation considering what other kinds of antics these stunts can entail (like starting a deadly wildfire.) Plus king pigeons are commonly sold for food in live-poultry markets, so they are easy enough to purchase, and Flamingo's poor feather quality indicates he isn't an escaped pet. (Needless to say, animal-rescue organizations strongly advise against these kinds of stunts since domestic birds generally can't survive in the wild, even if they're trained.)
Flamingo is young — around five weeks old — and had "probably never flown before," according to Quayle. This suggests he was probably released close to where he was found: Madison Square Park. An inquiry to the park conservancy about any recent gatherings that might have involved a pigeon release went unanswered, and a social-media trawl for geotagged gender-reveal parties was a dead end.
I called a company called Doves of Love NYC, which brands itself the "#1 dove release in tri-state areas," to see if anyone had any on-the-ground bird gossip. Anthony Genise, who answered the phone, said he hadn't heard anything and didn't expect to. "That would be like if you robbed a bank," he said, "and then went and told people you robbed a bank." I asked him if he'd ever seen a similar situation. He said that while he does get requests to dye his birds — which are racing homers, not king pigeons — he always turns them down. "Matter of fact, this lady recently came in and wanted to put blue on a bird, and I said 'no,'" he said. "What do they call that, a reveal? I don't rent my birds out for that." I asked Genise to keep an ear out in the bird community for any developments on Flamingo. He told me it would probably remain a cold case: "You ain't gonna find where that bird came from."