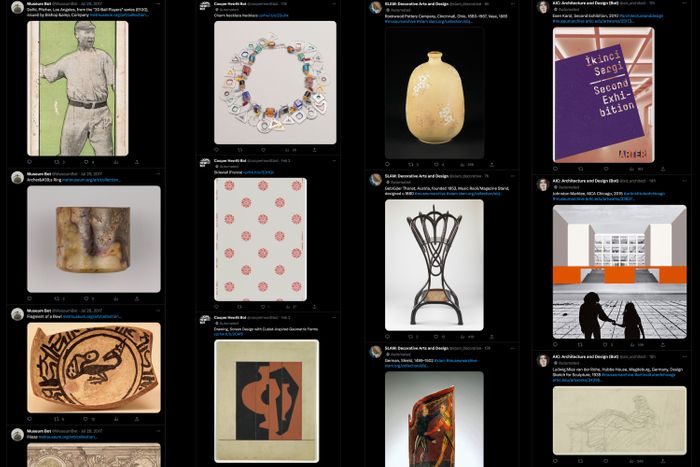 Photo-Illustration: Curbed, Courtesy of @MuseumBot, @cooperhewittbot, @slam_decorative, @aic_architect
A weekday, workaday afternoon. The endless scroll: news photos, airbrush artworks, animated GIFs, and — what is that? Peacock-blue satin, a regal flare. Click to still the image. It's a chair, folded-back quilted fabric over a flared red base. It looks like the stand-up collar of a frock coat. It looks like the skirt of a princess dress. It looks like a parka.
It's Gaetano Pesce's Feltri armchair, designed in 1987 for Cassina and tweeted into my consciousness by @slam_decorative, a Twitter bot created by Twitter user @andrei that automatically shares objects from the St. Louis Art Museum's Decorative Arts and Design department. The museum doesn't run it.
Twitter bots like @slam_decorative crawl public records and public collections, tweeting historic, anarchic, and beautiful images and text into your everyday feed. They provide an escape from the influencers, an escape from the algorithm, an escape from 2023 — or they will until February 9 because @TwitterDev announced yesterday that the service will stop supporting free access to Twitter API and start charging, reportedly $99 per month for the basic tier. This latest "monetize Twitter" scheme from new owner Elon Musk is a loss for students and scientists who use Twitter data, a loss for third-party developers who have built useful add-ons, and a loss for design nerds like me who just needed those little aesthetic hits.
There are bots for post offices, bots for every lot in New York City, bots for Brutalism, and (my personal favorite) bots for the decorative-arts collections at various major museums. I follow more than I can count, and I welcome their absolute lack of adherence to what's going on now. When the news is bad or overwhelming or both, they remind you that now is not always and to take a breather and look at something pretty or unique or weird.
I have a particular preference for decorative-arts bots. "Decorative arts" is what they used to call design — objects of use, but fancy. The older the museum, the more likely the candlesticks, armchairs, snuffboxes, and vases are to be classified under that rubric along with "design." The range in scale, style, and silhouette of these objects is vast, much more than in, say, a painting or sculpture collection. Because many are tabletop items, they read very well at Twitter's modest image scale on a phone screen. You can see the silvery twist of the handle on an Art Deco sterling-and-glass teapot, the unnecessary streamlining of a 1940s pencil sharpener, or the dramatic flare (and flair) of the Feltri's back.
The museum's website describes the chair as "essentially a large felt blanket," at least an inch thick, lined with quilted, satiny blue polyester. The felt base of the chair is impregnated with resin and baked in a mold so that it becomes rigid, supported on little felt feet. The top half remains bendable, able to support the arms and back like a giant piece of clothing. It's obvious, as the museum notes, that "Feltri is a contemporary version of a traditional overstuffed armchair," as if chair, blanket, and cardigan were combined into one. This particular version sings in Cinderella blue. Other editions look more Nordic, in white and red, or more underworld, in shades of gray, or more Shaker, in a Pesce collaboration with Raf Simons for Calvin Klein that features vintage quilts.
My one click into the collection led me to this motley family of chairs and to a side of Pesce — born in 1939, still making furniture — I had never encountered. Pesce's work since the 1960s, pieces that bounce and slump and gloop, always cut against the visual and material language of modern chairs, so many of which are hard. The Up 5 Lounge Chair looks like a bunch of beach balls in a red bathing suit. His ongoing experiments with colored resin, which range from child's seats to kingly high-backs, embrace the chaos of mixed colors, drips, and randomness, like preschool paintings made into usable household objects. He retains enough juice to have designed a landscape of such chairs for Bottega Veneta's spring-summer 2023 Milan Fashion Week presentation.
@slam_decorative doesn't care about any of that, though. As an automated Twitter bot, it shares public-domain images without reference to what's hot, what's cool, who is a living legend, or which 18th-, 19th-, or 20th-century design movement is undergoing a revival. Without consciousness, it simply tweets: a silver matchbook case, a carved liqueur glass, a veneered cabinet, a hand-painted plate.
My friend Sarah Archer, a design writer and historian, described the pleasure of museum bots as similar to that of the art-history lecture, sitting in the dark watching slides. But your art-history lecture had some organizing principle (I hope). The bots have none. It is up to you, the scroller, the procrastinator, the trendspotter, to find meaning in this teapot or that candlestick. For once, the algorithm isn't telling you what to like. It's more like a flea market or a thrift store, where you have to go on eyes and instinct. One of the first online communities I was a part of was #ThriftBreak, a loose association of people who visited thrift stores during their lunch hour, searching for modern design. They would tweet their finds, typically with the price tag still on, along with questions about Russel Wright glasses or illegible signatures inscribed in stoneware. Each correct identification and sub-$20 price gave me a vicarious thrill.
The first time I heard about bots was at a Microsoft Design conference in 2017 held in a barely decorated San Francisco warehouse. Darius Kazemi, the internet artist who used to tweet as @tinysubversions, explained to the room how he came home from work one day to the news that the Metropolitan Museum of Art had released data sets of information on more that 470,000 artworks in its collection for unrestricted use. "Seems like something you'd be interested in," his husband said, and a genre was born. The museum was freeing the art, and he could open the gate to Twitter. "My brain went to, like, What about something curated, something that tries to surface items of particular interest or popularity?" Kazemi told me. "But I always try to push back against those limits. What if I just pick something at random?"
It took him an hour to write the few lines of code that continue to power @MuseumBot, which, since May 2014, has been tweeting a random high-resolution image from the Metropolitan Museum of Art four times a day to nearly 8,000 followers. (The most prolific museum-bot-maker is John Emerson, a.k.a. @backspace.) "There's something interesting about the randomness of it," Kazemi says. "A spoon could appear alongside some other work of art that carries more prestige."
Prescient once, prescient again: In December, Kazemi told me he was deleting his Twitter account and moving all of his work to federated social media like Mastodon. Kazemi has long been invested in the possibilities of the decentralized web and found Twitter technically and politically hostile. Hip-Hop Radio Archive Bot, which Kazemi made in 2018, shares 60-second clips from the Hip-Hop Radio Archive multiple times daily, little blasts of music and commentary from the past. Home Movies Bot tweets clips from the Prelinger Home Movies Archive. "If there's still an audience for the Twitter bots, I am sure they will continue to exist," he said before yesterday's news arrived. "But it is not a useful place to do work in public anymore."
In a matter of weeks, we are likely to lose even the pleasure of bots tweeting the elegant products of past plutocrats into a feed that feels both increasingly deserted and increasingly junky. The open API of some of America's greatest cultural institutions meets the closed-minded penny-pinching of America's greatest self-mythologizer, and the result is … nothing. No more Nakashima chairs, no more Tulip tables, no more textile samples.
Farewell, my bots.