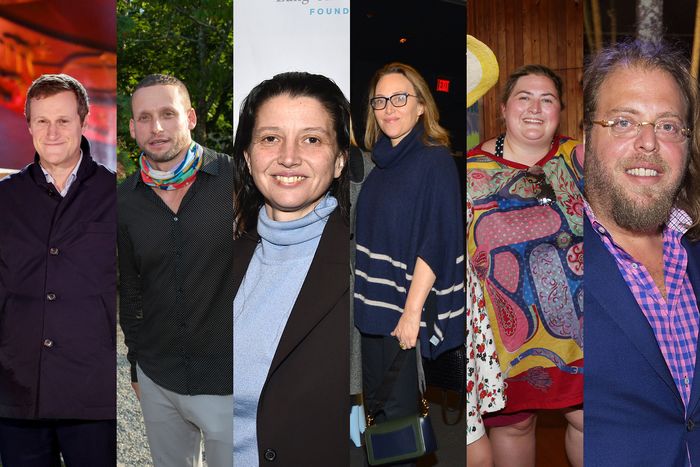 Some of the nepo babies of the real-estate world.
Photo: Getty
The Real Deal's February issue is a sort of homage to this magazine's nepo babies cover. Except instead of focusing on the children of Hollywood, the real-estate- trade rag homed in on the kids of developers, real-estate investors, and big landlords.
It's a depressing read. Because a lot of these scions don't seem to want to be in the family business at all. Instead, they come off as prisoners of purse-clutching barons. Take Jaime Lee Jamison, who tells The Real Deal that she wanted to get an M.F.A. in creative writing but instead "submitted to her father's 'master plan.' He will always be the patriarch." Or Jackie Soffer. "I wanted to be a ski instructor in Denver," she tells The Real Deal. Instead, "I did what I was supposed to do," which is work for a company that owns one of the most depressing places I've been to in my entire life (Destin Commons, a grim outdoor mall on an otherwise lovely Florida beach).
Rob Speyer, of Tishman Speyer, started out as a reporter who "broke a housing scam in the South Bronx," according to Bloomberg, and "showed little interest in his family's real-estate business" before catching "the bug." Kathryn Kalikow was a sobriety counselor before eventually giving in and working for her dad at HJ Kalikow: "I didn't think it was what I wanted — I wanted to find my own path."
And then there are the real-estate nepo babies not mentioned in The Real Deal issue. Elizabeth Ann Stribling-Kivlan, for instance, told the New York Times that she went to culinary school and studied comparative religion with a focus on Hinduism before being sucked into her mother's real-estate empire (she founded the brokerage Stribling & Associates). Chris Rising was so uninterested in the work of his father, Nelson, of Rising Realty Partners, that C-Suite Quarterly reported, "Real estate was not Chris Rising's first, or even second, option." First choice: playing football, which he did at Duke, before he worked as a coach. He is now the CEO of his father's commercial real-estate firm in L.A., where he is focused on "creating superior risk-adjusted returns for its investors." Tal Alexander, son of luxury developer Shlomy Alexander, also had athletic aspirations — he wanted to be a professional tennis player and got all the way to Division 1 in college, only to end up helping too-wealthy people buy too-expensive homes (a $238 million Central Park South penthouse for hedge-funder Ken Griffin, for instance).
Then again, look at what happens when you do let your kids follow their dreams. The son of developer Joseph Chetrit, Daniel Chetrit, is a "DJ" by trade, best known for dating Bella Hadid and getting into a fistfight at the Standard.