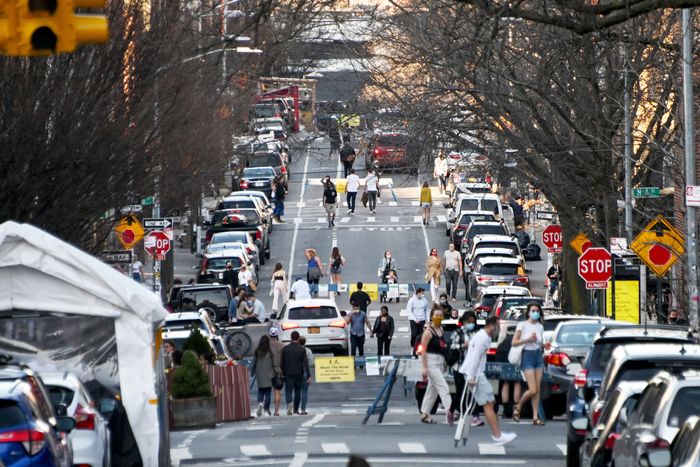 Photo: Alexi Rosenfeld/Getty Images
After years of fighting over dining sheds, bike lanes, and pedestrian-only street closures, New York City finally has a "public-realm czar" to oversee it all. On Thursday, Mayor Eric Adams appointed Ya-Ting Liu, who was most recently the chief strategy officer for deputy mayor of operations Meera Joshi, to the newly created role.
"In New York City, the public realm is everyone's living room," Liu said in the mayor's announcement. But it isn't just a "living room"; it's also a bedroom, bathroom, workspace, loading zone, and dump — the space where all the insufficiencies with public service surface, which only intensified during the pandemic.
Public-space advocates have been begging for a public-realm czar for over ten years, but that role finally seemed to materialize as a recommendation from Governor Hochul and Adams's "New New York Action Plan," released in December. Given the tangle of bureaucracy that's involved in making changes to public space — improvements to the sidewalk, for example, might be under the Department of Sanitation, the Parks Department, the Department of Environmental Protection, or the MTA — it's remarkable that New York hasn't yet had a person or department responsible for coordinating this work (aside from the mayor, of course). "New Yorkers need to know there is one person at City Hall whose number one goal is to improve their quality of life by creating incredible, new public spaces and ensuring the ones we have are clean, equitable, and safe," Adams said in a statement.
Judging from Liu's previous experience, New Yorkers have gotten someone who's especially experienced with transportation advocacy in what will hopefully become a powerful position in city politics. She was the director of public affairs and policy for the transit app Via, advised the Environmental Defense Fund on its congestion-pricing work, and served as the director of transit advocacy for Transportation Alternatives, a safe-streets nonprofit. The first priorities for Liu and her staff of four include helping to develop a permanent Open Restaurants program and the pedestrianization of Fifth Avenue. Other urgent projects include reconstructing portions of Jamaica Avenue, in Queens, and transforming the space underneath the Brooklyn Bridge, an initiative Adams announced in his State of the City address in January. Maybe more public bathrooms next?