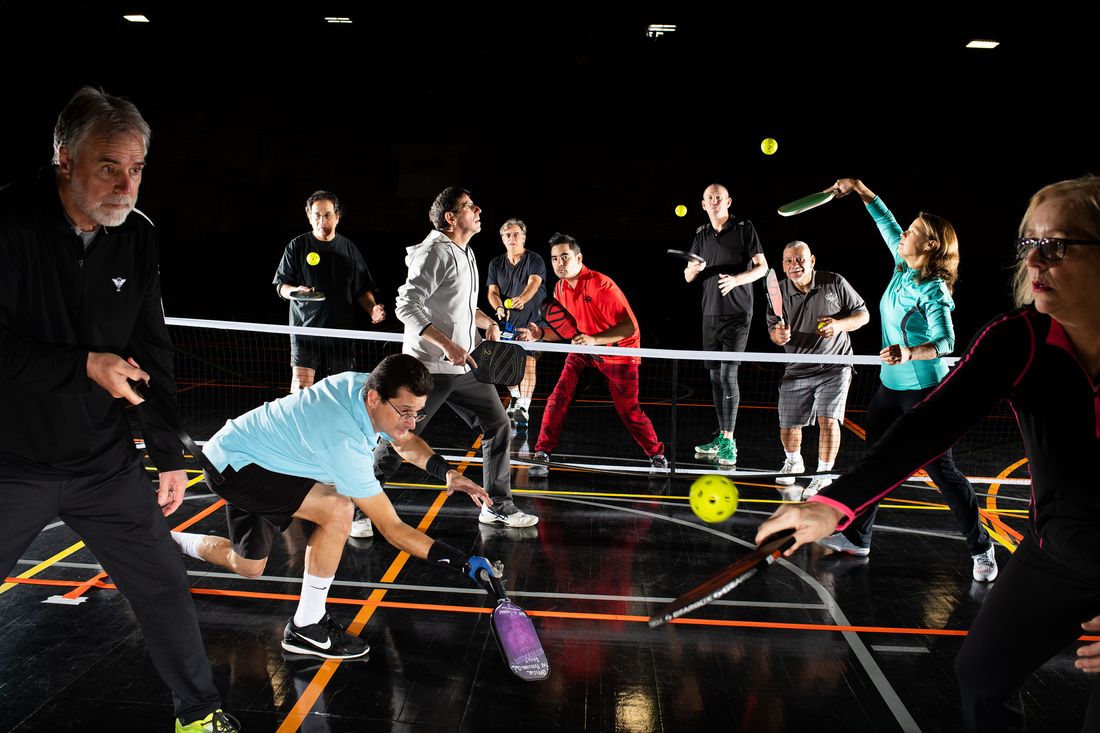 From left:
Thomas Reap, Albert the Pickleball Doctor, Andy Lachman, David Kass, Charlie Banks, Ryan O'Hanlon, Kelvin Jones, Carlos Gautier, Wendy Cohen, and Katherine Hedden at the Post BK.
Photo: Brian Finke
At Greenpoint's Post BK athletic club, no one is using the basketball court to shoot hoops. Ten players, many of them retirees, line up on opposite sides of a portable net and serve. "It feels like a discothèque!" shouts Carlos Gautier from East Harlem as plastic spheres are thwacked wildly across the court.
Often described as a cross between badminton, tennis, and Ping-Pong, pickleball was created in 1965 by three Washington dads to entertain their bored children in the summertime. Today, it's America's fastest-growing sport, attracting boomers recovering from heart surgery and curious 20-year-olds alike. "With COVID and parks closing, pickleball took off in Manhattan," says Katherine Hedden, a USA Pickleball co-ambassador for the borough since 2018 and the driving organizational force behind its burgeoning network of picklers. She advocates for the many who are frustrated that the city won't provide more formal areas to play in, leaving them at loggerheads with other athletes vying for limited blacktop minutes. Along with David Kass, a pickleball enthusiast who adopts tree pits in his spare time, Hedden encouraged Manhattan picklers to carve out spaces using bright tape to mark off courts. "We taped ten courts at Robert Moses before it was Astroturfed," Hedden recalls. "We played at St. Vartan, where we had ten." But the city Astroturfed those, too.
In the West Village, parents complaining that picklers were cannibalizing a children's park led the city to ban the game from the Seravalli Playground. But in January, after a three-year campaign by Hedden, the Parks Department presented its plan to renovate an old Hell's Kitchen volleyball court into one designated for pickleball. Critics said the space would be wasted on a fad sport; the picklers retorted that they just want their fledgling community to have a fair shake. "We bring our own nets," says Wendy Cohen, who plays at St. Vartan.
The picklers are determined to win their community-board battles, but on the court, all the drama melts away as soon as the pickleball whistles. "I'm going for that scoop," says one player lunging to the floor, which is taped over with lines from so many sports you can't see where pickleball stops and the others begin. "See what a hip replacement can do?"