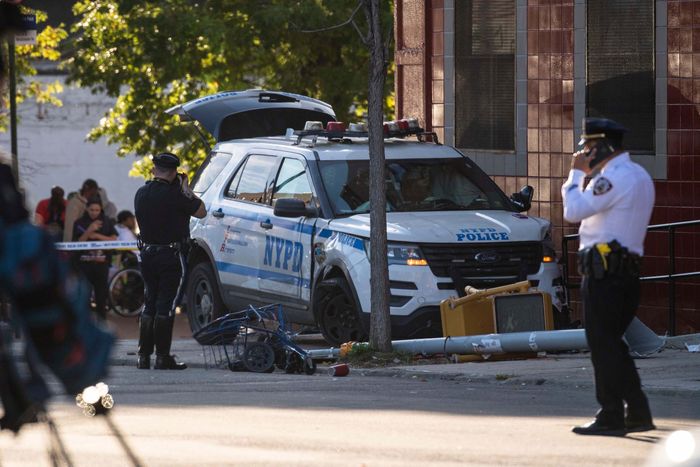 A 2022 crash involving a New York Police Department vehicle unfolded at the intersection of Hoe and Westchester Avenues in Foxhurst when a marked police vehicle responded to a call for a stolen vehicle.
Photo: Gregg Vigliotti/New York Daily News/Tribune News Service via Getty Images
One out of every four personal-injury claims settled by New York City is a crash claim, and a police officer is behind the wheel in most of those crashes. According to a report out this week from the City Comptroller's Office, the New York Police Department is responsible for both the largest number of crashes and the largest dollar amount of settlements. During the ten-year period covered in the report, the city settled $246.8 million in NYPD-related crash claims — over one-third of the total for all city vehicles.
All told, $653.9 million has been spent to settle crash claims involving the city fleet over the last ten years. And while the number of crash claims was lower in 2021 than it was in 2012, the price of payouts was higher, reaching $130.1 million. The size of the payout correlated to vehicle size. (The report also notes that the increase in the share of SUVs within the NYPD fleet, which now make up 18 percent of NYPD vehicles, has outpaced the city's other fleets.)
In addition to lives saved and injuries prevented, the report found that if the city could reduce crash claims by just 20 percent, it would save $25 million per year — roughly enough to cover the proposed cuts to the city's libraries. The data is an interesting reframe of the urgency behind the city's Vision Zero agenda, not just as transportation policy but also a matter of fiscal policy at a moment when core city services are being placed on the chopping block. Investing in safer streets and safer vehicles while also having more funding for parks and schools seems like a win-win.