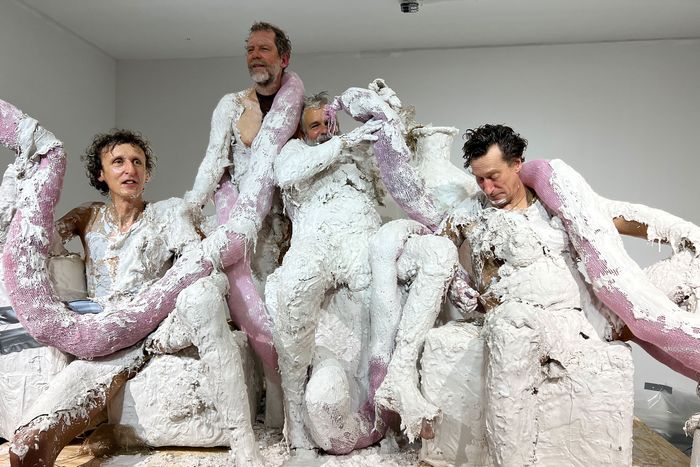 You didn't know exactly what you were in for at the opening of "O'Flaherty's Gelatin O'Flattering," the first exhibition in O'Flaherty's new gallery space on Avenue A, except that it would be a scene. The owners, artist Jamian Juliano-Villani and her longtime friends Ruby Zarsky and Billy Grant, know how to draw a crowd: Their last opening lasted an hour before about 1,000 people spilled onto the street and the NYPD shut it down, after which the Times called it the party of the summer. Last night's crowd was smaller, a mere 400 people or so — lots of skaters, some old-school artists — crammed into a former Upright Citizens Brigade theater (which was, before that, the Two Boots Pioneer Theater, may it rest in indie heaven). More were lined up around the block to see Gelitin, a group of four artists from Vienna, create a live sculpture based on Laocoön and His Sons. The performance was an adaptation of "I Like My Job Five," a video commissioned by the Kunstraum in London in 2020, as part of a series of pieces about the labor that goes into making art.
As the four men of Gelitin, all in their 50s, came onstage wearing nothing but nude-colored stockings, the people in the room looked around, nervously trying to suss out what they were about to witness. The artists are, like O'Flaherty's, known for irreverence and have created a fountain out of erect penises, exhibited something that looks like a fouled toilet, and made an exhibition out of mining giant blocks of Styrofoam. Tonight, they scooped out fistfuls of Vaseline from a dozen small tubs and began greasing themselves up before sitting down on a plywood platform and slowly entombing themselves in plaster of Paris that their assistants were constantly mixing. As the artists sculpted themselves into a quasi-statue, Juliano-Villani passed them cigarettes to smoke and cans of beer to drink while Zarsky played an electric guitar. The Gelitin guys, now trying to sit still as the plaster hardened, invited people in the crowd to come up to the stage to take selfies with them.
They didn't stay in the cast for long before cracking their way out with shears and brute force. Once the foursome was de-molded, the members lingered to sign copies of books for sale at the show. Fans continued to snap selfies with Gelitin, still in their tights, now with flakes of plaster stuck to their beards and skin. By then, the bar at the front of the gallery had long run out of beer, and people were exiting toward Mehanata for the after-party.
For the next three weeks, O'Flaherty's will host other performances by Gelitin — each one different — and screen the U.S. premiere of the collective's new film, Stinking Dawn. After it was "rejected by all the major film festivals, O'Flaherty's has the balls to show it," the gallery's exhibition announcement reads. If it's anything like the opening performance, it will be strange and provocative and feature a bare butt or two.