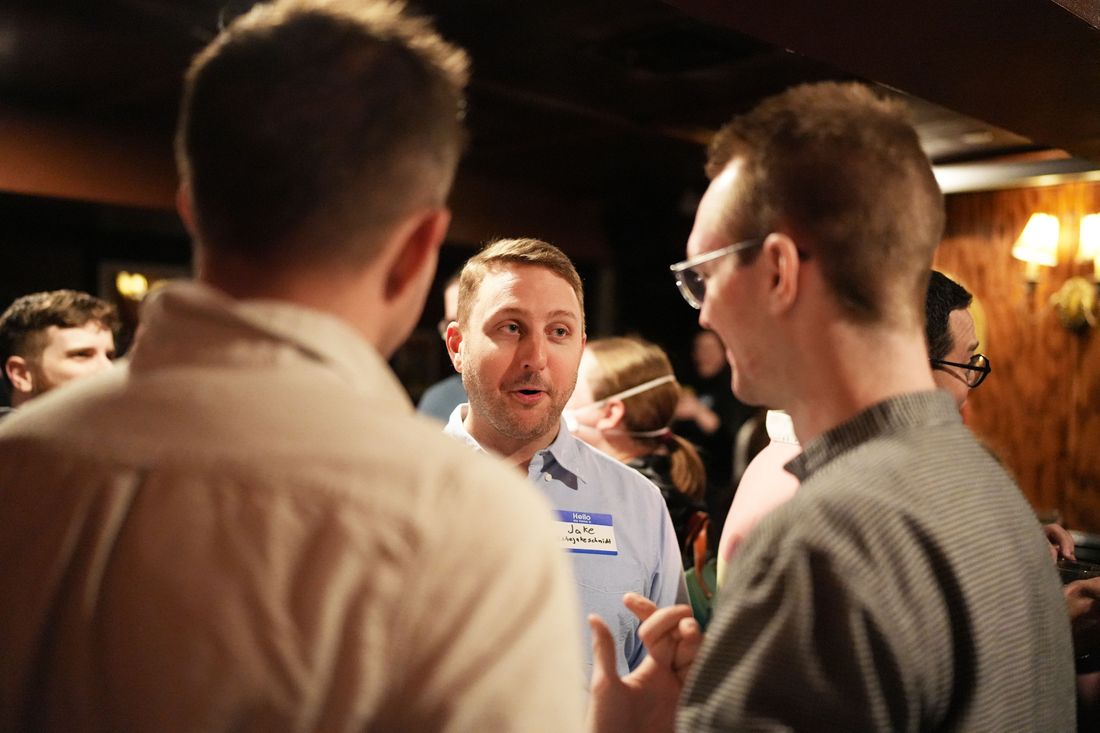 On a late January evening at a bar on Orchard Street, in a small sea of button-downs, hoodies, and casual sneakers, the YIMBYs had gathered. Fifty or so members of Open New York, an advocacy group for "abundant homes and lower rent" entering its eighth year of existence, were attending their first happy hour of 2023. The mood was celebratory. "I have so many councilmembers emailing me," Annemarie Gray, Open New York's executive director, announced to cheers. Asia Thomas, the group's organizing director, conducted a mini awards ceremony, handing out framed placards for deeds like Slack Etiquette and Excellence in Twitter Threads. Classic rock was playing; pizza was on the way.
The group had good reason to party. Just a few weeks before, Governor Hochul had introduced her long-awaited Housing Compact, much of which cribbed Open New York's own policy agenda. With a goal of 800,000 new homes over the next decade, the governor called for fast-tracking multifamily development near transit, expanded tax incentives for accessory dwelling units, and a stronger hand in enforcing housing production in segregated suburbs. Gray, dressed down for the evening in a denim shirt, was elated. The governor had been unequivocal about land use and zoning reform — with language aggressive enough that the New York Post claimed she was "colonizing Long Island." Gray had personally spent dozens of hours lobbying the Hochul administration on these exact issues. "This would not have happened a couple years ago," she said. Open New York finally seemed to have the ear of the state's builder-in-chief.
Kind of. The organization positions itself among "pro-housing advocates" as uniquely concerned about affordability — YIMBYs, just not the bad kind — but Hochul's compact makes no mention of two of its recent tenant-side endorsements: Good Cause eviction, which would cap rent increases on market-rate apartments at 3 percent, and the Tenant Opportunity to Purchase Act, which sounds exactly like what it is. "We need to combat discrimination, and we need to come up with ways to actually have the government step in and better provide housing stability," Gray tells me of the kinds of progressive policies the group backs on top of supply-side interventions.
Open New York is working toward something like a Not All YIMBYs rebrand, both in its attempts at coalition with the left and, apparently, party banter. I was chatting with Huge Ma, a.k.a. Turbovax, a hero of the early pandemic and onetime State Assembly candidate whose day job is software engineer for Airbnb, when one of Open New York's founders, Jake Schmidt (Twitter handle on his name tag, also a software engineer), started to quote the writer Matthew Yglesias. "We're not affiliated!" Ma joked. Noting that the other two members of our conversation were also software engineers, Ma protested again: "This is a skewed sample."
But the night was ultimately a victory lap. Gray and Open New York are ascending during what feels like a political turning point in the city. A new consensus is emerging that, rather than building too much luxury housing, the real problem is New York hasn't built nearly enough of anything. In the past decade, as the city grew by 800,000 people, it only gained 200,000 new places for them to live. More than half of New Yorkers are officially rent-burdened; 250,000 families sit on the NYCHA waiting list. The scale of new housing required to meet current demand is so significant that saying "no" to proposed development is becoming politically untenable, even among traditionally resistant circles. In the last year, progressive councilmembers Julie Won and Tiffany Cabán, who was endorsed by the city's chapter of the Democratic Socialists of America, have backed big-money projects in their districts, even those that are less than 100 percent affordable. (Cabán called her position on a proposal for 1,300 apartments "harm reduction"; Queens DSA's housing contingent called it "an insult." Won's support for a 3,000-unit development left her branded as both NIMBY and a gentrifier.) In the war of the city's various housing factions, the YIMBYs appear to be winning, at least for now.
Our too-damn-high rent is creating more "pro-housing" activists by the day — whether they're lifelong New Yorkers being priced out of their neighborhoods or Morgan Stanley interns griping about commuting from Sunset Park — and Open New York thinks they're all members in the making. They could be right. As the night's mingling kicked off, a guy in a rugby shirt surveyed the crowd approvingly: "This is definitely the most people I've seen at a happy hour!"
If you like esoteric, occasionally heated Twitter threads or community board fights, you already know what a YIMBY is. For everyone else, the somewhat amorphous movement — Yes in My Backyard — is typically traced to 2014 and the SF Bay Area Renters' Federation, formed to combat what it saw as the reflexive anti-density and anti-development sentiments of local homeowners, aging hippies and rich quasi-suburbanites alike. (Make what you will of its acronym: BARF.) Those YIMBYs, mostly young renters, wanted to build fast and build big, a position that antagonized not just wealthy white block-association caricatures but also tenants unions, low-income community groups, and immigrants and residents of color who bristled at BARF's gleeful indifference to questions of affordability and displacement. "Is it ugly? Get over yourself. Is it low-income housing? Get over yourself. Is it luxury housing? Get over yourself," Sonja Trauss, the group's math-teacher founder, told the New York Times in 2016. "We really need everything right now."
Open New York came on the scene that same year. That it allegedly first gathered in the "theater room" of a Murray Hill apartment is a clue to the group's founding demographics — predominantly white, male, and affluent-adjacent tech workers — but its members were more mindful about optics and tactics than some of their ideological forebears. They claimed to stick to development projects they saw as sidestepping thornier questions of gentrification, making a name for themselves supporting rezoning in already wealthy white neighborhoods like Soho–Noho and speaking out in favor of Haven Green, the senior housing project proposed for the site of the Elizabeth Street Garden. (In 2021, former board member Casey Berkovitz told The Real Deal: "We do not engage in working-class communities of color.") During the pandemic, they supported hotel conversions for homeless residents on the Upper West Side.
The people they saw as their opponents were easy to root against: multimillion-dollar-loft owners who bought them for nothing; a gallerist who only made his "public" garden truly public in 2013; self-described liberals hiring lawyers to evict the homeless. Gray, who was working on land-use issues during the de Blasio administration and had begun her career with Cambridge's public-housing authority, started to take notice. "There were these people who were actually showing up and getting yelled at, being like, 'No, this is exactly the type of place that you need to have housing,'" she said. A year into her role as a housing adviser to the Adams administration, in 2022, she joined them.
The organization's leadership is rounded out by Thomas, who previously worked in homeless advocacy; Logan Phares, the new political director, a former legislative representative in the mayor's office; and policy director Andrew Fine, who worked in Fair Housing at the Department of Housing Preservation and Development. "There's kind of this assumption out there that YIMBY groups are pure libertarian, Reaganite, trickle-down economics," Gray told me. "It's just not actually reflective of where the movement or Open New York is today." Noting a recent trip to Vienna taken by State Senator Julia Salazar and other housing organizers to learn about the city's social housing programs, she said: "I went to Vienna by myself to study the same projects." The San Francisco YIMBYs were considered market absolutists, but Open New York sees itself as something softer — market optimists. "I still fundamentally believe that so much of the root of our housing crisis is lack of supply of every different type of housing: market rate, social housing, public housing, supportive housing," Gray told me. The political muscle for the latter three options is a more recent development — the endorsement of Good Cause and TOPA was announced just last month.
"Before, my take on them was that it was a project of, I don't know, boys, for lack of a better word," says Cea Weaver, campaign coordinator at Housing Justice for All, the major organization pushing for Good Cause. "People who went to college and took an econ class and wanted to go to community-board meetings." Weaver said she was happy when Open New York let her know they were endorsing the increase cap on market apartments and offered muted praise: "They're definitely different from the California vibe."
The happy-hour crowd was still mostly "boys": It was majority, though not all, white and majority, though not all, male. Day jobs seemed to trend toward data and numbers: software engineers and developers, mathematicians, with a smattering of nonprofit workers and political consultants. I talked to one former real estate agent who had become disgusted with the industry. There was also a veritable sleeper cell of government employees, from NYCHA, HPD, HCR, the MTA, none of whom wanted to give their names. "I used to be a left-NIMBY," one said, his tone suggesting a regrettable past life.
Open New York's most vocal detractors are motivated by a belief that the market can't produce just housing outcomes — choose your housing data study and go fight about it — and what they see as the organization's ties to moneyed big-tech, real-estate, and development interests in the city that are antagonists to the very price controls the organization has endorsed: $1.5 million in funding has come from Open Philanthropies, founded by Facebook co-founder Dustin Moskovitz, and other major member donors are corporate employees at places like Twitter and Jane Street Capital. Much squabbling ammo can be found in the fact that one of its founders, Ben Carlos Thypin, comes from a family with a steel fortune, manages its real-estate portfolio, was a landlord, and is himself a broker. (Thypin is a frequent target of the group's dedicated troll blogger "fuelgrannie," a moniker for a freelance writer named Connie Murray, who calls Open New York "a real-estate-development lobbying firm.")
Whether it's naïve, or even disingenuous, to argue that a housing big tent that increases supply, lowers prices, and keeps longtime residents in their homes can meaningfully include luxury developers and real-estate groups fighting rent control, alongside tenants worried about eviction, may be ultimately beside the point. The governor and the mayor want to build, baby, build. The left will have to decide, in addition to the other fronts it fights on, to what extent it will be part of deciding where, how, and on what terms.
Weaver says Open New York's endorsement of Good Cause "hasn't helped so far" in Albany, and that she isn't relying on the group to get it done. "The principle of regulating the real-estate market is what we're fighting," she says. "YIMBY ideology is comfortable to people who have power." But the pitch is working elsewhere: "I was skeptical for a while," says Seth Pollack, an Open New York member and Director of Community Mobilization at Housing Works, who also pays dues with DSA. "I was like, Is this a secret REBNY-funded front group?" What sold him was Open New York's state-level political lobbying that he says might shift the conversation from project to project to easing housing production en masse. Émilia Decaudin, another DSA member, said her involvement in Open New York is similarly pragmatic. "A lot of socialists think developers are evil. But right now our job is to extract as much housing production as we can."
At the happy hour, people at least all seemed mad about the right things. I wouldn't shut up about my own impending rent increase — I'm one of the 1 million market-rate tenants in the city without any legal protection against being priced out. If Open New York is right about what they proselytize, the next few decades of massive development will help tenants increase their negotiating power and rents will adjust accordingly. But that process, if it happens, will take years. If Good Cause and other tenant protections don't pass in the meantime, will enough New Yorkers be able to afford to stick around, to see the supposed magic of the market create "abundant homes"?
Eventually the lights went up in the basement, and the bartender had to beg the stragglers discussing MIH, 421a, and "state capacity" to go home, or at least somewhere else. They reluctantly filed out. "There isn't really an after-party," Schmidt told me. The group spread out upstairs. As I left to walk to the train, I heard a member launch into a new discussion about Innovation QNS. Something to do with an Applebee's.