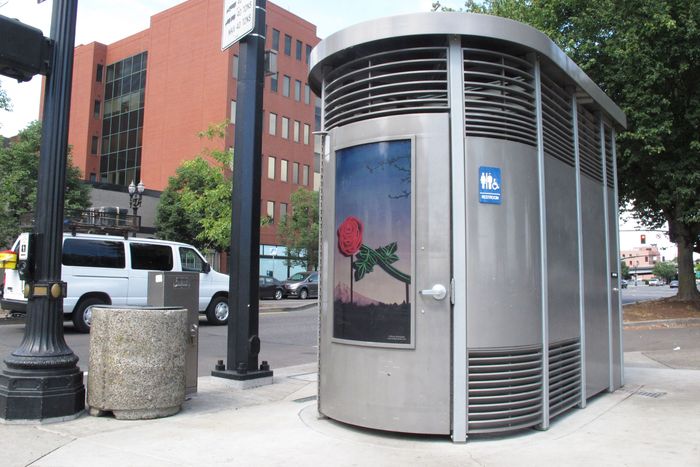 Photo: Jonathan J Cooper/AP/Shutterstock
New York City is finally trying out the Portland Loo, a prefabricated public bathroom that cities like Portland, Oregon — where it originated — Seattle, and Boston have turned to as a cost-effective toilet solution. As The City reports, the Parks Department is moving forward with a pilot after the idea was first proposed four years ago.
The plan is to install five bathrooms in a park in each borough. The bathrooms, which will include changing tables, are made of steel and look a bit like newspaper stands. They're ruthlessly functional and built with metal slats meant to deter any activity other than relieving oneself. While the Portland Loos cost $185,000 each, the Parks Department has budgeted up to $5.3 million for the project to account for construction costs — like connecting them to electric and water lines. Evan Madden, the bathroom's fabricator, told The City that the project had slowed in part because of the difficulty in securing a Department of Buildings–certified manufacturer. Madden said he hadn't actually heard from the city until last February, when he got a call asking why his company wasn't building the toilets. Madden told The City that nobody had actually ordered them yet.
The bathroom sites are still awaiting approval, but the city's 8.5 million New Yorkers can hopefully look forward to five more places to pee. Just don't all go at once!