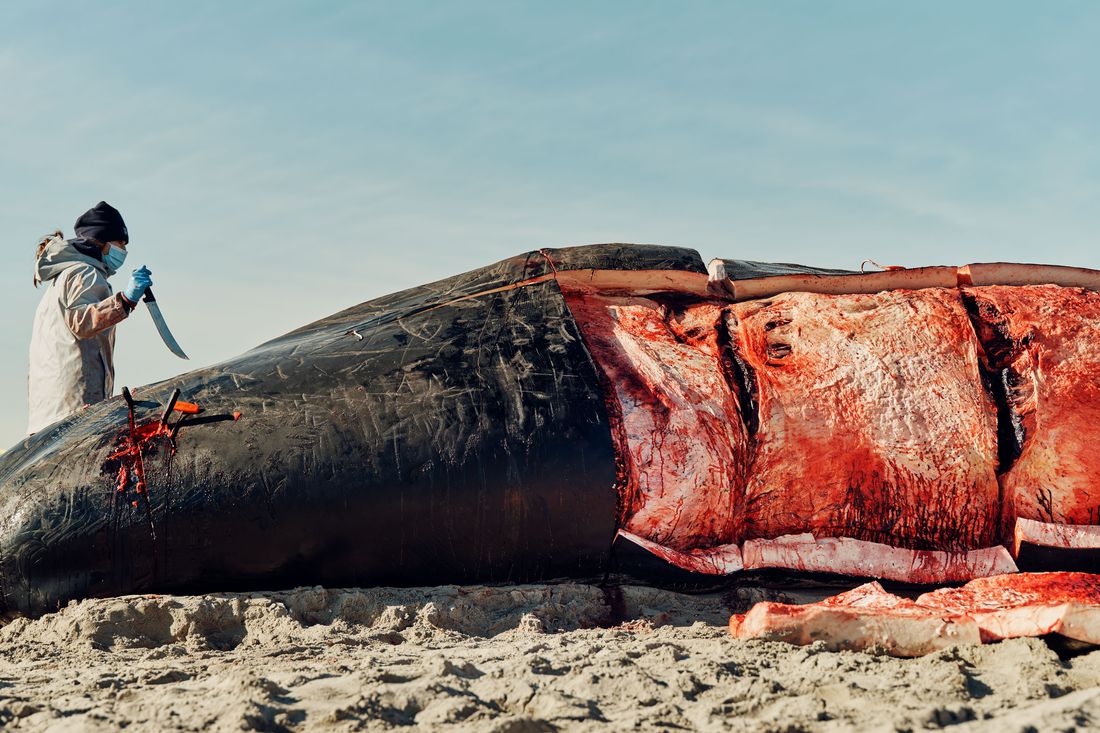 On December 13, a 32-foot sperm whale swam to Rockaway Beach to die. When she beached around 8 a.m., surfers tried to push her flailing, charcoal body back to sea. But she was visibly battered, and her movements slowed. When a team from the Atlantic Marine Conservation Society arrived a few hours later, she was dead.
During a typical week, AMSEAS might conduct aerial surveys of seal populations or recover cold-stunned sea turtles. But this winter, the group has been crisscrossing Long Island in an effort to keep up with a surge of beached whales.
The Rockaways whale was one of ten to die within two months on area beaches. She was carved into blubbery panels so AMSEAS could perform a necropsy — the animal version of an autopsy — as part of an investigation into an uptick in whale deaths along the East Coast. Just a week earlier, a dead 31-foot humpback whale had washed up on an Amagansett beach.
The National Oceanic and Atmospheric Administration has been tracking an "unusual mortality event" for humpbacks since 2016. Of the 181 humpback whales to die, only about half underwent necropsies. Of those, 40 percent were found to have suffered from some sort of human interaction, like colliding with a ship.
Pundits and conservative lawmakers have hypothesized that construction of offshore wind farms may be to blame — a claim NOAA has said is unsupported. The increase in beached whales could be an indication that the whale population as a whole is growing. Or, less optimistically, rising water temperatures could be changing the hunting and migration patterns of whales, pushing them into areas where they're more likely to become injured by human activity. Until AMSEAS releases its necropsy report, we're left with what we started with: a mystery.