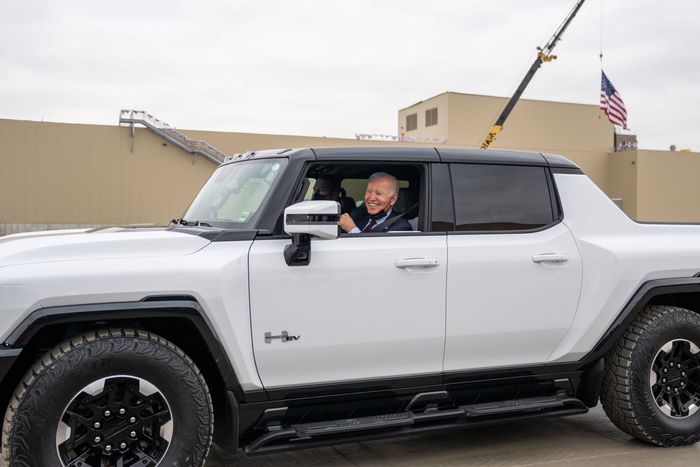 A self-described "car guy" at the Hummer EV's launch.
Photo: White House/News Pictures/Shutterstock
The 2024 GMC Sierra EV Denali rolls slowly past toppled street signs and blown-out buildings, piles of trash and debris reflected in its bronze exterior, which is suspiciously clean for a vehicle traveling through the ruins of society. The window lowers to reveal Will Ferrell behind the wheel, asking the first person he sees for directions. Unfortunately, it's a zombie, but this Denali, a veritable fortress on wheels, makes getting out of town easy. That the truck is electric is almost beside the point. This isn't Ed Begley's GM EV1 or even Larry David's Toyota Prius. This is the car you want on your side when the world ends.
The GM ad, which is part of a campaign collaboration between the company and Netflix for this year's Super Bowl, is the most recent entry in the Macho EV genre, which more or less kicked off three years ago, appropriately enough, with another Super Bowl ad — this time for the GMC Hummer EV. These ads document the EV arms race playing out right now as companies beef up their electric offerings with higher profiles, spikier bodies, and more imposing grilles. It's like the industry's answer to Marjorie Taylor Greene's dig that "Democrats like Pete Buttigieg want to emasculate the way we drive and force all of you to rely on electric vehicles." (Buttigieg later went on Fox News to reassure the nation that his "sense of manhood" has nothing to do with how his car is powered.) That all of this is ridiculous and predictable doesn't make it trivial. The Big Car Good ethos is also being embraced by the White House in its own way, as the president sings the gospel of EV speed and power — "You want one that's fast in the quarter mile, buy American," he said last October — and posed behind the wheel of a Hummer EV in a tweet from the White House about tax credits. (Never mind that the Hummer EV isn't even eligible for the credit; it's too expensive.) These cars represent the worst possible future for electrification — dangerously powerful trucks driven by people who can't see what's in front of them, barreling through neighborhoods that were not designed for vehicles of this size. No offense to Will Ferrell.
Biden's Hummer photo op, which recirculated last month, was actually taken during a launch event at GM's Detroit plant back in 2021. "These suckers are something else!" the president said. (They certainly are.) Later, as he stood in front of two Hummer EVs, which also appeared on a banner that read "A future made in America," Biden continued, "This truck — three times heavier, 0 to 60 in 3 seconds!" The 1,000-horsepower engine, the 350-mile range, the 9,000-pound weight — to say nothing of features like a "CrabWalk" — actually put the Hummer EV in a category all its own, leading GM to dub it a "supertruck." And the Hummer EV, with its handful of peers, is now being heralded as an indicator of American EV success.
Tesla's contribution to the genre — the long-advertised Cybertruck — isn't in production yet, but one was recently spotted in Silicon Valley. (Elon Musk usually dispatches prototypes at moments when it might be nice to have other headlines in circulation.) Tesla doesn't make ads — instead it makes misleading videos that are shared on Musk's Twitter — but the Cybertruck is being marketed with the same Macho EV shtick, like a towing capacity with "the ability to pull near infinite mass." (Were this true, it could tow a planet.) After the 2019 unveiling, during which Tesla's chief designer, Franz von Holzhausen, threw steel balls at its windows as a show of strength only to end up breaking them, Tesla has leaned harder into its pseudo-military "protective" features: "Starting with a nearly impenetrable exoskeleton, every component is designed for superior strength and endurance, from Ultra-Hard 30X Cold-Rolled stainless-steel structural skin to Tesla armor glass," according to the vehicle's description. Rivian's R1T truck, like the Hummer and Cybertruck, is similarly being marketed as a vehicle for tough guys, with YouTube videos showing them out in the desert, traversing "8 modes, all terrains" and doing "tank turns." But like many vehicles of this sort sold in the United States, most of the people driving them are traversing to the store to buy milk: A survey of U.S. pickup-truck owners showed one-third of them rarely or never use their truck for hauling, and two-thirds rarely or never use it for towing. (Rivian, to its credit, has put its EV technology to good use elsewhere by manufacturing Amazon's delivery vans and is making an electric bike.)
But the tame routes traveled by these vehicles don't make them safe. Tracking of news reports and federal data by the advocacy group Kids and Car Safety shows that child "frontover" deaths — meaning cars driving forward over kids, not backing over them — have dramatically increased over the past decade, nearly doubling from 2009 to 2019 compared to the ten-year period before. During the same period, the average American pickup truck's front hood grew 11 percent taller and vehicle weight increased by 24 percent, according to Consumer Reports. And in addition to their size, Macho EVs also have increased torque. In fact, only two trucks can go from 0 to 60 mph in 3 seconds, and they're both electric: the Hummer EV and the Rivian R1T. But being able to accelerate so quickly in such a large vehicle creates an extremely dangerous combination. That extra power — the Hummer EV labels it, appropriately, "WTF" — has Hummer EV drivers posting videos where they're struggling to control the vehicle. "I forgot how heavy this car is," one driver says. "It did not want to slow down."
The market for the Macho EV also shows no signs of slowing down: Demand for the electric version of the most popular car in the U.S., the Ford F-150, is so high that Ford stopped taking new reservations. This may be why Ford CEO Jim Farley said in June, "If you ever see Ford Motor Company doing a Super Bowl ad on our electric vehicle, sell the stock." Instead, Ford is raising F-150 Lightning prices to cover supply-chain issues created, in part, by a global shortage of minerals like lithium. Macho EVs are incredibly lithium intensive; they are creating a new brand of environmental devastation even as they claim to save the planet.
If "petro-masculinity" defined the past decade, as oversize, gas-guzzling SUVs and trucks came to make up more than 80 percent of all new vehicle purchases, we're now heading into an age of "bro-lectrification." We'll ditch the fossil fuels but hold on to everything else that's so toxic about American car culture — the road fatalities, the sprawl, the land and mineral costs of extraction, the bombastic Super Bowl ads equating your masculinity with the size of your zero-emission mobile bunker. Will Ferrell has been to Norway, the world's top-selling EV market — didn't he notice that the electric cars over there aren't engineered to zombie-escape standards, everyone is still getting around just fine, and the country is recording its lowest number of traffic deaths in decades? Why design for the apocalypse when you could maybe just work a little harder to prevent it?