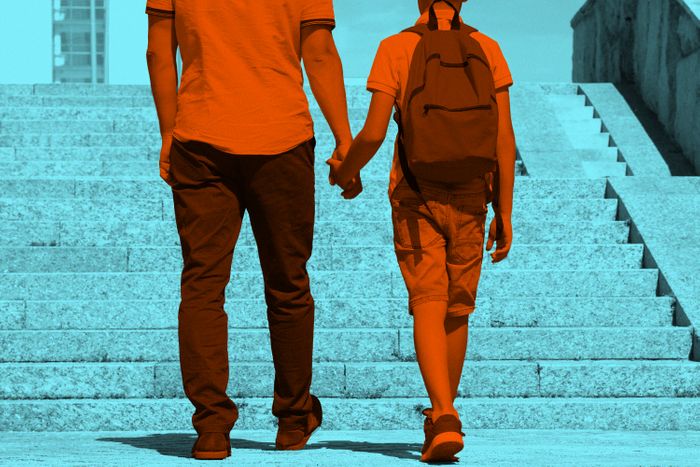 Photo-Illustration: by Curbed; Photo Getty Images
​​On weekday afternoons from 3 to about 5 p.m., certain streets on the Upper East Side can become almost impassable. Volvos, Beemers, and Teslas idle or double-park, and the (mostly) moms behind the wheel crane their necks, trying to glimpse the school door. Nannies line up with tanklike strollers, zip-top bags of apple slices and Goldfish crackers at the ready. But while standing around waiting for my kindergartner and third-grader, some of the reunions I'm witnessing are between caregivers and older kids — sometimes sixth-, seventh-, and eighth-graders. And where were the clusters of teens on the M15 bus? Even the local Dunkin' seems strangely quiet.
It turns out I'm not imagining it: Many of the tweens and young teens in my neighborhood have babysitters, whether that's a person or an Uber account. A local mom named Lisa tells me her seventh-grade son, let's call him Lucas, travels by cab — about 40 blocks straight up the East Side — with her to get to school each day. A sitter typically picks him up in the afternoon. Ask Lisa why this level of supervision is required and she'll tell you about crime and traffic deaths. "As long as he lets me take him to and from school, I'll do it," she says. Another parent, Jen, says her son, now 14, has similarly never ridden the subway alone and likely only knows his "way-ish" around the neighborhood without her. It's a symbiotic kind of neurosis that she recognizes in other parents she knows: "Truthfully, I think some of it has to do with what's going on in New York City," she says of the New York Post of it all. "Some adults are hesitant to ride the subway and take buses as much as they used to, so that influences the kids."
In March 2020, these kids were fourth- and fifth-graders at top private and public schools, on the verge of a rite of passage for city kids: venturing out alone. It's very nearly official policy. Seventh grade is the year the NYC Department of Education stops providing yellow bus service entirely and hands out free MetroCards. But then the world shut down. Leaving home for nonessential tasks was a dereliction of civic duty, and these kids missed their moment. And their parents, who maybe ran anxious anyway, found themselves holding on to them tighter just as they should have been letting go. Three years later, while their peers have resumed the normal order of things — roaming the city sans parents, clutching iced drinks in all weather — many of the tweens and young teens of the Upper East Side are geographically disoriented indoor cats, sticking close to home — and a grown-up.
Jen's son, Alex, now 14, missed about a year of city life when their family temporarily moved to Westchester from the Upper East Side during the early pandemic. If he's across town for sports and needs to get home, he calls an Uber. He rarely takes the subway and has never been on it alone. Jen relies on Ubers partly because the idea of subway travel makes her anxious. So does the idea of her son taking long walks on seemingly quiet side streets. "I definitely feel like you need to be more alert right now," she says. (Like Lisa, Jen also says she loves the extra time together when they travel as a pair. What parent would say no to a teenager who wants to spend time with them?) She's in no rush to change things up; Alex didn't apply to any downtown high schools partly to avoid a subway commute. Other moms I spoke to had similar stories: Sherry, mom to a seventh-grade girl, says the pandemic has accentuated her already overprotective nature: "In sixth grade, when some of her friends started going from school to home or after-school activities, I was just not that confident that Sara could navigate crossing streets." That uncertainty and vigilance still fuels many of her decisions as a parent. "I'm super-overprotective," she adds.
There's data to support the fact that fewer kids — just like fewer adults — are riding the subway in general. There were more than 83 million Student MetroCard swipes in 2019. In 2020, when schools shut down and later reopened part-time, student use plummeted, and just under 25 million rides were recorded. That number remained low through 2021, as many middle- and high schools stayed hybrid for part of the year. But what interests me most is 2022, when all schools were once again full-time in person without a remote option: Still, Student MetroCard use didn't fully recover. Students swiped 60,238,808 times — 28 percent below pre-pandemic levels. And across the Upper East Side, from Sutton Place to just above 96th Street, at least some of that drop-off can be explained by parents driving, calling an Uber, hailing a cab, blocking their work schedule to pop out from their home office for pickup, moving closer to school, and walking longer distances than they would have in the past.
When I talked to Kristen Piering, a clinical child psychologist in private practice on the Upper East Side, she recognized the shift among some of her clients, though cautioned she still sees plenty of her younger patients traveling solo. But she agreed there's been a delay in what she calls "travel skills." Some of these families have developed routines that, like all habits, are hard to break. There's also parental fear at the heart of much of the change. "For years, we lived under this umbrella of anxiety, thinking, What's going to happen? Is it safe?" she says. "Those questions have gone from germs to crime to now, well, sort of everything." The parents I spoke to definitely fell into the "sort of everything" anxiety camp.
The disruptions of the pandemic have served as an extended rationalization for parents to hover — a chance to own their worrying instead of hiding it. And I get it: I've often considered holding my kids' hands while crossing the street until their bar mitzvahs. It's just that, while buying your own breakfast sandwich or knowing how to give a tourist directions to Central Park at 13 may seem like low stakes, it's in the DNA of growing up here.
Some of the parents I spoke to get this and are trying to self-correct — albeit in baby steps. Sherry has started to allow her seventh-grader to walk the few blocks home from school with a friend. She is under strict guidance to always carry her phone but never take it out of her pocket. "I told her I have spies watching to see if she's on her phone," says Sherry. (Not exactly a bluff, either: Sherry has asked other moms to report back if they see Sara texting and walking.) Jen's son, Alex, has also started walking to school with a friend — but is still generally picked up by his mom. Rebecca is a mom of three in East Harlem who sends her eldest daughter, Alice, to a private school a short walk south on the Upper East Side. When the second semester of fifth grade began, she realized that Alice was now allowed to self-dismiss — and that she hadn't prepared her for the task. "It snuck up on us," she says. Rebecca practiced the walk with Alice that spring, letting her daughter lead the way, get things wrong, and figure it out. By sixth grade, Alice began handling the walk to and from school — in daylight only — by herself. Now she's in seventh grade and rides a few familiar public bus routes solo. She memorized the Manhattan grid and travels with a flip phone for emergencies. On weekends, her parents task her with planning a trip to other boroughs and researching where they should go and how to get there.
What Alice really wants, though, is a freedom she's come to see as only existing elsewhere. "She asks us to move out of the city all the time," Rebecca says with a laugh. "She thinks that if we lived in the suburbs, she would have more independence."
 The names of all children have been changed to protect their privacy.