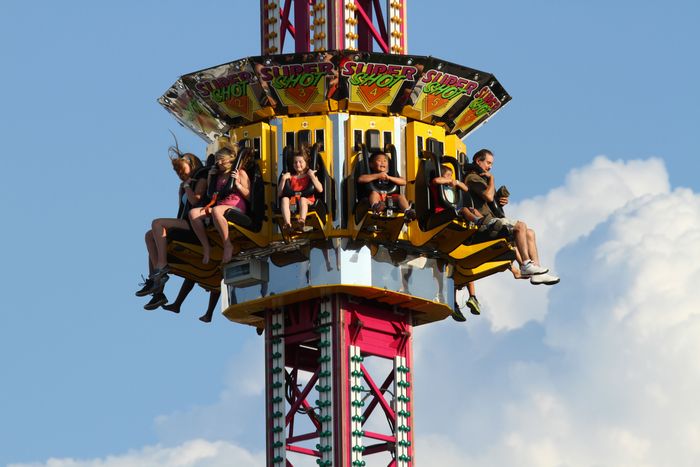 You may soon be enjoying a similar thrill 40 stories above Eighth Avenue.
Photo: Stan Rohrer/Alamy Stock Photo
Vertical-drop rides are usually a mainstay of amusement parks. The tallest, at 415 feet, is just across the river at Six Flags in New Jersey. Disney had its own version for more than a decade — the 130-foot-high Tower of Terror, now closed. But they're an unknown in Manhattan, where, for many years, the only thrill was a slow-moving Ferris wheel entirely contained in the Toys R Us flagship. (That could change, with a mega Ferris wheel proposed alongside a casino across town.)
A proposed tower project comes from Extell Development, which has its hands in other Times Square hotels (The W and Hyatt) and put up a few supertalls (One57 and Central Park Tower). In the request, Extell suggests that vertical-drop rides will pull in tourists as well as "a few jaded New Yorkers," and pitches it as the next level for hoteliers who "must think flexibly in order to survive." Some already are. The new Virgin Hotel in Nomad includes an adult-only mini-golf course. At a new 650-room development by TSX Broadway*, guests will be able to pay for special access to celeb performances on a stage that hangs over Times Square.
It's clear that for the developers of skyscrapers, catering to tourists makes great business sense, especially since they seem to be willing to pay a premium for anything with "immersive" or "experiential" in the name. According to the Times Square Alliance, there were 23 percent more pedestrians on average last week in the district compared to a year before. They'll need something to do. Besides, the cheapest pass for that Six Flags in New Jersey is $74.99.
*Updated 6:46 pm: The article originally stated that TSX Entertainment was the hotel operator with a stage over Times Square. It has since been corrected to state that the hotel is being developed by TSX Broadway, and the stage by TSX Entertainment.