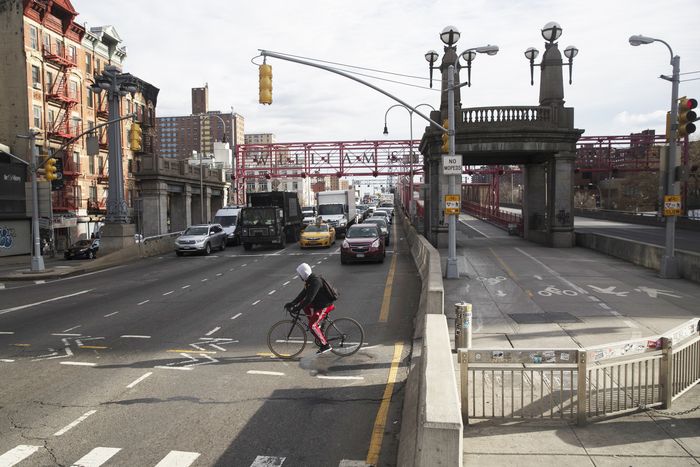 Photo: Victor J. Blue/Bloomberg via Getty Images
The Manhattan side of the Williamsburg Bridge has always been a hazardous spot, as pedestrians and cyclists are left to navigate multiple lanes of car traffic. Over the last decade, more than 200 crashes occurred on the stretch of Delancey that leads onto the bridge, and in 2012, 12-year-old Dashane Santana was killed by a minivan while attempting to cross the street at Clinton. There's no reason walking and biking should be that dangerous, and now, as Gothamist reports, a $21 million federal upgrade can go a long way toward making it safer.
The money is coming from the Safe Streets for All initiative, which is overseen by Department of Transportation secretary Polly Trottenberg, formerly New York City's Transportation commissioner in charge of Vision Zero. The project plans to overhaul that section of Delancey — which it rightly identifies as a "high-injury corridor" — with a "road diet," or a lane reduction. According to the grant announcement, the plan will also involve "creating a separated bikeway, making accessibility improvements, and reconstructing the roadway."
That all sounds considerably less harrowing than feeling like you're taking your life into your own hands every time you cross the Williamsburg Bridge.