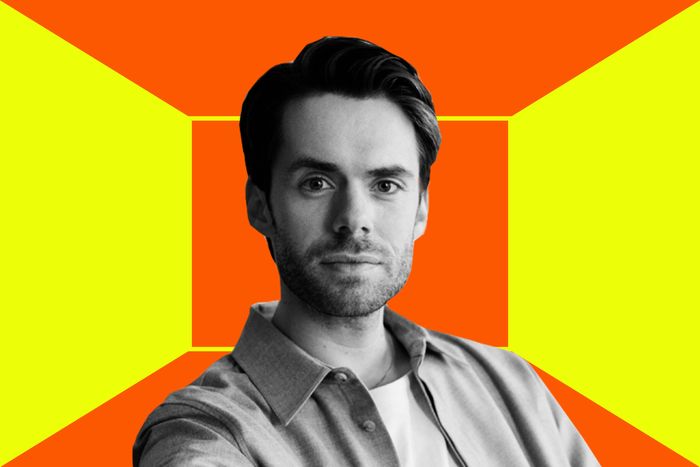 Photo-Illustration: Curbed; Photo: Rich Stapleton
As a classically trained ballet dancer, interior stylist Colin King took a somewhat unconventional route to interior design, which included stints as a personal trainer, server, and assistant to T Magazine editor Tom Delavan, who became a mentor and encouraged him to pursue styling. After his first commercial shoot for Zara Home in 2019, King's name traveled around brand circles and his career took off. He designed a capsule collection for Menu and has developed campaigns for RW Guild, Crate & Barrel, and B&B Italia. King, who was just named the artistic director at large of Beni Rugs, has a new book, Arranging Things, out this month from Rizzoli.
Name: Colin King
Age: 34
Neighborhood: Tribeca
Occupation: Interior stylist
What's hanging above your couch?
A matte-black painting by New York–based artist James Sheppard. Art is not something I've really dipped my toes into acquiring yet. This was a piece I could afford. I actually made its frame myself. And next to my couch is a branch that my friend found in New Jersey. She forages locally and works with a groundskeeper who takes photographs of trees she has to trim. I source these every few months.
What's the first job you had in New York? 
I was a waiter at Jane on Houston Street. I worked Saturday and Sunday brunch to support myself through college.
What color are you always drawn to? 
My friends joke that I like doing 50 shades of beige. I painted my entire living room the same custom color. Having to work with color all the time for my job, I love the sense of calm here.
What work of art or artifact are you most surprised you own?
I have these little bronze chicken feet that are candleholders. I bought them at August in Los Angeles, and they're more playful than what I usually go for.
Which New Yorker would you want to hang out with?
Gloria Vanderbilt — she's such an elegant woman, and I love her sensibility and sense of style. She's my ideal husband's mother.
What's the last thing you made with your hands?
I made a floral arrangement of quince branches. Have you heard the new Miley Cyrus song where she says "I can buy myself flowers"? Well, it's true. I enjoy taking myself to the flower market every couple of weeks.
Is there one thing you own multiple versions of?
I collect Joe Colombo table lamps. They're more industrial than the rest of the pieces in my space and among the few things that are plastic. I have one in my living room, one in my loft, and two or three more in storage. They're nice, since they fit on bookshelves and create a decorative, sprinkled glow. I have a saved Etsy search and LiveAuctioneers alert for them, as they're getting harder to find.
What New York City museum do you always go back to? 
I'm very inspired by the forms and textures that Isamu Noguchi used, so I find myself at the Noguchi Museum all the time.
What do you always have next to your computer? 
A notepad and pencil.
Where is the best view of the city?
The Boom Boom Room, especially when you get a good sunset-facing seat. It's a room that stands the test of time. I went there for the first time in college for some tragic party, and it was so dark that I didn't even get a sense of how incredible the sofas were.
What building or object do you want to redesign every time you see it?
The AT&T building with no windows. It takes up a whole block and is such an eyesore. The building's structure reminds me of the French modernist period, and I'd love to add beautiful windows to it — like the ones on the Maison de Verre.
What's one thing you would change about your field? 
The hierarchy. You want to have a reputation for sophistication, which usually only comes with a certain tier of price. I love styling, because you can have amazing dialogues with objects and it doesn't really matter where they're from. A rock I have on my coffee table is just as important as the antique bronze vase next to it. There's so much friction between commercial and high design, and we could all be a little more open. The best kind of design is when you're surprised.
If you could live anywhere in New York City, where would it be?
A penthouse at 43 Fifth Avenue. The lobby is just to die for, and it has these large, Parisian oxidized-copper windows.
What would you hoard if it stopped being produced?
Graeter's Black Raspberry Chip Ice Cream. I grew up going there, and I still go when I visit my family in Ohio.
What do you do to get out of a creative rut? 
I go on a run. I agree with the idea of "move a muscle, change a thought." And having a dance background, I always want to move.
Where was your first NYC apartment, and how much was the rent? 
My college dorm on 55th between Second and Third. My first apartment off campus was on 62nd between Second and Third. It was a fifth-floor walk-up that was really a studio converted into two bedrooms. There were three of us there, and we split the $3,200 rent.
Where in the city do you go to be alone?
When I lived in Brooklyn Heights, it was the promenade. Now I just walk west toward the piers.
Worst piece of career advice you've ever gotten? 
Growing up, my parents always said, "Yeah, you can be a dancer, but you need a backup plan." When I returned to New York after being a personal trainer in Los Angeles for five years, I tried to get a corporate nine-to-five job for the benefits and consistent salary. None of the companies took me, so I had to freelance and figure it out on my own. I was working five different jobs — as a trainer, an assistant to Tom Delavan, freelance styling — because I didn't want to put all my eggs in one basket. But as soon as I jumped all in and signed with an agent, my career took off and my whole life changed.
What have you given away to someone that you wish you could get back? 
I sold a Carl Auböck live-edge side table that I'd bought specifically for my previous apartment. I thought I could find something better but no — that was really the best I could have. I wish it were here.
What's your favorite NYC restaurant and regular order? 
I'm so not a foodie, but I love Frenchette's steak tartare and Odeon's steak-frites.
What descriptive phrase do you want on your obit headline?
"A testament to the power of a lighter touch."
This interview has been edited and condensed.