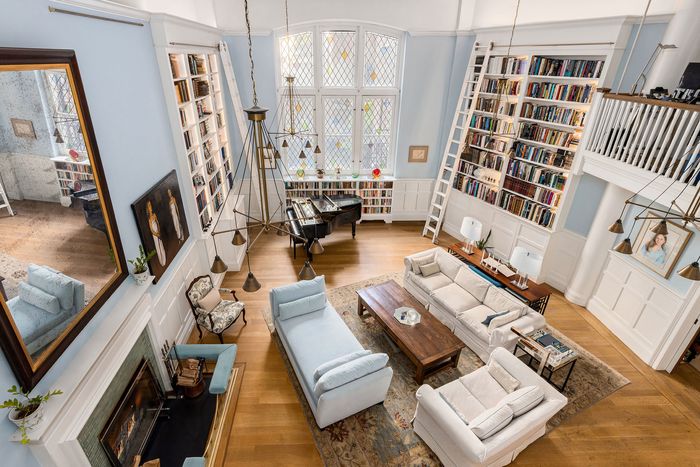 The great room, with its stained glass and high ceilings, was designed to bring in the ideal light for a painter's studio.
Photo: Tim Waltman for Sotheby's International Realty
The building at 27 West 67th Street wasn't designed for the doctors, attorneys, and other wealthy professionals who now occupy its multimillion-dollar apartments. It was conceived at the turn of the century by a group of ten artists, who decided to pool their money to design and build a new type of building. The result: a co-op with 14 north-facing work-live studios, each with 18-foot ceilings and giant windows, for good painting light. Over the next few years, several similar "studio buildings" — with work-live space and giant windows — were built on the same block. Even as they got popular with all sorts of New Yorkers, studio buildings kept pulling in a share of successful artists, including George Balanchine and Milton Glaser in number 27, and Ellsworth Kelly, Norman Rockwell, and Marcel Duchamp down the block.
Even today, the buyers who cross the moat (it's not a traditional moat — more of a stony outer gutter that dampens sound) at number 27 tend to have at least a creative streak. Liz Fuller, an attorney who purchased a duplex on the first and second floors (1FW) in 2014 with her husband, Trevor Cook, also an attorney, remembers choosing the dining room's burnt-red paint to match a gallery in the Metropolitan Museum of Art. Their book collection — around 20,000 titles — grew over the years to require adding extra built-ins.
"I assume whoever is going to live there is going to be a collector of some kind," says Fuller, who's selling the place after nearly a decade. During that time, she rewired the mission-style chandeliers in the great room; stripped and refinished the quarter-sawn oak floors; and restored the fireplace to top working order and upholstered its surround (the little brass bench around the hearth) with a washable velvet cushion. That fireplace was the center of many parties, Fuller says, which were helped by the natural flow of the downstairs rooms: "They go in a circle, which is really, really good for serious entertaining." She didn't touch other lovely, original features: stained glass, oak wainscoting, and a Juliet balcony that looks down over it all.
Sotheby's International Realty broker Cathy Taub, who has helped New Yorkers buy and sell up and down 67th, says the apartments at 27 tend to draw buyers who want "a nod to old New York." The building features a manually operated elevator "restored to its original glory," as she puts it; a stairwell with an iron balustrade; and, of course, other creative tenants. Property records show one current neighbor is Christopher Wheeldon, the Tony Award–winning New York City Ballet choreographer*, and another is Françoise Gilot Salk, the artist, widow of scientist* Jonas Salk, and mother of Claude Picasso (who lives at number 33 next door).
But Fuller says she'll miss the location most of all. "On a Saturday morning, on a whim, we could say, 'Do you want to go to the matinee?,' stroll over, and get orchestra seats at the Met," she says. "It's killing me to sell."
*Updated March 3, 7:45: The article originally stated that Salk was an artist. He is a scientist. The article also originally stated that Wheeldon was a former choreographer for the New York City Ballet. He is currently a choreographer there.