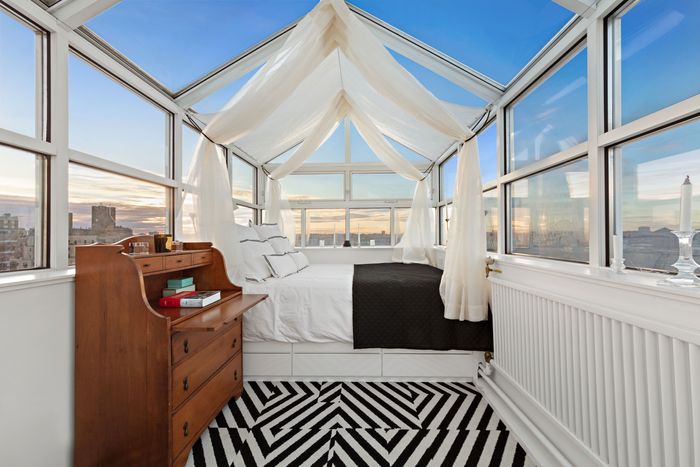 Architect Carol Maryan topped her glassy penthouse with its own glassy penthouse: a greenhouse that doubled as her son's bedroom.
Photo: Michael Weinstein
Architect Carol Maryan bought her penthouse — a former maid's quarters in a 1924 West End Avenue co-op — almost 30 years ago. She never really stopped tinkering with it. Years ago, when a section of the roof caved in, Maryan found that patching it up would be more expensive than replacing it with glass — or, rather, replacing it with an entire greenhouse, a glass-walled penthouse atop a glass-walled penthouse, which she turned into her son's bedroom. When the co-op board planned work on the brick parapet that wraps the terrace, Maryan bid to fix it herself, cutting out brick that closed off views with railings she could peer through instead. Then there were sweeping, ingenious changes like raising the entire apartment up more than a foot, which made views over the Hudson more spectacular and dampened sound so her kids could get loud. To bring in even more light, she added skylights, which inspired her to replace the floors — ditching wood, which buckles in the sun, in favor of porcelain tile in a big joyful checkerboard.
Raising two sons in a 1,250-square-foot apartment also meant innovating when it came to space. Instead of hiding a refridgerator in the corner of the kitchen, Maryan put a low, double-wide fridge below a kitchen island. The family also made use of the space beyond the apartment, renovating the vestibule to add a coat closet, for instance. A 1,400-square-foot terrace, which wraps the apartment on three sides, functions as a second living room: There's a private outdoor shower, a gas grill, and built-in speakers.
The apartment is technically a two-bedroom if you count the greenhouse. But a third is hiding in plain sight. Maryan asked her husband, Joel Berstein, the executive director of her architecture firm, to design a mechanism that allows a queen-size bed to drop down from a cupboard in the living-room ceiling. Maryan is "always addressing the most subtle details," said Berstein. Watching her work on the apartment over the decades has been, he said, "a source of continuous joy for me." To Maryan, it wasn't joy so much as an intellectual exercise, a "fulfillment of a lifetime pursuing theories around light, energy, and economies of space."