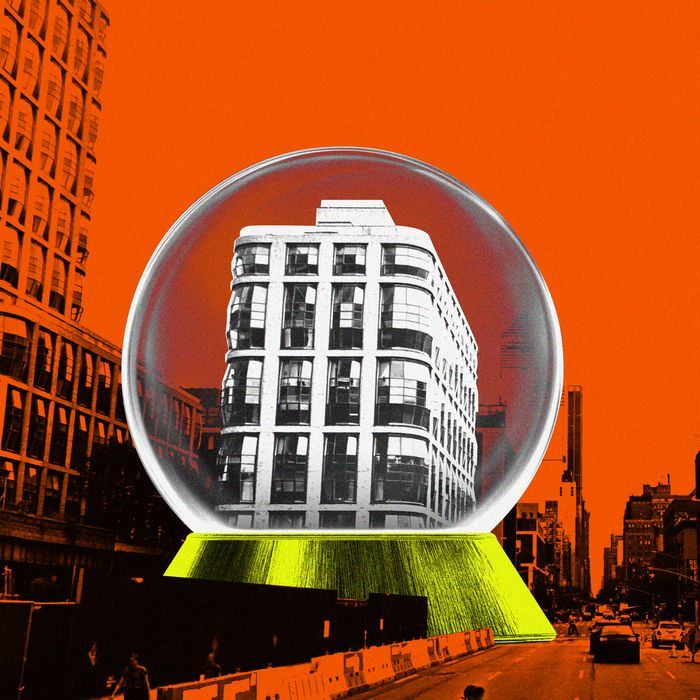 Photo-Illustration: Curbed; Photos: Getty, Google
A sought-after personal chef — let's call her the small-batch chocolatier of New York City — has a lucrative side gig. A few times a week, she packs up her double boiler and brings it to a glass-façade high-rise in Soho or Hudson Yards or the Upper East Side, rides the elevator to what she says is almost always an identically appointed mid-century lounge, and teaches residents how to make espresso-dusted truffles and elevated s'mores. "Most of the people that come to the classes are between 35 and 60," the chef says, "because people who are 28 already know how to have fun." Light bites and sparkling wine are provided; a smiling "lifestyle manager" is on hand to make sure the pre-chopped hazelnuts haven't run out and to otherwise dote on the residents, pleasant questions at the ready: How was Pilates? Did you finish White Lotus yet? After two hours, the attendees head to the elevators and back to their respective apartments, the day's confections in hand. "It's all very gentle," the chef tells me. "Like college or camp for rich people."
This is the slightly twee, extremely costly world of "amenities programming," a recent turn in luxury real estate that goes beyond the standard rooftop pool or perfectly calibrated wine fridge to offer a social life and something like personal taste to tenants paying $5,000 for a one-bedroom. There are opportunities to build terrariums in honor of Earth Day and to enjoy weekly happy hours with Brooklyn-based IPAs and cheese pairings. When every luxury building begins to appear indistinguishable — with the same attention to detail, the same high-end appliances and tasteful finishes — developers have to look elsewhere to lure tenants. And they're betting that many of those prospective tenants would rather stay in than brave the subway. Or that they recently moved here and want to meet people without thinking too hard about it. Or that they're maybe just killing time until they move to Hoboken, as they kind of already want to. These bubble buildings are selling New York without New York, an amenities oasis that promises to deliver the city's very best without requiring residents to wade through any of its mess.
Developers have good reason to pander to tenants who are willing and able to shell out money to be treated as if every day were first-year orientation. As rents in Manhattan reach ever more deranged heights — despite inflation, continued whispers of a recession, and New York Post headlines about the city's supposed descent into chaos — developers are seeking new ways to justify the sticker shock. "So what else can they offer? They can offer a lifestyle," says Michael Fazio, co-founder and chief creative officer at LivunLTD, which is contracted by developers such as Related and RXR for amenities programming across the city. LivunLTD offers a monthly "menu" of programming that it sends to building developers and managers, who then pick and choose what they want: There's an "I Scream, You Scream" party with Van Leeuwen ($1,650 for 100 people) and an "Italian Summer Night" with Aperol spritzes and negronis for $2,350. Events are organized and staffed by LivunLTD's "lifestyle managers," who are one part camp counselor and one part attaché to their finicky clients. Although some LivunLTD concierges specialize in getting theater tickets and impossible reservations as if they were working in a hotel, "you can't always just pick up the phone and get a table at Polo Bar or Carbone" for just anyone, Fazio says. But you can make residents feel like they're special people with interesting taste. You can throw them a DIY lobster-roll-making seminar.
In some buildings, the programming seems designed to zhuzh up the appeal of otherwise drab apartments — "I've been in huge, incredible buildings but the apartments are not nice," the chef tells me. A Realtor I spoke to had seen a similar dynamic with clients who she says might see a tiny one-bedroom and console themselves that, just outside their door, there's "50,000 square feet of amenities" with "podcasting equipment and space for my laptop." She also pegged the typical resident as single and generally working remote, someone who wants "options to get them out of the house."
At Hudson Yards' newest rental addition, the Set, some of the studios are so small that the beds fold away to clear up floor space. (The rent is over $3,500 a month.) But before folding up their bed every night, residents can enjoy cultural programming — a "wellness disruptor's latest fitness innovation" or an "illustrious literary figure's speaking event" — from its dedicated "directors of experience." Megadeveloper Silverstein Partners has launched an entire new arm of the company dedicated to "tenant-exclusive" amenities called "Inspire Your Day." Recent events include haiku writing and a "make your own herbal spritz" workshop. Much of what's offered seems to be geared toward moneyed outsiders moving to the city and looking for a tourism-board-certified, Instagrammable version of New York to tag themselves in, like living inside an ad for Goldbelly. Everything is a distraction from the chaos of the past three years in New York (and New York real estate).
For the freelancers coming to teach meditation or make wood-fired pizzas, the money is good and the ambiance is chill. "I realized the first time I went into one of these buildings, Oh, I'm an amenity," says Nicole, a mixologist who teaches a regular cocktail class. She could quit bartending entirely if she got just a few more nights in a luxury building (she lives in a rent-stabilized walk-up herself). Plus the clients are nice. In one building, she's been added to a resident group chat, and she's come to think of them as actual friends. Although, she adds, they text a little too frequently — "It's a lot."
The chef has maintained more distance. "The attitudes remind me of taking my son to preschool," she says. "When I go into these buildings, I see lots of hot Frenchmen or whatever, but they're not going to any of these classes." It was difficult to find anyone who would talk to me about regularly attending one of the classes who wasn't offered through a developer or amenities company. But I did talk to two 20-somethings who live in One North Fourth, a luxury tower on the Williamsburg waterfront. "I'll admit when I see the signs I immediately ignore them," one said of the flyers in their building's elevator for activities like pet photography. "If something caught my attention, I'd be like, Oh, hmmm, but this is loser-y." Her friend disagreed: "I don't think it's loser-y. I think it's a nice way to make friends." She hadn't attended any of the events in her building, though. Just as much as she liked her apartment, she liked leaving it.