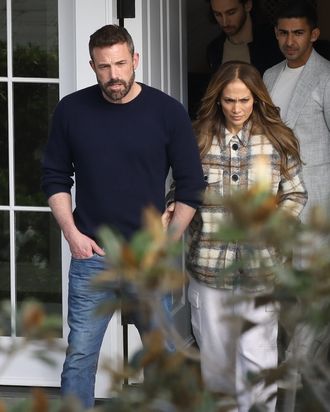 Photo: Curbed; Photo: Vasquez / BACKGRID
Jennifer Lopez and Ben Affleck have fallen out of escrow on a $64 million mansion in the Pacific Palisades, according to TMZ. The eight-bedroom, 11-bath estate with an unsettlingly manicured lawn — put up for sale earlier this month by Gregory Milken, son of junk-bond king and Trump pardon recipient Michael Milken — was only the latest in a series of properties the newlyweds have bailed on in the last year and a half.
It was only a few weeks ago that the couple pulled out of a $34 million Hamptons-style seven-bed in the same neighborhood, a move also reported by TMZ. The property included 13 bathrooms, a private gym, a movie-theater room, a wine cellar, a pool, a six-car garage, and some mysterious other thing that made them no longer want to live there. A year before that, the couple put an offer on a $50 million Bel-Air mansion (with a reasonable 17 bathrooms) before changing their minds. An "insider" told Heat magazine that "they're having a terrible time agreeing on what their dream home is." Clearly!
J.Lo is no stranger to the real-estate challenges of cohabiting, telling Ellen DeGeneres in 2019 that her ex-husband Alex Rodriguez was a bit more on "the modern, masculine side" while she was a self-described Joanna Gaines fangirl. Is it possible these mansions lacked shiplap or sufficient wall space for oversize decorative letters?